EarthLite Vortex Portable Massage Chair Package
ASSISTANCE IS JUST ONE CLICK AWAY!
EarthLite Vortex Portable Massage Chair Package
Product Description
EarthLite has created a unique stylish, lightweight and compact massage chair that uses incredibly strong oval tube aluminum construction. The EarthLite Vortex Portable Massage Chair Package is the ultimate destination for healing and energy. This chair has shown to the world to be one of the best portable venues for massage therapists as well as the sports therapists and much more. This chair is light and only weights about 15 Ibs.
Note: We are currently offering this chair with free shipping within mainland USA this week only!
This massage chair is both Lightweight, Compact and Comfortable. It's stylish design is attractive and yet possesses an incredibly strong oval tube design which includes:
A Patent pending soft and curvy design
An Oval tubing to increase the over all strength.
The lightweight Aircraft Aluminum provides:
Aircraft quality which is in fact strong and lightweight
The chair has a light weight of about 15Ibs.
Amazingly Comfortable:
It's versatile with Multiple face, arm and seat adjustments for optimal client positioning at any time
Pro-Lite™ Cushioning with high quality two layer support system at work
Always Durable yet buttery soft Natursoft™ upholstery.
Easily portable and easy to use:
It's quick to setup with simple face-cradle armrest and seats that are adjustable to hep accommodate clients of all sizes
It can be folded compactly
It Totes and stores easily
The Features:
It has an Aircraft oval tube aluminum Vortex frame
Great Pro-Lite™ cushioning system with two-layer support system
Includes Natursoft™ Upholstery in seven colors (Amethyst, Black, Burgundy, Hunter, Maries Beige, Mystic Blue and Teal)
The all inclusive Package includes: chair, carry case, sternum pad and strap
The Complete Specifications:
Total Weight: 15 lbs
Maximum Working Weight: 300lbs
Limited Lifetime Warranty available
CE Mark
*This product is currently shipping Free in 48 contiguous United States.
A few words about the Manufacturer: EarthLite has been providing the massage community both locally and internationally with high quality EarthLite massage tables and massage chairs since 1976. They are trusted brand and offer lifetime warranty on almost all their products.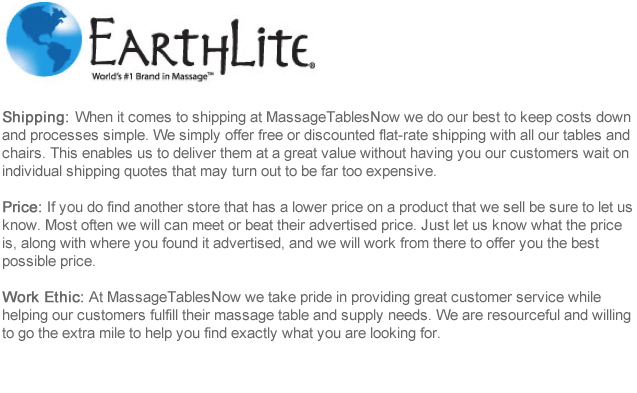 Find Similar Products by Category