Oakworks Performalift Electric Salon Top Table
ASSISTANCE IS JUST ONE CLICK AWAY!
Oakworks Performalift Electric Salon Top Table
Product Description
The Oakworks Performalift Electric Salon Top Table is the top choice for positioning clients. Boasting a unique twin tower lift system, this fully electric table is able to be tilted in multiple directions. This allows for Zero Gravity Chair functionability. This tilting ability allows for many different types of treatments, depending on the needs of the client, and allows for free movement on the part of the professional masseuse. This stationary table reaches a height of 16 and has a maximum lifting capacity of up to 550 pounds. The comfortable upholstery comes in a variety of TerraTouch colors such as Saffron, Earth, Orchid and Sky Blue, and the standard finishes include Golden Oak Stain, Walnut Stain and Cabernet Lacquer. Optional upgrades include Adjustable Side Arm Rests and a Universal Table Extender.
Many products are provided by Oakworks, including various styles of Lift tables (including the Procedure Chair 100 Series), Stationary tables (with optional arm rest shelf brackets and table extenders), Portable tables and Wet/Dry tables. Helpful available accessories include carrying cases, bolsters, side lying positioning systems, table warmers, table carts, face rest pads, cushions, floats, table protectors, hammocks, arm rests and stools. Also available are trolleys which include hot stone warmers and attractive storage features.
Oakworks products are found in MedSpas, Day Spas, Medical Aesthetic & Wellness environments, Hotel Spas, Resort Spas and Destination Spas. They have been chosen multiple years by American Spa Magazine as having The Best Treatment Tables. Oakworks is one of the largest and most in-demand manufacturers due to their high-quality products and satisfaction guarantee. They only use 100% polyurethane fabrics, 100% CFC- (chloroflourocarbons) free foams and responsible hardwoods (certified by the Forest Stewardship Council). Whether customers are looking for easy-to-use portable massage chairs or the most sophisticated multi-purpose spa tables, they will not be disappointed in the construction and comfort that is offered.
Oakworks strives to ensure complete satisfaction on every item sold. They have been in business since 1977 and take pride in the fact that they are based in the U.S. (Pennsylvania) instead of overseas. Their longevity is testimony to their innovation, work ethic and leadership. They also have a firm commitment to the wellbeing of their employees and the environmental health of our planet. Oakworks partners with Trees for the Future (a nonprofit organization that focuses on reforestation) and is a corporate sponsor of the Green Spa Network.
- Note: This beautiful table is currently Shipping Free within 48 United States for a limited time only.
Specifications:
Top: Electric Salon Top
Lift System: 2 Electric Motors
Width: 29" or 31"
Length: 73"
Height Range: 22" - 38"(with 4" AeroCel™ padding)
Weight Capacity: 550 lbs.
Padding: 4" AeroCel™ (standard), 6" AeroCel™ (optional)
Upholstery: TerraTouch™ (standard)
Features
Zero gravity tilt
Multi-function foot control
Storage shelf
Excellent accessibility
UL listed
CE marked
Optional Features
Wood finishes
Hand control
Casters
Click Here to see Owner's Manual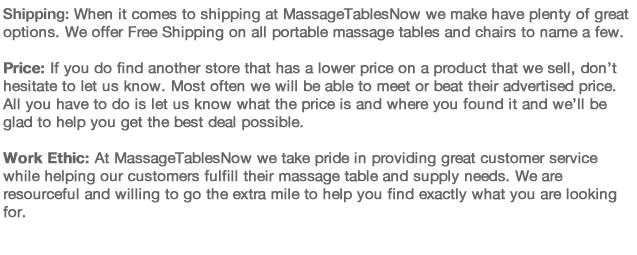 Find Similar Products by Category