Oakworks Nova Portable Massage Table
ASSISTANCE IS JUST ONE CLICK AWAY!
Oakworks Nova Portable Massage Table
Product Description
Our Oakworks Nova™ Portable Massage Table is one of our best Oakworks tables available in the market. It comes in three different widths either 29 inches, 31 inches, or 33 inches. Choose the best height that fits your needs. There are four different height options to choose from. Get this table as short as 18 inches all the way up to 36 inches. Choose the best range that will work for your employees. This table comes stock with wonderful plush padding that will make your clients feel comfortable and at home. Or make a small investment in the comfort of your clients and add on our AC-Aero-Cel padding. Want some more style and comfort for your employees? Avoid embarrassing jolts when your employee's accidentally hit the corner of the table by adding rounded corners. Not only will it be easier to access the other side of the table, it will also give a more aesthetically pleasing look to your office.
When it comes to upholstery, we have many options to choose from. From our tButter, tEarth, tTopal and more! Over 18 different colors to choose from. No matter what décor you have in your office, you will find a color to match with this table. Either stand out with our bright TTPure White, or blend in to your office with our dark TTSapphire. Be sure to add in the optional face rest for your clients to hang their head from a long week at work. Armrests are also available with this model, thus creating a great experience for your client all around This table is durable and will last for many years to come. Make an investment that will pay you back many times over.
This table pays for itself with its comfort, encouraging return clients. Its portability doesn't detract from the sturdy construction of this table. Its construction is completely safe and will stand up to the repeated abuse of long shifts and extended work hours. We stand by our products. This table will meet or exceed all of your expectations. Order this table today and see what it will do for your business. These tables have been on the market for over 20 years. Trust the proven design of this table to perform for you reliably.
We care about you and your experience with this wonderful table. That is why we offer the best products that we can find on the market today. This table is an excellent example of that fine workmanship. These tables will last for many years to come. Experience what a great massage tables can do for your business. From its many features and colors, to its long lasting construction, this table will last for many years to come, and that is why we are in business.
Table's Specifications:
Weight: 29-34 pounds
Length: 73 inches
Width: 27", 29", 31", 33"
Adjustable height range 24"-34" standard; 18"-26"; 22"-30"; 26"-36"
Maximum Operating Weight for the table: 550 lbs
Table has shiatsu release cables & Access End Panel
* Free Shipping available for this table in 48 United States.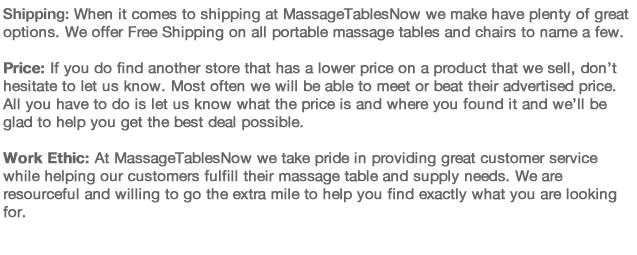 Find Similar Products by Category