EarthLite Caress䋢 Self-Adjusting Head Rest with Strata Face Pillow
ASSISTANCE IS JUST ONE CLICK AWAY!
EarthLite Caress䋢 Self-Adjusting Head Rest with Strata Face Pillow
Product Description
The EarthLite Caress self adjusting Massage Face Cradle is specially designed to offer great support and comfort to your customers and clients. This carefully engineered caress will in fact further enhance the already amazing experience your clients are receiving from your massage therapy.
This Face Cradle easily conforms to the face shape and contours of everyone of your customers to provide all the more soothing and relaxing experience than ever before. With the caress all Sinus pressure is substantially reduced and pressure points are eliminated. Pictures to the left show easily the wide variety of different functionality and adjustments that are made possible with this face cradle.
Soft Pedals on this face cradle will systematically flex and balance to suspend the face of your customer in the most comfortable of cradles. You will also have the option to choose from 16 different NaturSoft™ colors which include; Teal, Amythist, Burgundy, Vanilla Creme, Hunter, Mystic Blue, Black and many more. Simply click on the drop down menu above and you'll be able to choose your desired color.
---
Few Words about the Manufaturer: EarthLite has been manufacturing all kinds of massage tables and supplies since 1976 both nationally and internationally. All EarthLite products are made in USA and built with environmentally friendly materials which have attracted a wide range of professionals in the massage industry.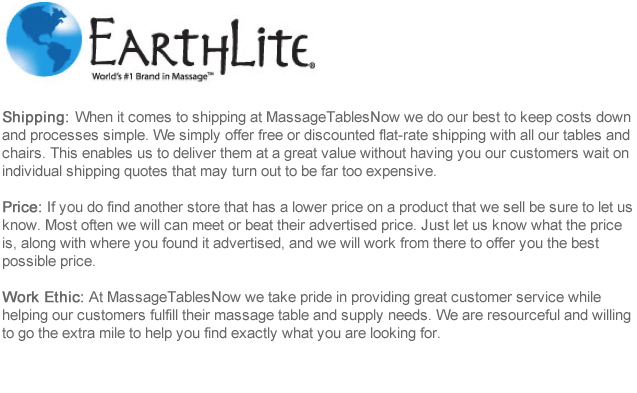 Find Similar Products by Category