Pisces Design Innovations
TUBULAR FRAME
The Aluminum Tubular Frame has many advantages over wood frames:
Industrial strength
Longer life
One, continuous piece of tubing without corner joints
Permanently welded where the two ends meet
All corners rounded (eight corners per table)
Not Subject to the effects of moisture, as is wood
No cracking, splitting or vulnerable corner joints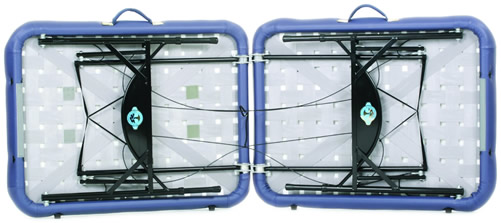 WELDED HINGES
Hinges are permanently welded to the frame for strength and lifetime security. There are no piano hinges with screws to loosen or come out over time.
Diagonal brackets integrated into the hinges are also permanently welded to the frame for strength and lifetime security.
VERSA-CABLE SYSTEM™
All Pisces models come with their original patented Versa-Cable System. With this system, Pisces tables are not only stronger, but lay flat on the floor for shiatsu ect., without the hassle and risk of disconnecting and reconnecting cables.
ROUNDED CORNERS
Seamless, rounded corners allow for greater ease of movement around the table. It also has a softer, more attractive look then square cornered tables.
VELCRO LATCH
Open and close your table easily and quickly. Without external hardware, your table is left with a clean and streamlined appearance, and you avoid injuring yourself on open latches.
U-HOOK UPHOLSTER SYSTEM™
Your table will last forever, but eventually, the foam and fabric will wear. With our innovative upholstery system, you can change the color of your table or replace worn fabric easily in your own home. There are no staples to remove and reinstall. The fabric is merely pulled around the frame and hooked onto velcro fastening strips.
WOVEN WEB TOP™
Polywebbing top is strong but light weight with minimal flexion. Though this resembles lawn furniture, we use a much heavier and stronger webbing. Our special web attachment hardware spreads the stress over a wide area of the webbing, assuring years of continuous use. Because there is a slight "give", client comfort is increased.