Oakworks Wellspring Massage Table
ASSISTANCE IS JUST ONE CLICK AWAY!
Oakworks Wellspring Massage Table
Product Description
Do you do a lot of mobile massage? Then the Oakworks Wellspring massage table is the table for you. It is one of the lightest full size massage tables available on the market. It is so light because of its great, industry-leading, support system. This table is perfect for you to be able to work seated as you give your massage because of the detailed understructure, which is built in a way that provides the maximum amount of leg room for the therapist on all sides. With two different width sizes to choose from, you will find a size that fits your clientele perfectly.
There are also three different heights to choose from. After you have found the size of table that fits your needs, then decide what type of padding you will need. We offer firm padding, all the way to our plush padding. Then if you want an extra special treat, then look into our AC-Aero-Cel Padding. This table also comes with the option to have rounded corners. This provides both the user and the therapist a better experience, avoiding awkward bumps in the table from moving to one side or another of the table.
Don't forget to finish off your selection with choosing your upholstery color. With over 18 different colors to choose from, you are sure to find a color that will match your business colors. This table despite its mobility and light construction is extremely durable. Made with an aluminum understructure that provides incredible support and strength that would make any therapist jealous.
Due to the rigidity of the aluminum construction, this table will last for many years to come. The Wellspring table will pay for its self-many times over though the years of its faithful service. Enjoy the comfort that this table brings to your customers and clients. The padding will last and be like new for years.
This table is one that we stand behind. We know that you will love this table as much as we have. Your experience with us is something that we care about deeply. Please feel free to reach out and contact us if you ever have any questions. We look to forward to helping you in all of your spa needs.
You Can also choose from our 4 different kinds of Oakworks Wellspring Massage Table Packages we have available in our store by clicking here.
Important Features:
Weight of the table: 25-29 Ibs
Length of the table: 73"
Width of the table ranges from: 29", 31", 27"
Adjustable height range 24"-34" standard and 17"-26"; 22"-31"
Maximum working Weight: 550 Pounds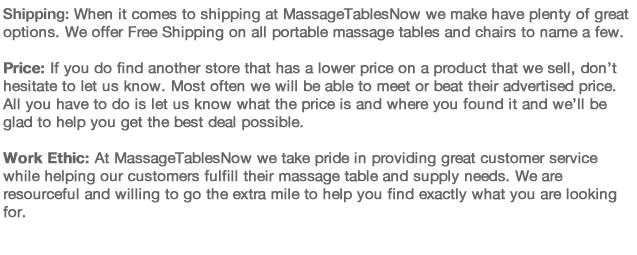 Find Similar Products by Category