EarthLite Lift Table Metal Paper Roll Holder
ASSISTANCE IS JUST ONE CLICK AWAY!
EarthLite Lift Table Metal Paper Roll Holder
Product Description
The EarthLite Paper Roll Holder/Hanger has been designed by EarthLite to accommodate the easy reach of paper while practicing on you patience. There is nothing more annoying than having to get up to get paper or worse leave the room and leave your client alone, just to grab paper. Be prepared for the unexpected by using the easy to pull from EarthLite's paper holder to make things easier on you and your customers. This could also be a great gift to another masseur who you thing would benefit from its use. This product is currently shipping for free and has no Tax added to it within the 48 contiguous United States.
A Few Words About The Manufacturer: EarthLite has been one of the most successful manufacturers of massage tables, chairs and accessories since 1976. Their quality of products has captivated not only massage professionals in the USA but also those around the globe. EarthLite offers life time warranty on almost all products.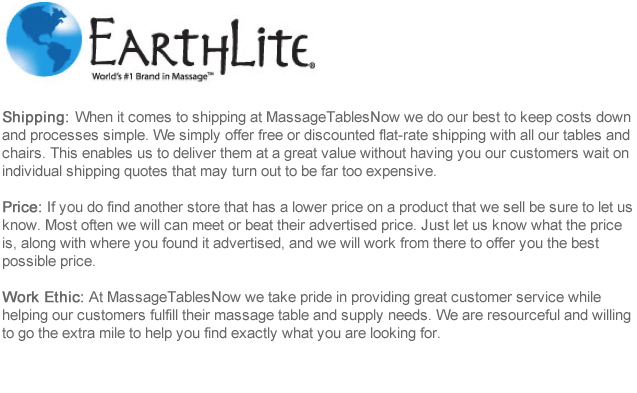 Find Similar Products by Category