ASSISTANCE IS JUST ONE CLICK AWAY!
Product Description
The EarthLite Element Trolly is a Versalite Trolly Treatment Workstation that is not only beautiful to look at but also offers a space saving functionality that will leave your office clean and organized and wow everyone that enters your office. Gone are the days that you couldn't find something you urgently needed to do your practice when you most needed it. Within its compartment you will find a handy space saving slide out breadboard shelf for a convenient working surface.
There is a hot towel cabinet recess that is built with a flexible single surge protected power strip that makes everything all the more accessible. Then you have two generously made supply drawers made with high quality casters which adds easier movement as well as space to add much of your tools and accessories with easy of access at anytime. You can be sure that you have in front of you easily the best trolly on the market considering EarthLite's reputation of being the number one brand for massage. This is a great quality trolly at a good value compared to other no name trolly's costing hundreds of dollars more.
The Element trolly is available in color white and black or you could upgrade to natural maple finish to make your office even flashier for an extra $48. You can choose your option form the color drop down menu above. You can also choose to upgrade to EarthLite Base Stain available in Natural maple color only for an extra $224. The Hot towel cabinet is not included and is sold separately. Please call us to order this add on at 800-430-1690.
Features of Vented Hot Towel Cabinet Section:
Completely made with a surged protected power strip for your convenience
Two Generous made Supply Drawers
Conveniently made for storage and access to essential supplies
Quality Rolling Casters for easy of movement and faster relocation.
Modest Size:
The Trolly will Comfortably fit in any small treatment room
Elegantly made with solid wood and a design to wow everyone
Available in Black, White, Natural Maple finish or EarthLite Base Stain
Made with Stain and Water Resistance Top
Constructed with pullout laminated breadboard.
Specifications:
External Dimensions of the trolly are (25.5W X 16.75 L X 38.5 H)
Hot Towel Warmer Cabinet Opening dimensions:
(16 Depth x 18.5" Width x 16.75" Height)
Total Weight 85 Pounds
Available in 100, 110, and 220 voltages
Comes with One Year Warranty
CE Mark
Note: The Trolly is currently shipping Free within the contgious USA for a limited time.
---

---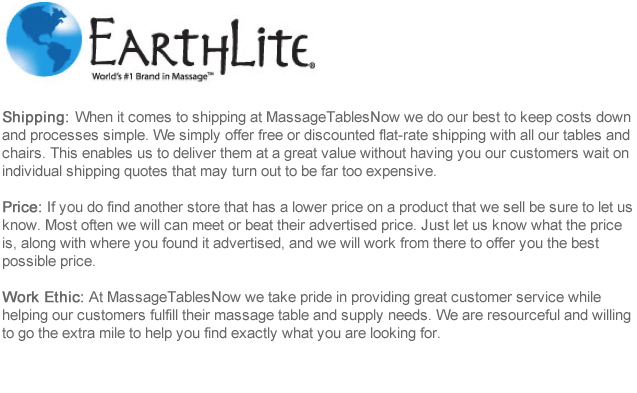 Find Similar Products by Category