EarthLite Deluxe Adjustable Head Rest with Face Pillow
ASSISTANCE IS JUST ONE CLICK AWAY!
EarthLite Deluxe Adjustable Head Rest with Face Pillow
Product Description
Engineered with top of the line technology the EarthLite Deluxe Adjustable Head Rest has become the favorite head rest choice amongst many massage enthusiasts in the industry. This is mainly because of its flexible adjustment features and its wide range of color options and of coarse lets not forget about the affordability factor.
This comfortable and durable EarthLite head rest is easily adjustable vertically to help accommodate all kinds of people, including larger clients. The deluxe head rest fits all EarthLite massage tables and all tables with dowels measuring 8 inches on center.
Simply put the best head rest available on the market, reasonably priced and budget friendly with over 16 different colors to choose from ranging from; black, burgundy, vanilla creme and many more (You can choose from drop down menu above). Now you have it even easier; with this double action platform head rest you are also able to change its height, without having to extend it away from the table.
---
Few words about the manufacturer: EarthLite has been producing high quality massage tables and supplies since 1976 and has globally gained massive popularity and built a solid reputation in the massage industry. MassageTablesNow endorses EarthLite as a reliable and trusted brand for high quality USA made Massage supplies.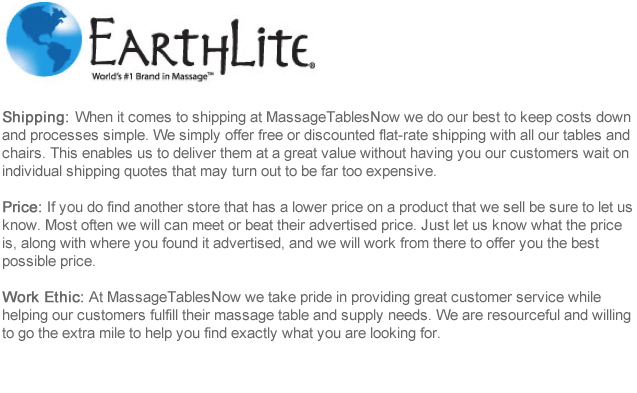 Find Similar Products by Category