Why Is Choosing the Right Massage Table Size Important?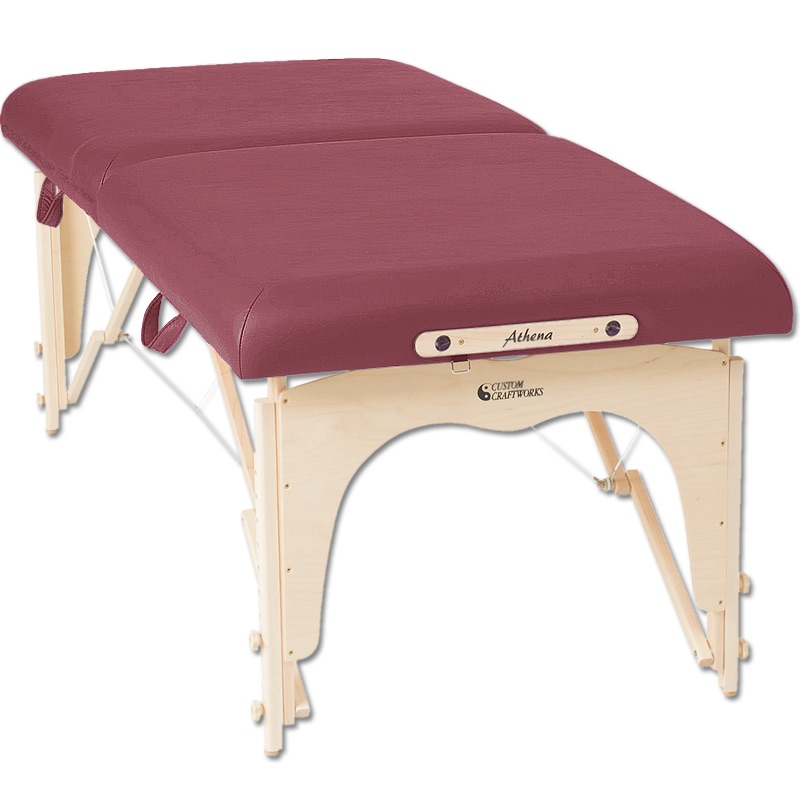 A massage table is a crucial piece of furniture for any massage therapy business. It is the foundation for providing comfort and convenience for the client and the massage therapist. However, not all massage tables are created equal; they come in various sizes and shapes. Choosing the right size massage table means ensuring the table is suited for the massage therapist, the clients, and the services offered. This is very important as it can be the difference between an underwhelming massage (where both the client and the massage therapist are uncomfortable) and an unforgettable massage experience where the massage therapist has ease of maneuverability and the customer experiences ultra comfort and relaxation.
How to choose the right size massage table
There are three key factors to keep in mind when selecting the right massage table size; width, length, and height. Let's take an in-depth look at each of them:
1. How to Choose the Correct Width
Width is essential when choosing a massage table size and is the most common means to customize a massage table. The decision to pick a massage table width is based on several reasons:
The stature of the Therapist - In order to reach the centerline of the table, and thus the client, some smaller-statured therapists may opt for more narrow tables.
The type of modality in which the Therapist is focused - Sports and Athletic-focused therapists will often opt for a narrower table for their required uses.
The stature of the clients - Some therapists choose wider tables because they have large clients, and they need to be able to physically reach the client across a wide table. A wide table means that larger clients can be comfortably and safely accommodated, allowing the therapist to work on them without the risk of them falling off or being uncomfortable.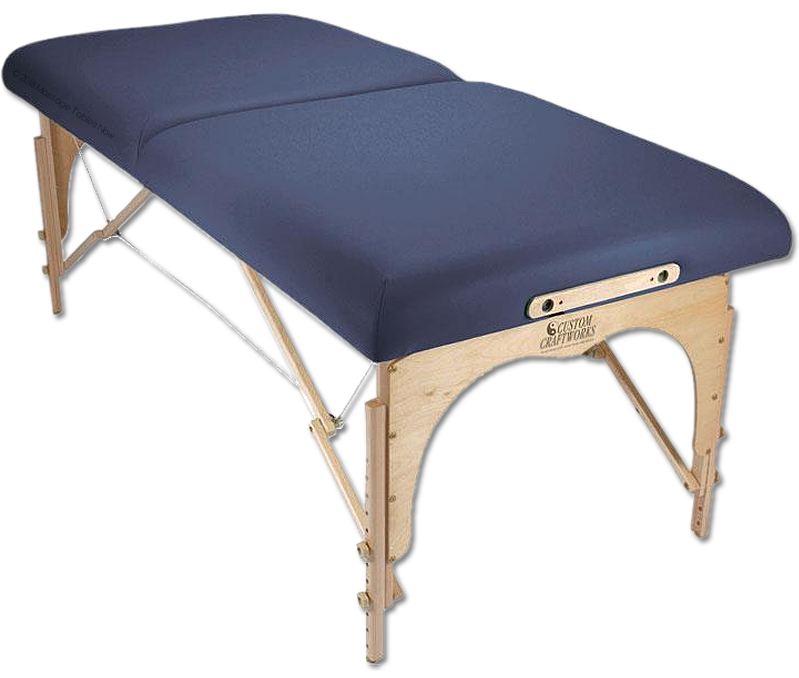 Some tables that offer several width options are:
If you're thinking of widening your already purchased massage table, here are some side arm extensions to do just that:
2. How to Choose the Table Length
In addition to choosing the proper height for your massage table, it is also important to consider length. Standard massage tables have a length of 73", which is suitable for most heights and needs. However, if a therapist works with taller clients, they can add extra inches to their table's length to accommodate any size, body type, or technique. There are three key ways to do this:
1. Buying a table with a longer length option. The following listed tables all offer lengths of 73" and 78":
2. Opting for a table that has an adjustable face cradle, which can add an extra 7" - 9".
3. Adding a footrest extension to your table. Some great options are:
3. How to Choose the Correct Table Height
According to Edward Mohr, a massage therapist who is also a retired certified ergonomics professional, selecting a table at the proper height is vital when preparing for a massage therapy session. Tables at a higher height equate to reduced low-back bending and a more normal wrist angle. Conversely, lower massage table heights cause the massage therapist to bend over more, transferring their center of gravity forward and increasing the stress on their low back. Additionally, wrist angle, while extended, becomes greater and increases stress, ultimately reducing grip strength.
A good rule of thumb is to choose a massage table where the top of the table reaches just below the therapist's wrist. Or, simply start with the table at half the therapist's overall height. The good news is that numerous massage tables are height adjustable allowing therapists to adjust slightly up for longer leg length and slightly down to accommodate a longer torso.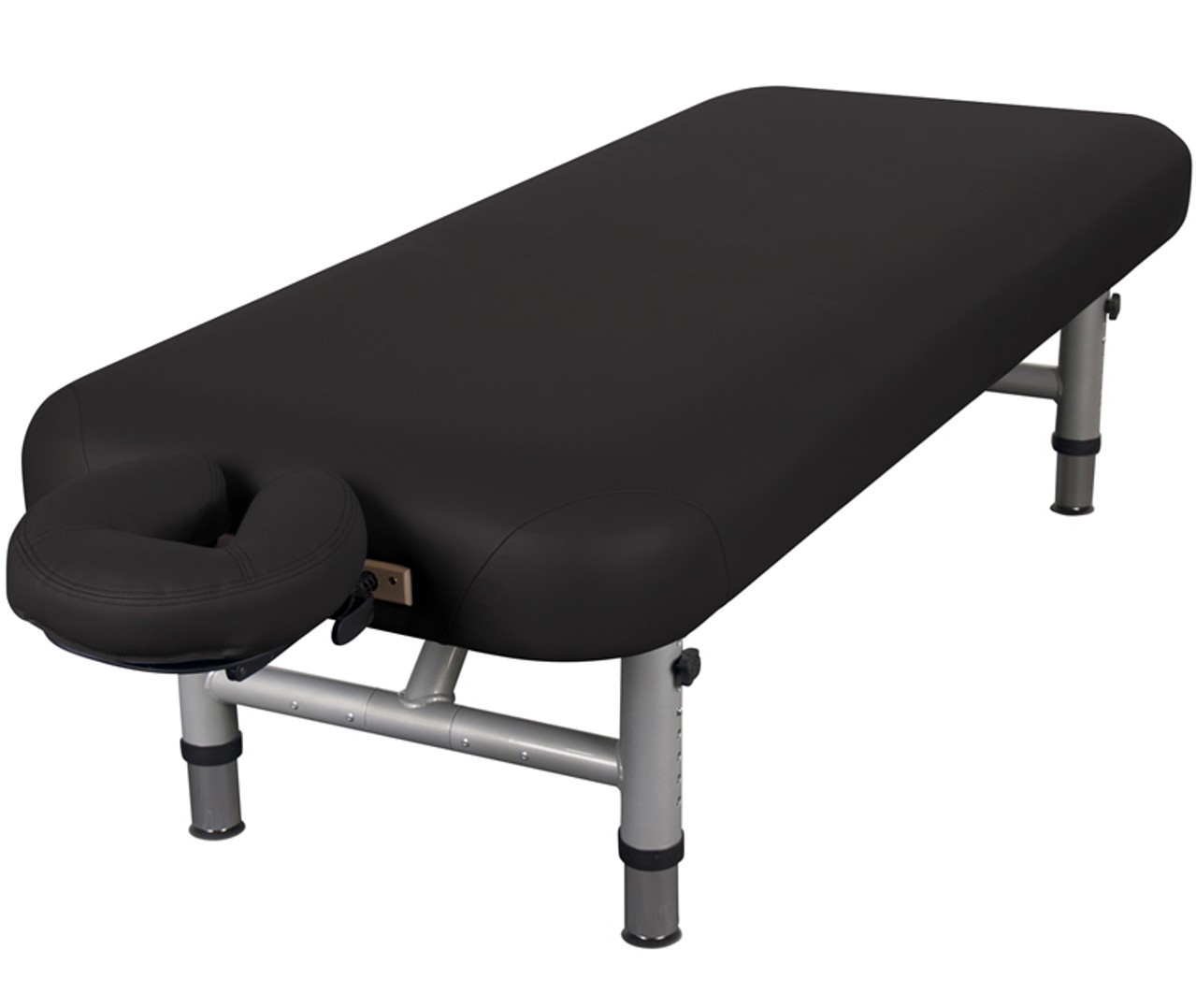 Angie Patrick, Head of Distribution and Key Accounts at Oakworks Inc, says that the height of a massage therapist plays a key role in determining the massage table height they should use. Here's a graphic made by Oakworks which provides a basic guideline for sizes as it pertains to the Therapist body and stature.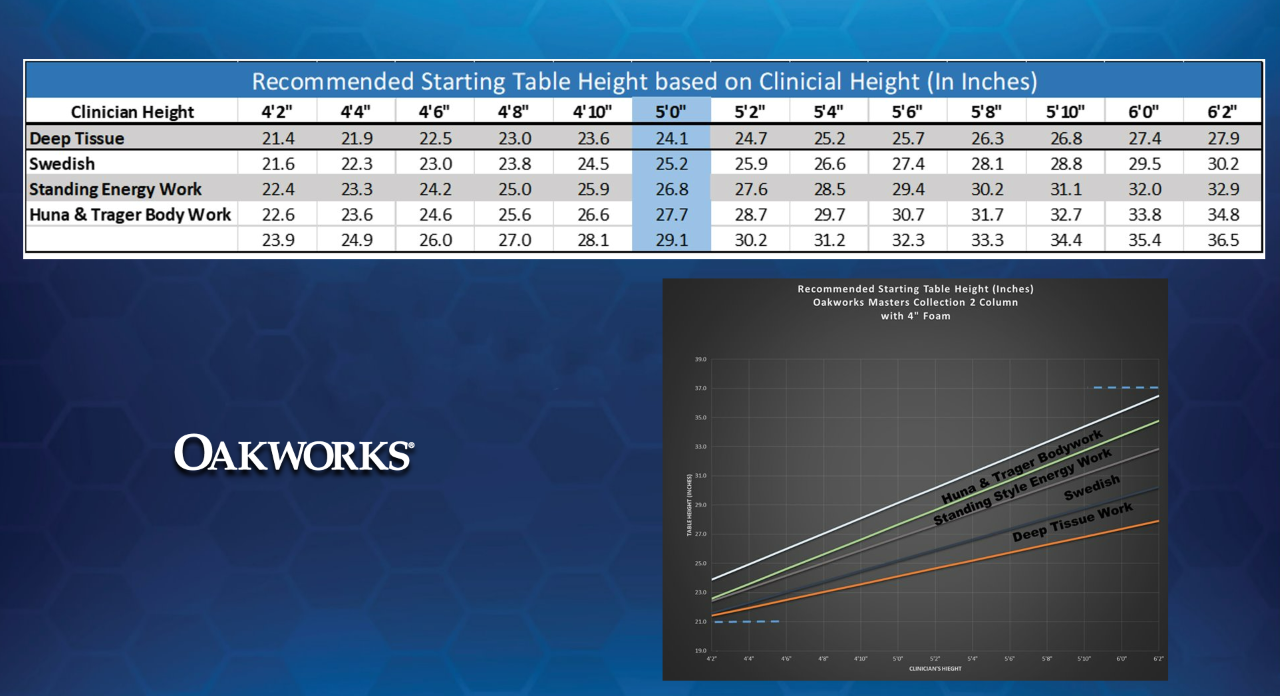 "Oakworks has over four decades of experience in matching the right table to the Therapist needs for maximum comfort, proper use of body mechanics, as well as an overall stellar client experience. Our longevity as the leader in Massage, Spa, Medical and Physical Therapy equipment has been hard earned, and we are committed to continuing to earn that trust every day in the quality goods we manufacture and produce out of our facility in New Freedom." says Angie.
Some tables we would recommend with great height options are:
The Oakworks Proluxe Flat Top Electric Lift Massage Table has an incredible height span of 19" - 36.5"
The Oakworks Proluxe Salon Top Electric Lift Massage Table has an extraordinary height span of 22" - 40"
Why is customizing the size of your massage table important
1. Comfort for Clients
Choosing the right size massage table is essential for your client's comfort. Every person's body is unique, so one massage table won't fit every person. If your table is too small, your clients may feel cramped or uncomfortable. On the flip side, if your table is too large, your clients may be awkwardly positioned or have difficulty getting their bodies onto it. You may be able to massage your clients in both scenarios; however, their experience may be incredibly uncomfortable and unpleasant. When you select the correct size massage table that fits your client's body, you provide them with the most comfortable experience possible.
2. Improving Your Efficiency as A Massage Therapist
In addition to ensuring that your clients are comfortable, choosing the right massage table size can help you improve your efficiency as a massage therapist. If your table is too small, you may have difficulty accessing some of your client's body parts. If your table is too large, you may strain to perform the massage. With the right table size, you can operate efficiently by avoiding unnecessary strain and discomfort while providing your clients with the best massage experience possible.
Conclusion
Choosing the appropriate massage table is one of the most critical decisions a massage therapist can make. The correct table allows a therapist to offer their best work for the client and, in turn, creates a long-lasting and profitable relationship for both the client and therapist. It's essential to customize the size of your massage table to provide your clients with the best possible experience and to ensure that your business is optimized for success.
After selecting your ideal massage table, be sure to check out the rest of our vast catalog for all your accessories, supplies, and tools needs. Our adept, dependable, and friendly client service team is available during business hours via online chat or phone at (888) 515-0444; you can also email us 24 hours a day, seven days a week at hello@massagetablesnow.com. Please get in touch with us if you have any questions; we will research your query and respond via email within one business day.