Find out The Latest Trends at High-End Spas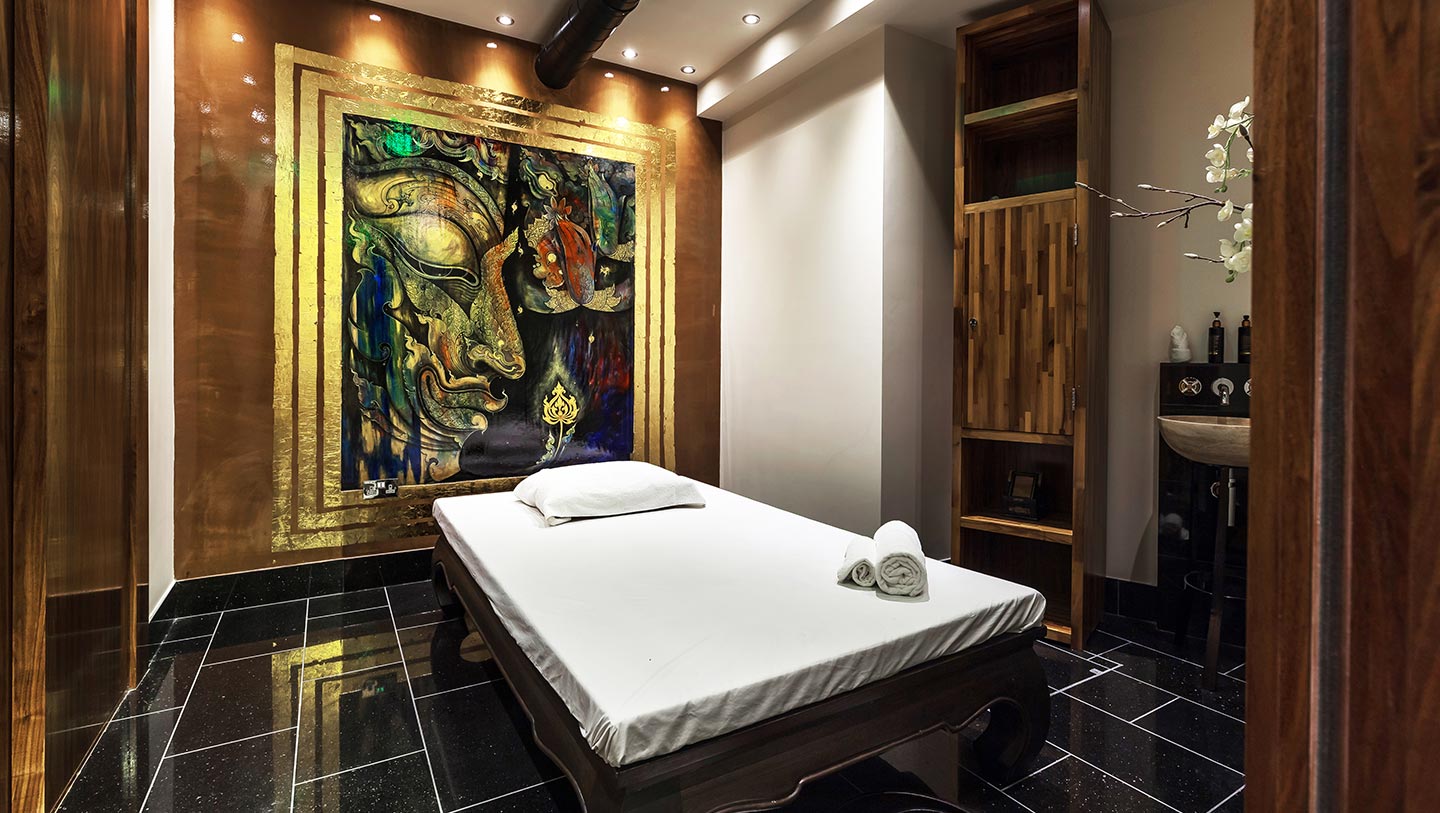 There is nothing quite like a visit to a luxurious spa to take your relaxation to the next level. High-end spa treatments offer a level of pampering and rejuvenation that can leave you feeling brand new. And now more than ever, top spas are pushing the boundaries of what's possible when it comes to rest and rejuvenation. At these spas, you'll find luxury spa equipment and a range of treatments and services that go far beyond the traditional massages and facials.
From holistic therapies to tech-driven treatments, high-end spas are embracing the latest trends and techniques to help clients feel and look their best. Join us as we explore some of the most exciting and innovative trends taking place today, and discover the ultimate in self-care and pampering.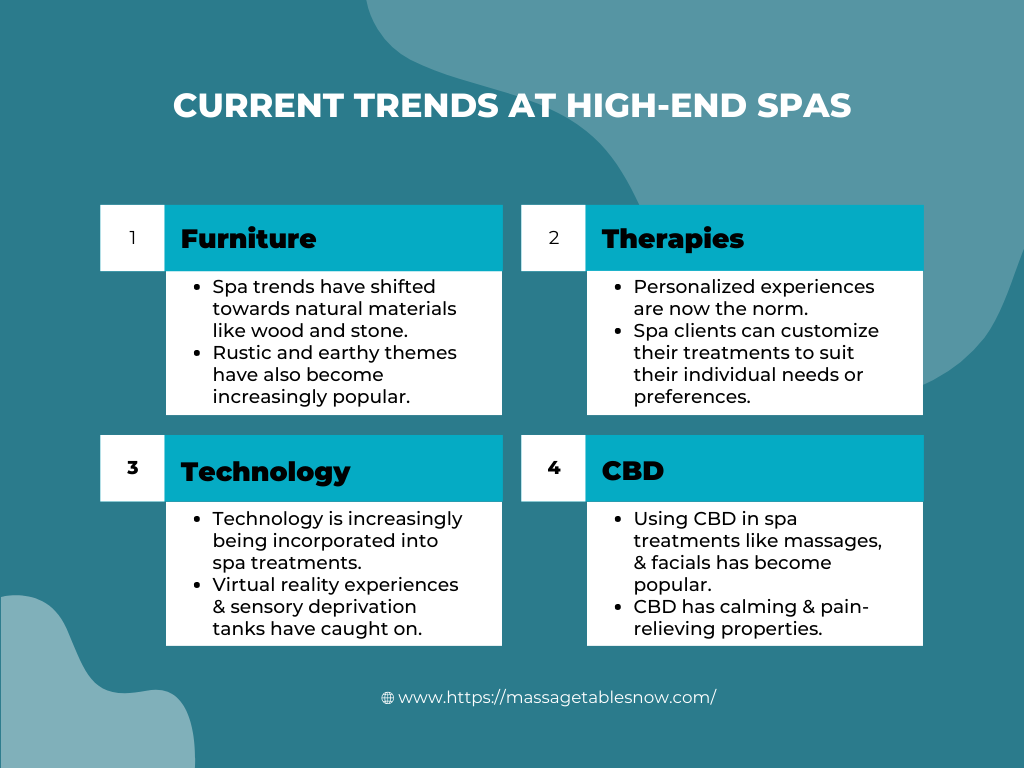 1. Furniture
Furniture is an essential aspect of creating a relaxing and luxurious atmosphere in a spa. In recent years, the trend has shifted towards natural materials like wood and stone. These materials not only add to the aesthetic appeal of the spa but also create a calming environment for guests. Rustic and earthy themes are also becoming increasingly popular, with spas opting for warm, neutral tones and comfortable, oversized furniture. A great example of this luxury spa furniture trend is the LEC NUWAVE S Relaxation Spa Lounger.
Another example of this luxury spa furniture trend is the use of live-edge wood furniture. Live edge wood pieces are made from the natural edge of a tree and are often used in spas to create a natural and organic feel. These pieces are typically one-of-a-kind and add a unique touch to the spa's decor.
2. Therapies
In terms of therapies, personalized experiences are now the norm. Guests can now customize their treatments to suit their individual needs and preferences. For example, some spas offer a personalized aromatherapy experience, where guests can choose the essential oils for their massage or facial. This allows guests to tailor their treatment to their specific needs and preferences, creating a truly unique and personalized experience.
Another example of personalized therapy is sound healing. Sound healing involves the use of sound frequencies to promote relaxation and healing. Guests can choose from a variety of sound healing therapies, such as crystal singing bowl therapy or gong therapy. These therapies are tailored to each guest's needs and preferences, creating a truly personalized and immersive experience. A great Sound therapy relaxation lounger is the LEC Harmonic Sleep Lounger, Mind-Sync.
4. Technology
Technology is also being incorporated into spa treatments in most new trend medical spas. Virtual reality experiences are now available in some spas, allowing guests to escape to a virtual world and fully immerse themselves in the treatment. Sensory deprivation tanks are also gaining popularity, providing guests with a peaceful and meditative experience.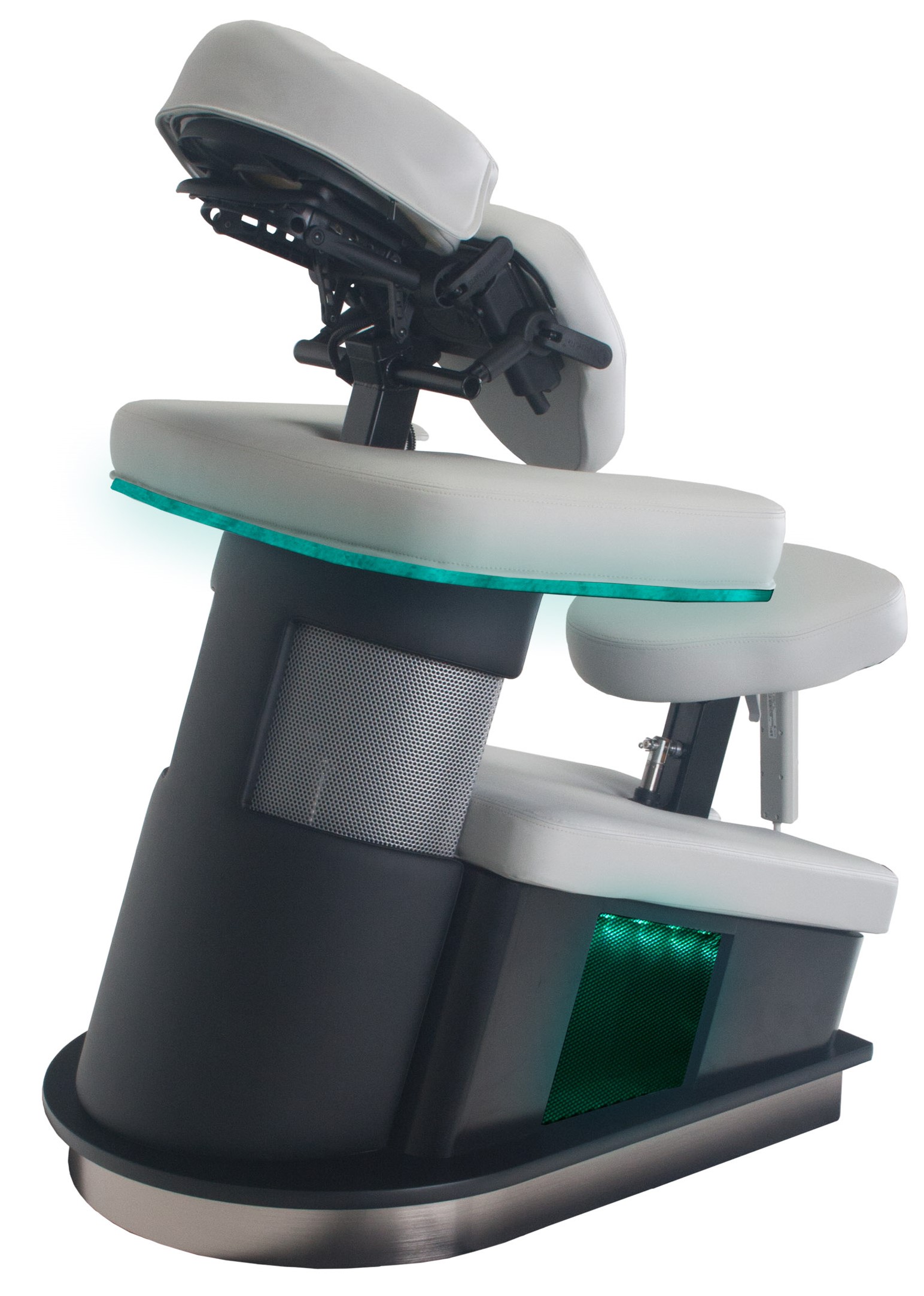 The FusionLite™ Stationary Massage Chair from Living Earth Crafts is a great example of a massage chair that incorporates technology into massage and spa treatments. It combines the latest in chromotherapy, aromatherapy, and music therapy into an all-electronically adjustable massage chair.
5. CBD
Finally, the use of CBD in spa treatments is a trend that is gaining popularity. CBD, or cannabidiol, is a natural compound found in the hemp plant. It is known for its calming and pain-relieving properties and is being infused into massages, facials, and even pedicures. CBD treatments are perfect for guests seeking a truly indulgent and therapeutic spa experience.
Our Favorite Trending Spa Furniture
We couldn't mention what's trending at high-end spas without mentioning the spa furniture that's trending right here at MassageTablesNow. The clear favorites are:
1. Oakworks Spa Lounge, CURVA LOUNGER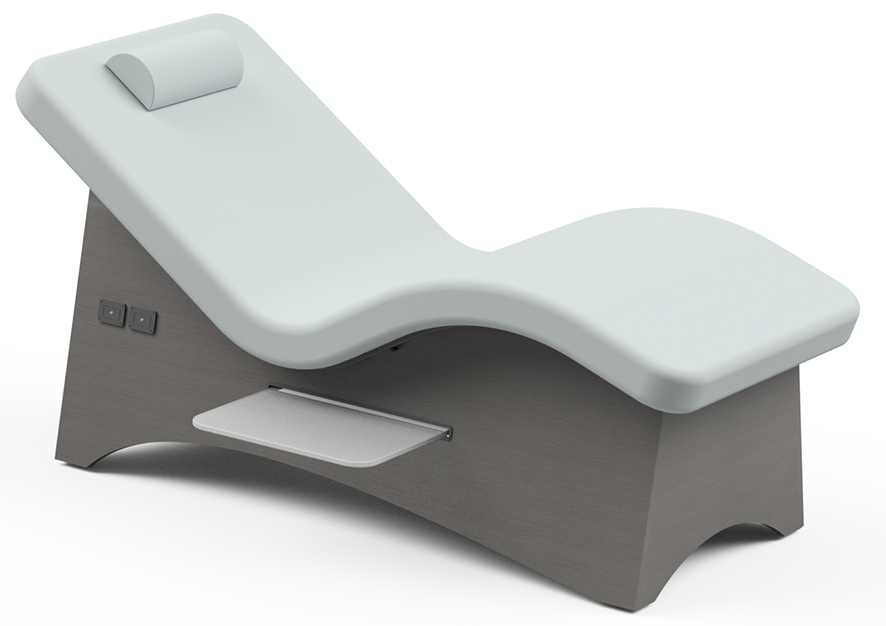 2. Touch America Spa Relaxation Lounger, LEGATO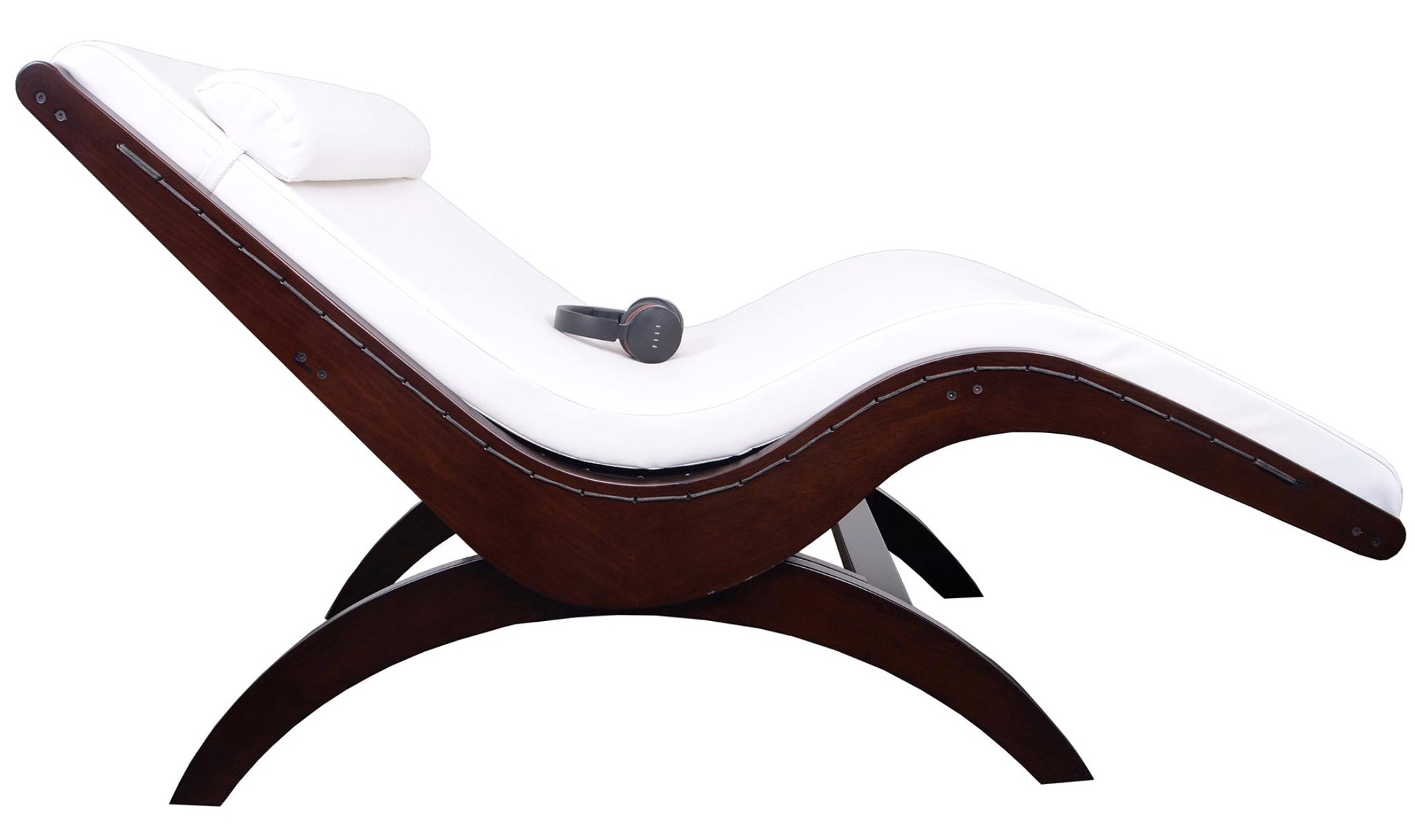 3. LEC INFINITY GT Multipurpose Treatment Table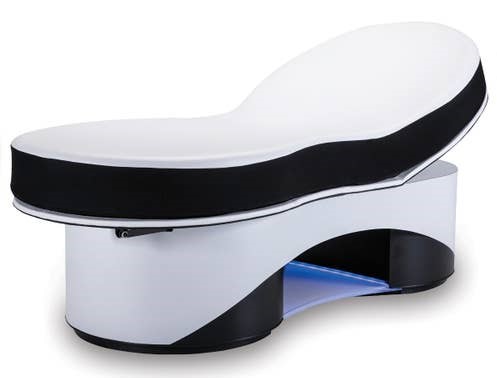 4. LEC NUAGE Vector +Studio Treatment Table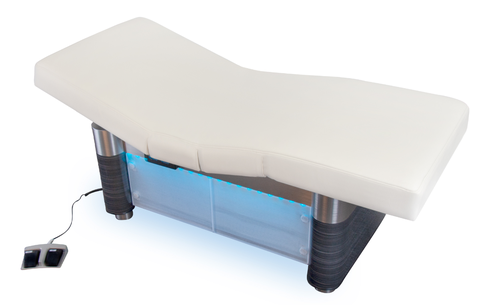 5. Earthlite Portable Folding Stool
6. LEC PARKER Spa Trolley + Daylight Lamp & Silhouet-Tone Steamer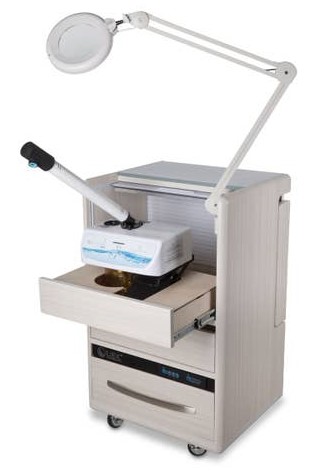 Conclusion
In conclusion, the spa industry is evolving to cater to guests' needs and preferences. Incorporating the latest luxury spa equipment trends and luxury spa salon furniture into your spa can attract more guests and create a truly unforgettable experience. After selecting your ideal spa furniture, tools, and accessories, make sure you browse the rest of our vast catalog for all your massage needs.
Our professional, dependable, and friendly customer service team is available during business hours via online chat or phone at (888) 515-0444; you can also email us 24 hours a day, seven days a week at hello@massagetablesnow.com. Please get in touch with us if you have any questions; we will research your query and respond via email the same day or within one business day. Happy Shopping!
FAQs
What are some of the latest trends in spa management?
According to recent web search results, some of the latest trends in spa management include a focus on healing therapies for mind, body, and soul, with the spa experience becoming more personalized and technological. Some of the latest spa treatments include meditation salt booths, sound baths, LED light bed services, and hydrotherapy. In addition, there is a growing emphasis on incorporating an element of nature into spa experiences, with forest bathing and crystal healing therapies becoming more popular. Another trend is the incorporation of à la carte or general programs delivered by spa experts like fitness coaches, naturopaths, psychologists, and yoga masters. Finally, there is a shift towards quick, no-downtime treatments, natural ingredients, and treatments that strengthen muscles.
What are the three most popular spa treatments?
Some of the most popular spa treatments in 2023 include personalized and technological spa experiences, a focus on healing therapies for mind, body, and soul, and incorporating nature into spa experiences. Some spas offer à la carte or general programs delivered by spa experts, quick, no-downtime treatments, and the use of natural ingredients. Additionally, some of the unique spa treatments that are gaining popularity include LED facials, oxygen facials, anti-aging facials, beer bath hydrotherapy, body mud masks, infrared saunas, and zero gravity massages.
What are the most popular spa services listed in order?
There is no one-size-fits-all when it comes to the most popular spa treatments as it varies depending on the individual's preference and needs. However, some unique treatments are gaining popularity such as LED facials, which use light therapy to improve the skin's appearance and texture while reducing fine lines and wrinkles. Beer bath hydrotherapy, which involves soaking in a tub filled with beer, hops, and yeast, is also gaining popularity for its relaxing and skin nourishing properties.