As a growing number of massage therapists go mobile, a need for lighter, portable, and durable massage supplies has emerged. The days where one stable, sturdy, and oftentimes hefty massage table is needed in the office have passed. Now, massage therapists welcome a number of different tables, all with specific functions or purposes.
Some massage therapists might need a stationary massage table for maximum comfort and stability while working on patients. Other massage therapists prefer portable massage tables for their flexibility. Regardless of your preference for stationary or portable, a lightweight massage table can often be the middle ground you're looking for. Light and durable, these massage tables are perfect for the therapist wanting to expand their business to include more dynamic massage practices.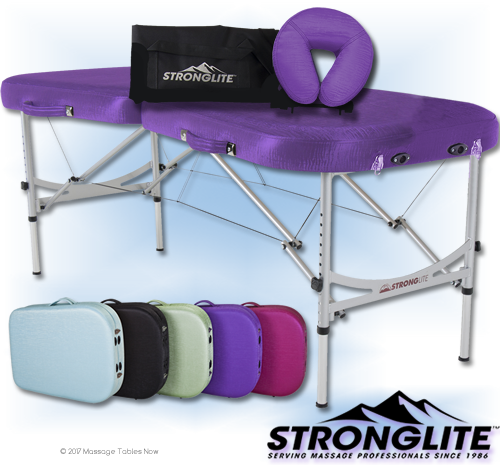 What should I look for in a lightweight massage table?
It may go without saying, but when shopping for a lightweight massage table, ensure your table is on the lighter end of the spectrum.
Pay attention to the materials used to create the table. Many lightweight tables might be made with aluminum, as it tends to be a lighter alternative to other metals, and have portable folding frames. Wooden massage tables can also be lightweight and hold more weight, which may be advantageous in the long run. These tables can also have a maximum working weight of up to 750lbs.
As a massage therapist who is also working with people of varying heights, you want to make sure your lightweight massage table also has easy adjustability. 24" to 34" is a common height range for these tables.
What weight classifies as a lightweight massage table?
A lightweight massage table will be around 12kg or 26lbs in weight. It's best to not look for massage tables that are over 30lbs (~13kg), as those no longer classify as lightweight and might pose issues during transport. At the same time, a table that is significantly lighter than 26lbs might not be stable enough to support your massage practice.
Does it have to be portable?
Many lightweight massage tables are portable, but you can still find some quality, lighter massage tables that are around 30lbs to 33lbs. Earthlite makes several tables that fall into this category, and are known for their durability and high quality amongst massage tables.
What are some different brands that sell lightweight massage tables?
You can find one quality lightweight massage table at almost every top brand, including Custom Craftworks and Oakworks.
Shop these great lightweight massage tables based on your business' needs.
Need a starter table? Oakworks Aurora Portable Massage Table is lightweight, compact, and is a great first investment for your practice.
The Earthlite Luna Portable Massage Table is both lightweight and sturdy, and happens to be a favorite amongst new and seasoned massage therapists alike.