Use the coupon code "TREAT5" when checking out and receive 5% off any of our Treatment Tables!
Are you a massage therapist, physical therapist, chiropractor, or osteopath? If you are, then I'm sure that treatment tables are the beating heart of your practice and possibly the most essential pieces of professional furniture you own.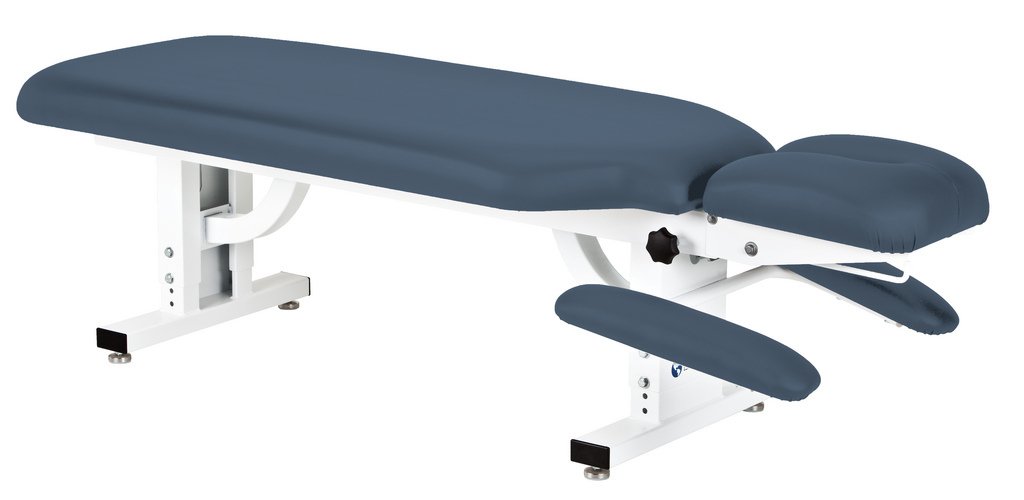 Treatment tables are medical platforms designed to act as efficient and safe surfaces for patient rehabilitation, treatment, and care procedures.
An excellent treatment table could easily be the difference between a mediocre treatment experience and an effective treatment experience that's optimized to meet each patient's requirements. Having the best treatment tables is a mark of quality for both you and your practice; it is crucial to understand the different types and to choose the right ones.
Types of Treatment Tables:
The first step in choosing the perfect treatment table is identifying the different types and their uses. Treatment tables are typically categorized based on their design, use, and their various features; here's a rundown of the different types:
Static/Stationary Treatment Tables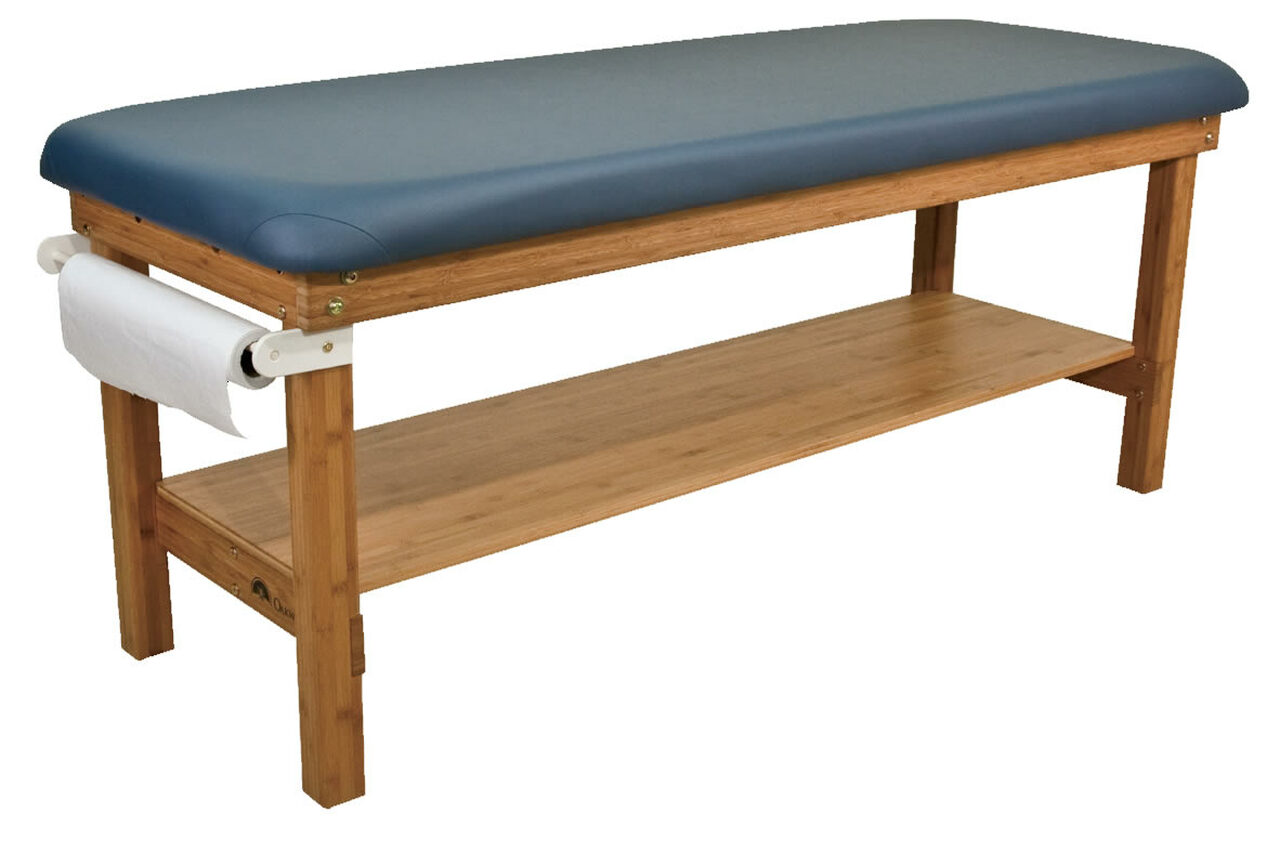 As the name suggests, this treatment table has a fixed height and cannot be adjusted or folded. A stationary treatment table is ideal when the patient is physically steady and has no need for significant body movement. The Oakworks Powerline Exam Treatment Table is a perfect example of a stationary treatment table.
Portable Treatment Tables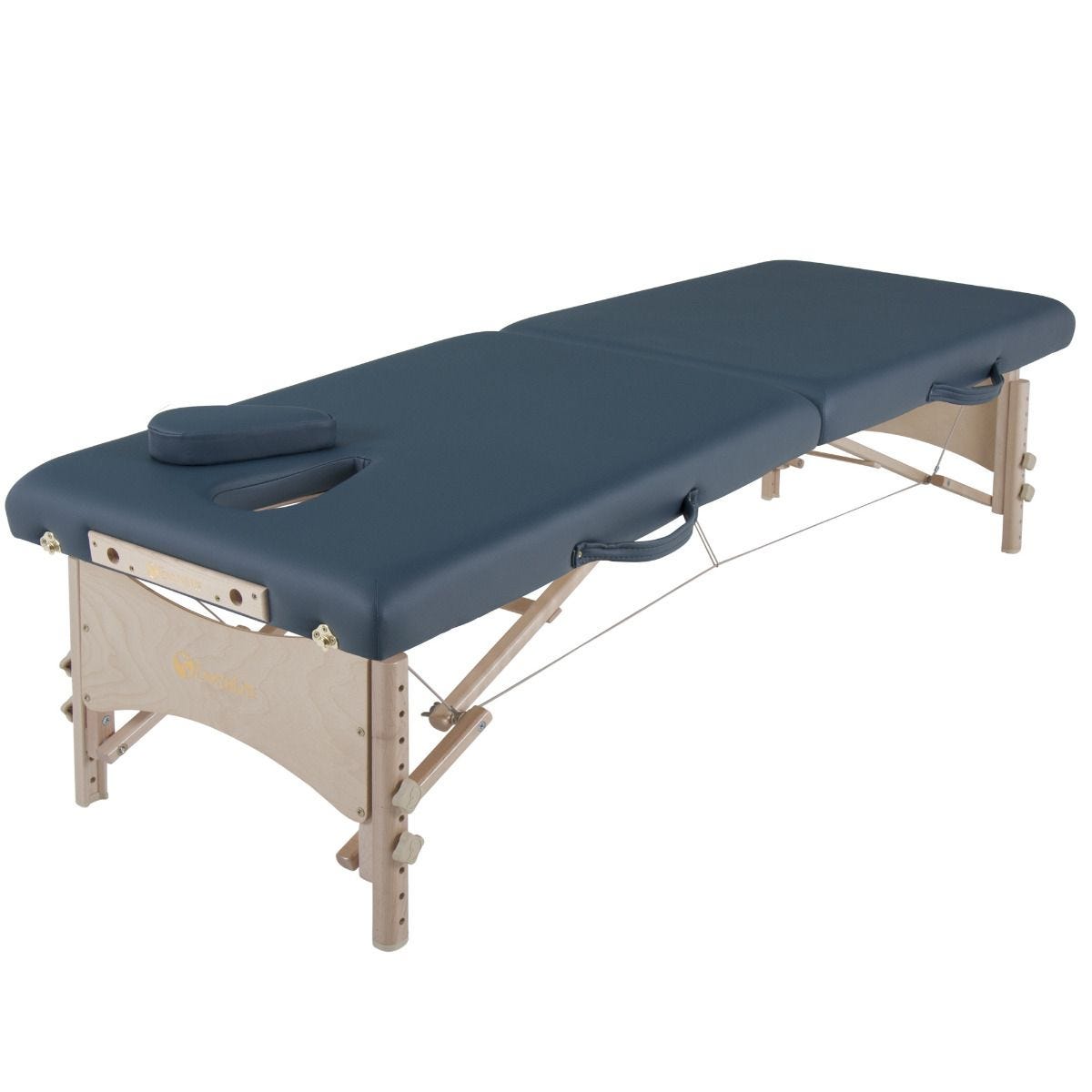 Portable treatment tables are just that, mobile. They can be easily put together and or disassembled and come with packaging for ease of transportation. They are perfect for on-the-go medical practitioners who examine and treat patients at their homes. The Earthlite Medisport™ Portable Treatment Table is a great example of a portable treatment table.
Manually Adjustable Treatment Tables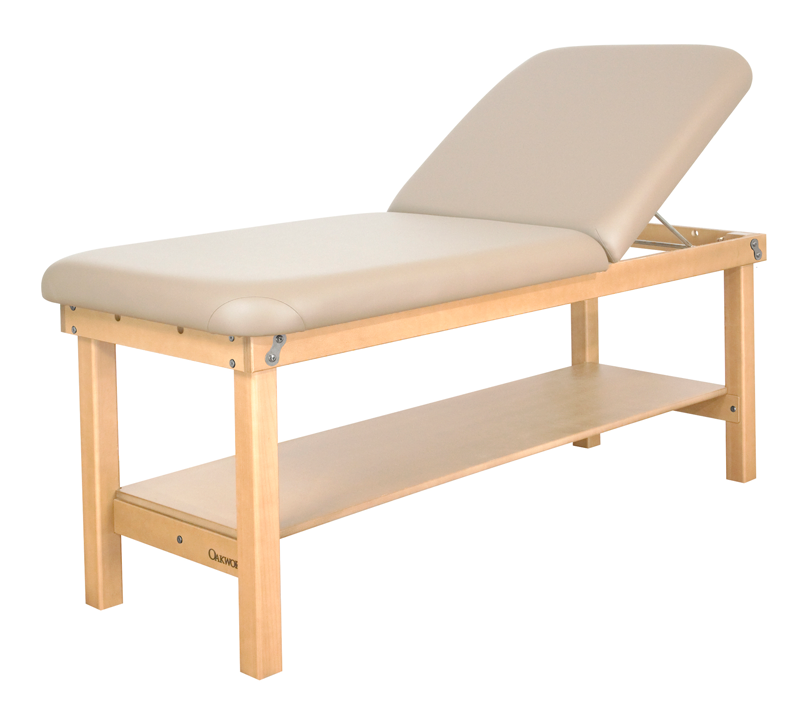 As its name implies, manually adjustable treatment tables are manually adjustable. They can be folded, and their height and backrest can be manually adjusted. This treatment table type is suitable for clients using wheelchairs who might not have enough strength to climb to the table. The Oakworks Seychelle Wave Backrest Exam Treatment Table is a perfect example of a manually adjustable treatment table.
Electronically Adjustable Treatment Tables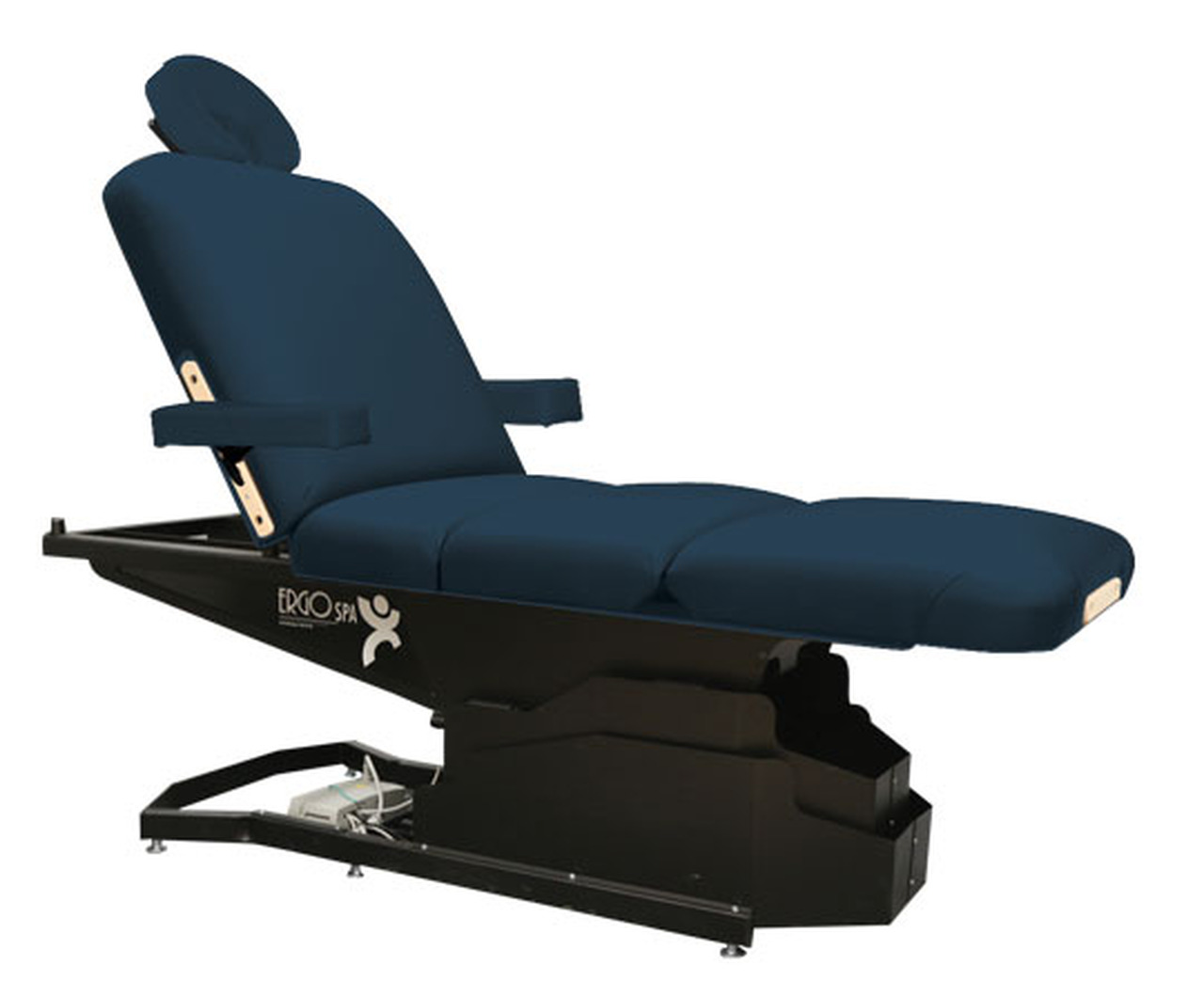 As I'm sure you've deduced, electronically adjustable treatment tables are electronically powered and adjusted. Like manually adjustable tables, they are suitable for clients using wheelchairs who might not have enough strength to climb to the table. The Custom Craftworks ErgoSpa Electric Treatment Table is a perfect example of an electronically adjustable treatment table.
Hi-Lo Treatment Tables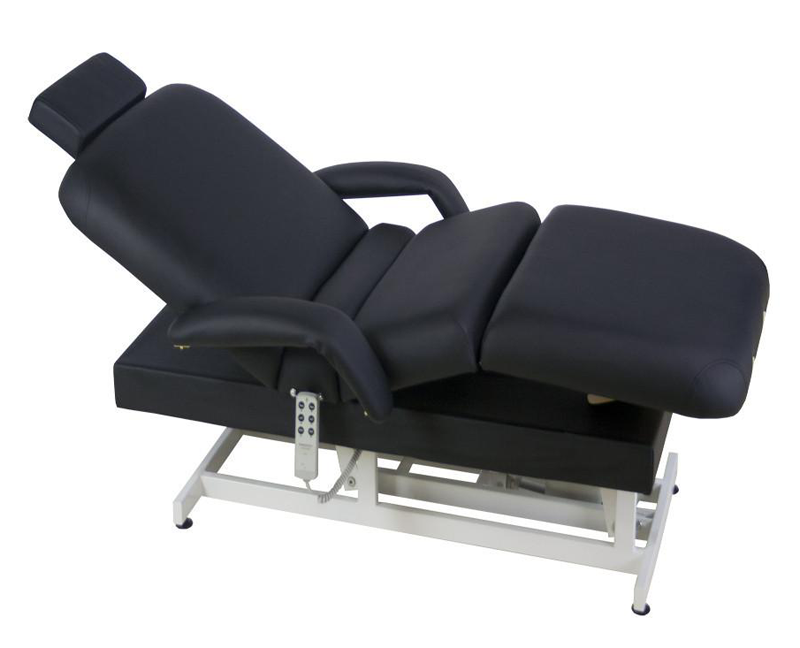 Also known as bar-activated tables, Hi-Lo treatment tables offer easy height adjustment allowing for enhanced patient comfort and therapist ease of maneuverability. Designed for durability, they are easy to clean and maintain, effectively offering years of dependable use. The Touch America HiLo PowerTilt Treatment Table is an ideal example of a HiLo treatment table.
H-Brace Treatment Tables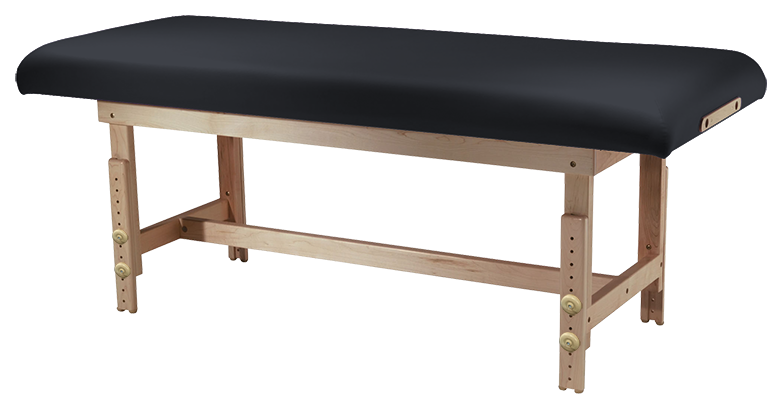 The aptly named H-Brace treatment tables have an H-Brace support structure for enhanced patient/client support and closer accessibility during procedures and examinations. The Custom Craftworks Taj Mahal Classic Series Table is a great example of a H-brace treatment table.
Exam Treatment Tables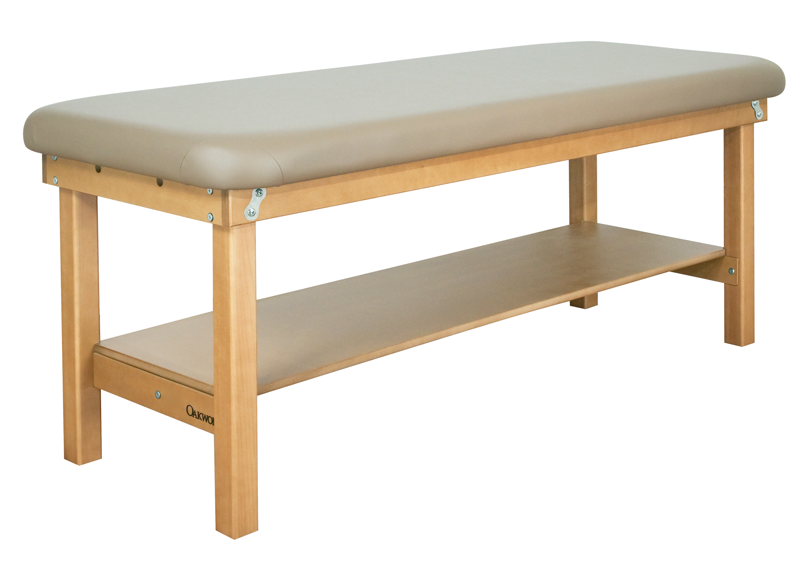 As the title indicates, exam treatment tables provide a comfortable, hygienic, and supportive base for medical examinations, treatments, and diagnostics. The Oakworks Seychelle Exam Treatment Table is an ideal example of an exam treatment table.
Taping Treatment Tables/Sports Medicine Tables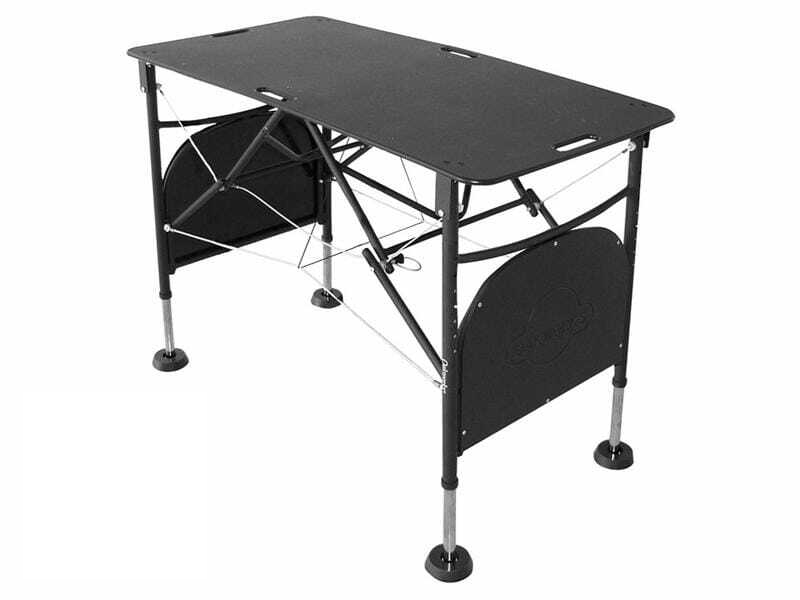 Taping treatment tables are used for examining, taping, and treating athletes in sports medicine, physical therapy settings, and hospitals. These tables are not thickly padded as the emphasis is examination and treatment versus comfort. The Oakworks Portable Taping Table is a great example of a taping treatment table.
Cabinet Style Treatment Tables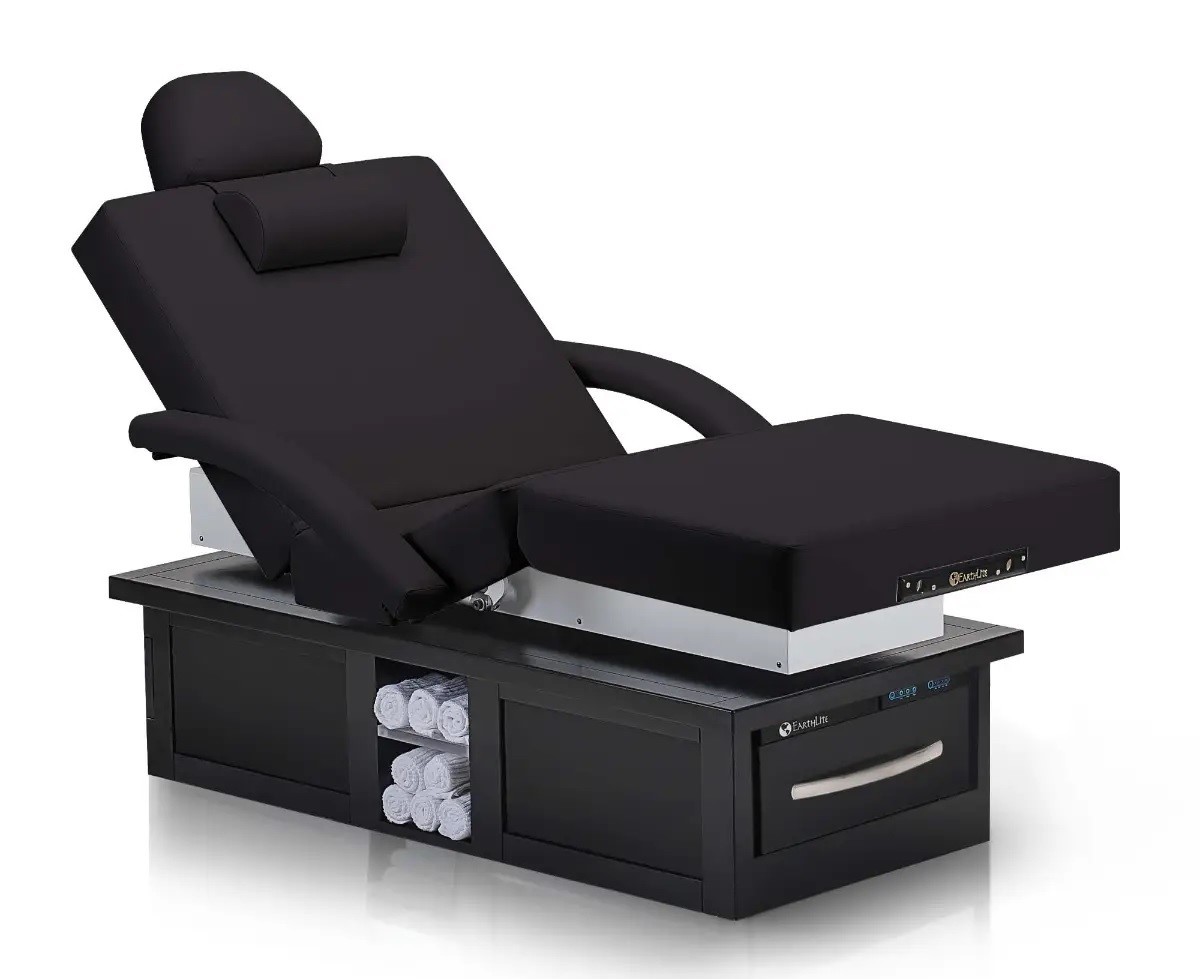 Cabinet-style treatment tables provide clinical functionality and ample storage space; they have cabinets for storing equipment, accessories, tools, supplies, and aids. The Earthlite Everest Eclipse™ Salon Top Treatment Table is a perfect example of a cabinet style treatment table.
Mat Treatment Tables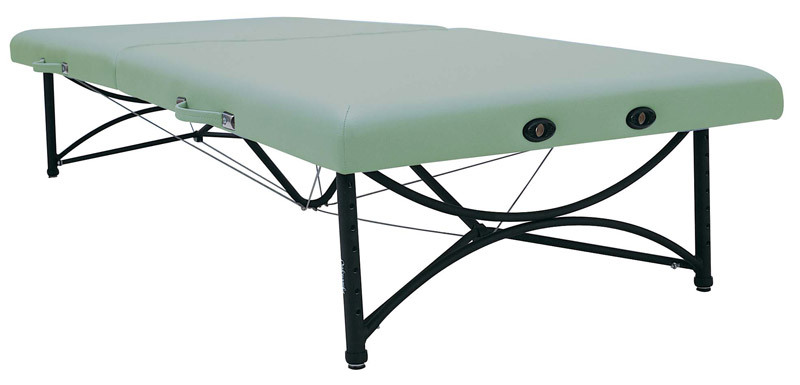 Mat treatment tables are designed for treating patients/clients that require physical therapy. They are typically lower in height for easier access, have a substantial weight capacity, and are wide enough to allow for various physical therapy massages, activities, and exercises. The Oakworks Mat Physical Therapy, Athletic Training Table is a perfect example of a mat treatment table.
Tilt Treatment Tables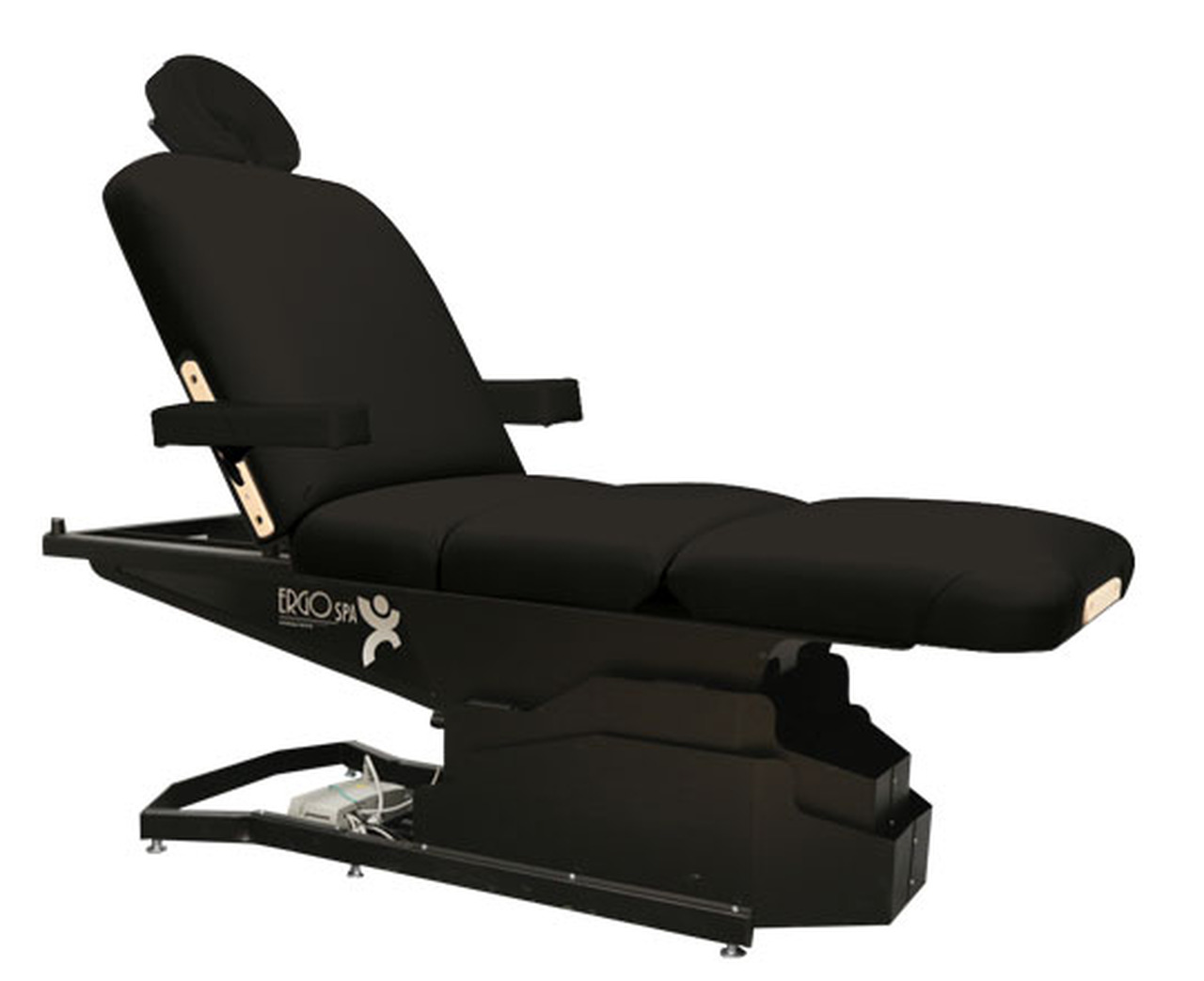 Tilt treatment tables are typically electronically operated. They are designed to meet the requirements of a wide range of applications for rehabilitation, assessment & examination procedures for patients who cannot stand upright on their own. The Custom Craftworks ErgoSpa Electric Treatment Table is an idea; example of a tilt treatment table.
Chiropractic Treatment Tables
Chiropractic traction tables are designed to support the spine and usually have pelvic, lumbar, thoracic, and cervical sections on the table that will drop as the practitioner applies force on the spine. The Touch America Venetian Spa Treatment Table is a great example of a chiropractic treatment table.
Physical Therapy Treatment Tables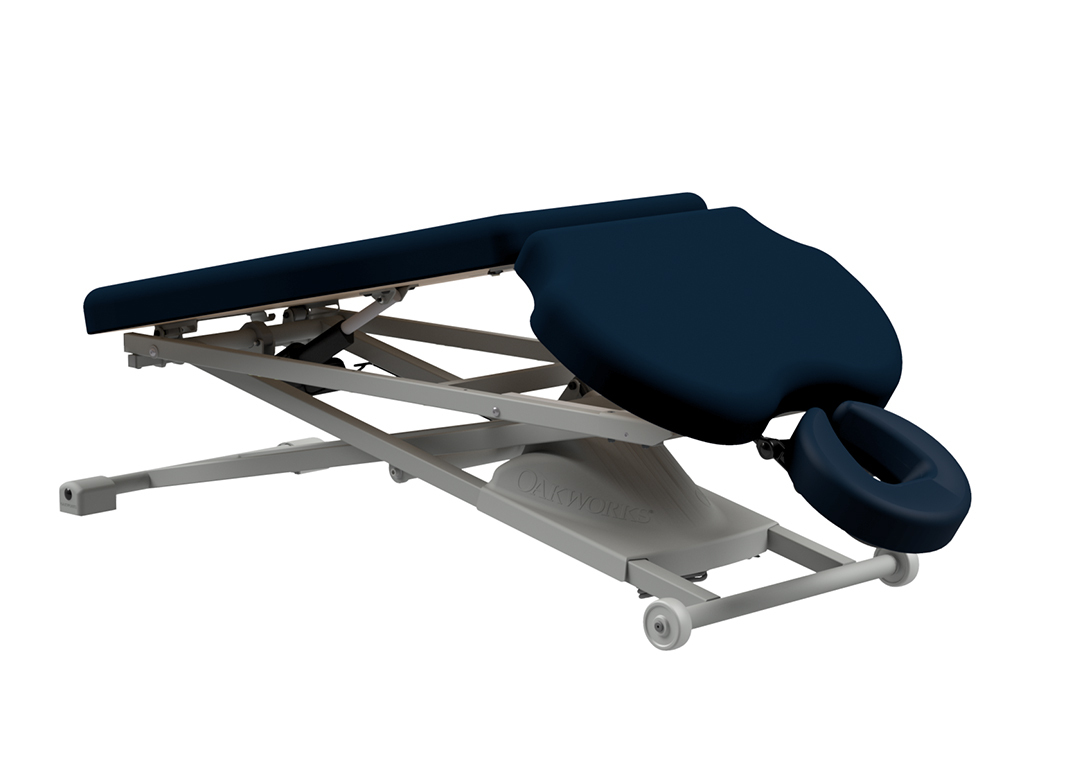 Physical therapy treatment tables are used for physical therapy treatments. They are typically adjustable and include backrests to support the patient while the therapist is working. The Oakworks PT400M Physical Therapy Table is a perfect example of a physical therapy treatment table.
Spa Treatment Tables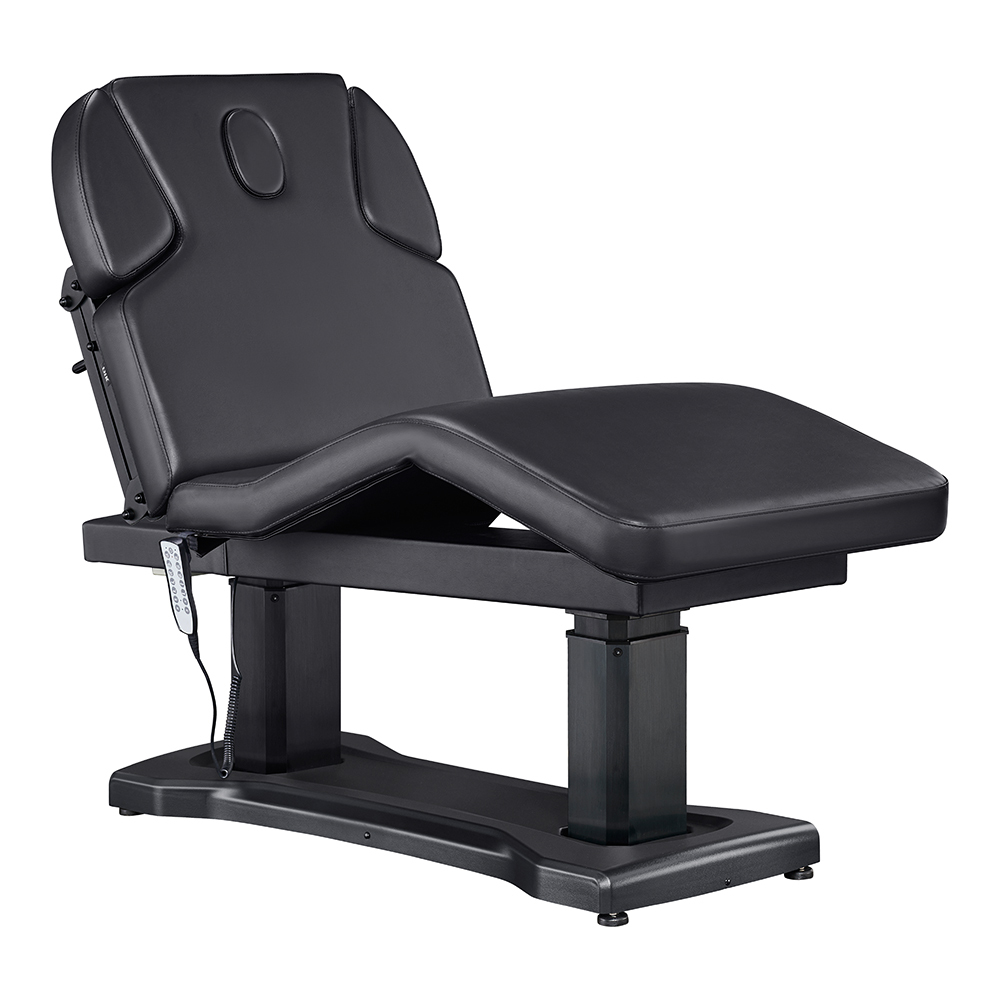 Spa tables are used by massage therapists, spa practitioners, and estheticians for spa treatments. They typically have thick and well-padded surfaces and backrests for maximum client comfort. They are suitable for spa treatments such as massages, waxing, facials, body treatments, and other types of treatments. The DIR Tranquility Medical Spa Treatment Table is a perfect example of a spa treatment table.
Bariatric Treatment Tables
As the name implies, bariatric treatment tables are specially designed for bariatric patient examination and care. The tables are durable, well-padded, have broad bases, and are sturdily built with reinforced materials that can bear the weight of larger patients.
Procedure Treatment Tables/Chairs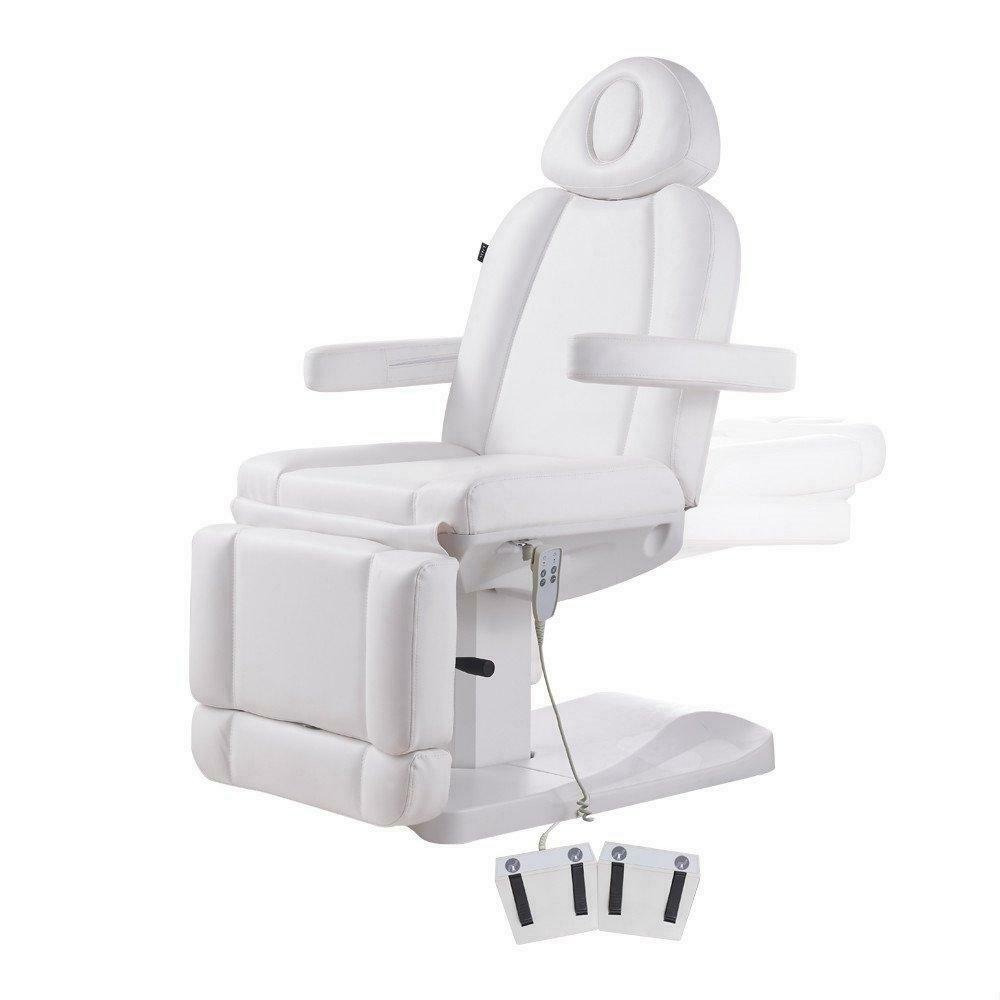 Procedure chairs are used by medical practitioners for a wide range of procedures in which the patient is required to be upright. They prioritize patient comfort and practitioner ease of maneuverability; they are comfortable, easily accessible, and typically have backrests, slim bases, and support surfaces. The DIR Ink Facial Beauty Bed & Chair is a perfect example of a procedure treatment table/chair.
Pediatric Treatment/Examination Tables
Pediatric treatment tables are used by pediatricians to examine and treat children. They usually have well-padded surfaces, are appropriately sized for children, and have colorful, kid-friendly designs.
What to Consider When Purchasing a Treatment Table:
Now that we've gone through the different types of treatment tables, it's crystal clear that they are pretty varied regarding quality and features. Let's now go through the key factors to consider when buying one.
1. Usage
Different treatment tables are designed for various uses, so one of the most critical considerations is the intended use of the treatment table. Then based on your requirements and the features you need, you can make an informed choice.
2. Table Sections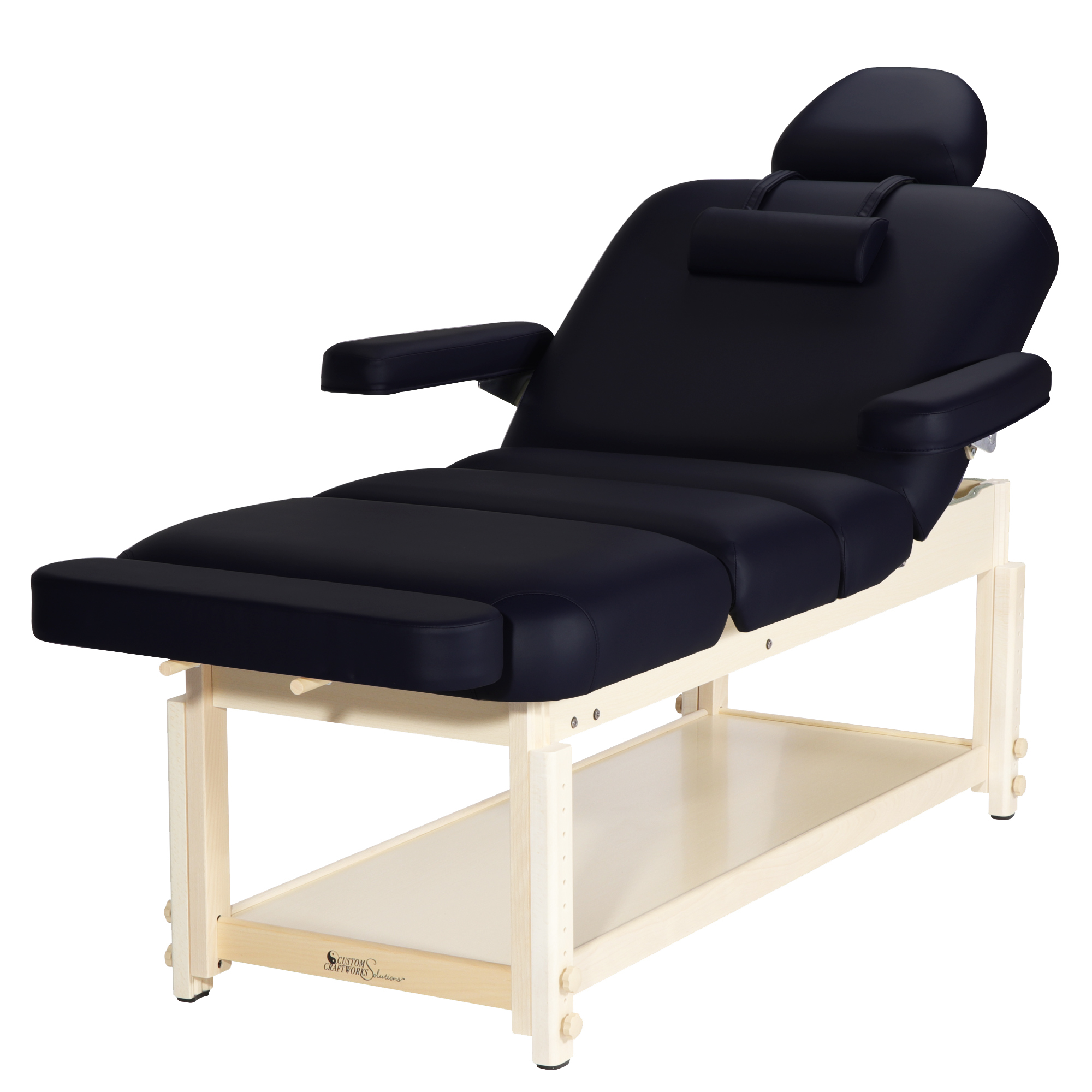 Treatment tables can have one, two, or more sections depending on the type and intended usage, so you need to choose based on your specific needs. More sections give a table added versatility, aid in positioning, and offer increased support to clients during procedures, examinations, and treatments. For example, chiropractic therapy, physiotherapy, osteopathy, and sports massages require specific positioning; as such, it makes sense for practitioners to use tables with more sections.
3. Size & Weight Capacity
Treatment tables are constructed to bear different weight capacities; pediatric tables are typically compact to accommodate children, standard tables are standard in size and weight capacity, and bariatric tables are usually wide and have large weight capacities. For example, you work with a wide variety of patients who have different heights and weights, then the treatment table you choose should be able to accommodate all of them comfortably. A large width also comes in handy in treatments or procedures where your patients need to roll over.
4. Patients Age Group
Age group also plays a vital role when choosing a treatment table; from kids to teenagers to adults to elderly individuals, you should consider all of the specific needs of each age group. If your patients are children, then it stands to reason that the table should be compact with a smaller surface and a child-friendly design. If your patients are adults, you should go for sturdy tables with sizeable surfaces that can comfortably accommodate them. If your patients are elderly, you should ideally go for a comfortably padded table that is easily accessible and maneuverable.
5. Storage Space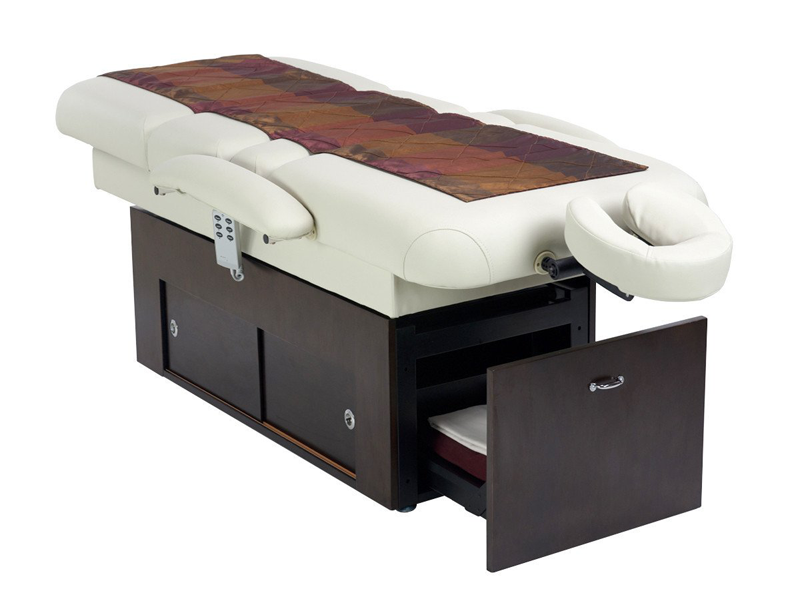 Before buying a treatment table, you should consider how much storage space you need in terms of shelves and cabinets. Having ample storage space for storing tools, supplies, and accessories can come in handy for procedures requiring medical aids or for facilities that get a lot of traffic and offer a wide variety of treatments.
6. Ease of Accessibility
Ease of accessibility is another crucial factor when selecting the right treatment table for your practice or facility. When treating patients in a wheelchair, patients with limited mobility, or elderly patients, you require tables that are easily accessible and offer added convenience during transference.
7. Durability - Table Construction, Frame, & Material
Whichever treatment table you purchase should ideally last for a long time; this is why it is vital to ensure that it is constructed with sturdy materials to withstand daily use and the rigors of certain treatments. Strong frames like hardwood and aluminium are guaranteed to last longer than softer wood such as pine; combine that with thick padding, and your treatment table is sure to endure the test of time.
8. Height Adjustability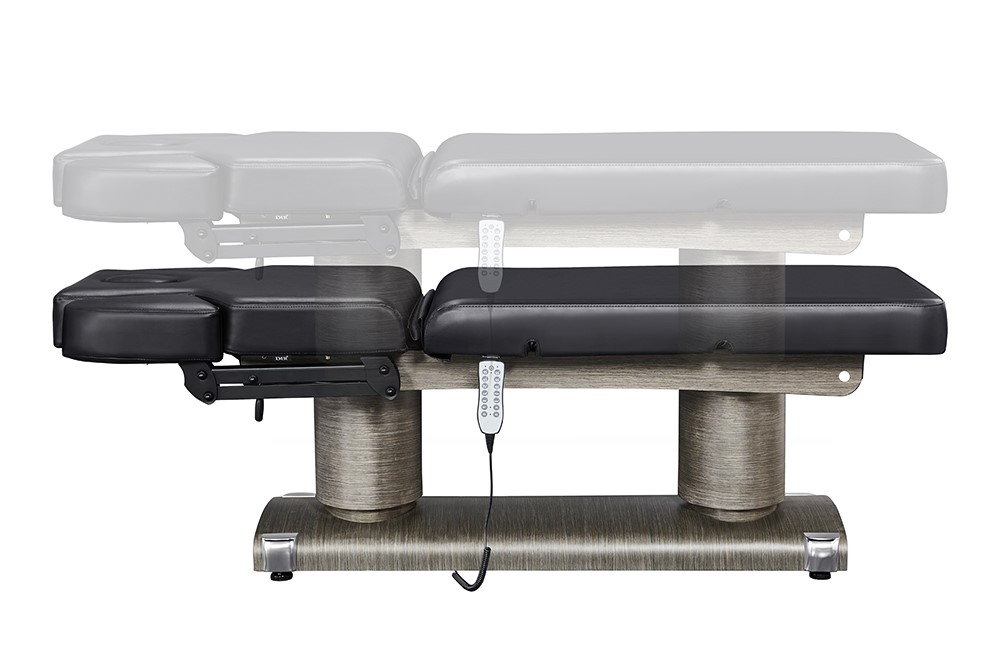 Height adjustability is another important factor to consider when selecting your treatment table. A height-adjustable treatment table ensures that you can position your clients for easy access during treatments and protect your back from damage. Based on the specific treatments you are performing and your budget, some key considerations to be made here are the height adjustment rate and whether you want a manually adjustable table or an electrically adjustable table.
9. Patient Friendly
This one's pretty straightforward; a patient-friendly treatment table makes the patient feel well cared for and at ease. It should typically be easily accessible, safe, and comfortable. The patient friendliness of the table directly correlates with the age group of your patients and the specific treatments being carried out. A few examples: when treating bariatric patients, a wide and sturdy table is more patient-friendly than a compact and less steady one. When treating children, a compact and colorful table is more patient-friendly than a wide and dull one. When treating patients with limited mobility, an adjustable and easily accessible table is more patient-friendly than a stationary one.
10. Upholstery Material & Color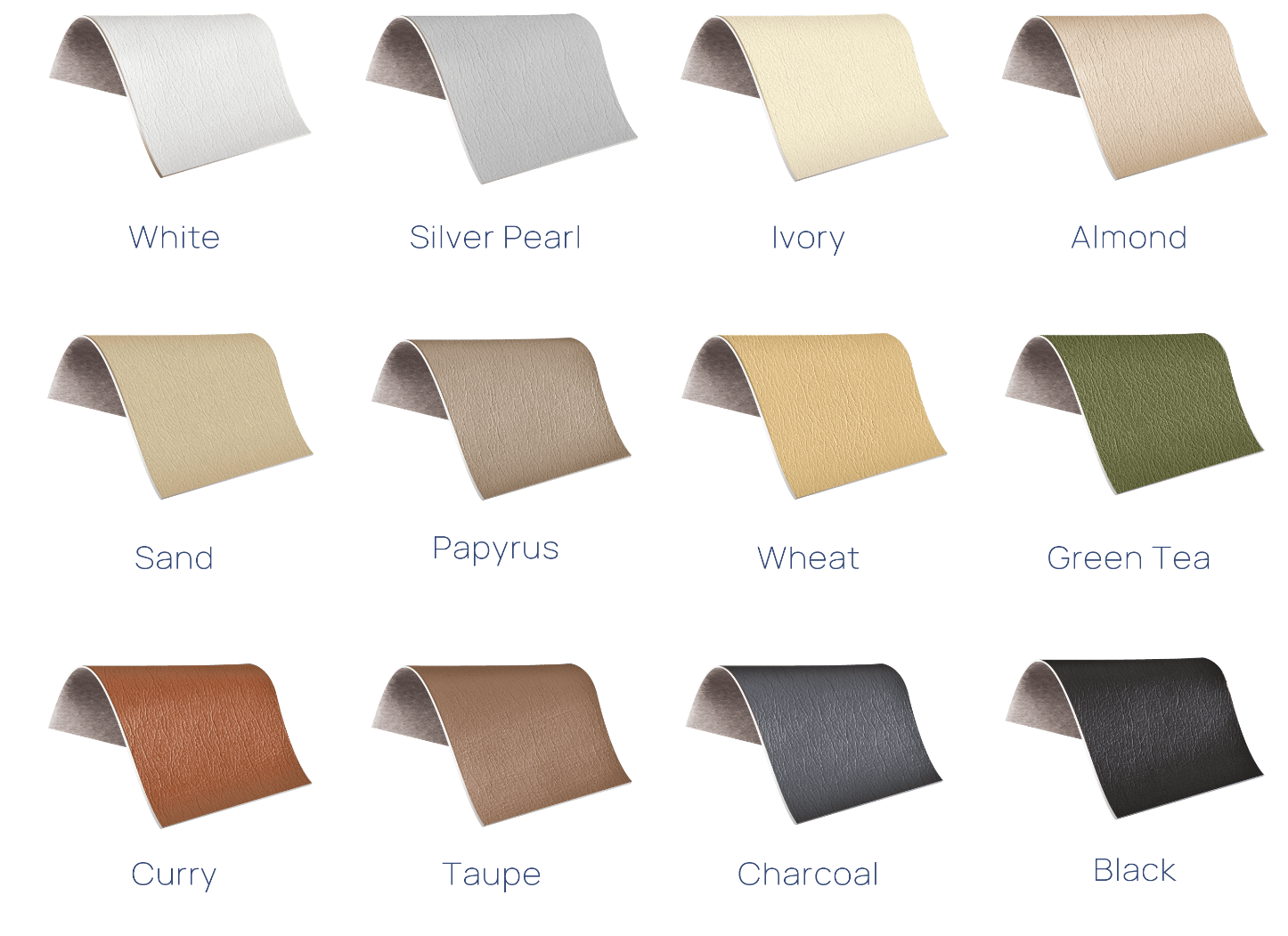 Considering upholstery material and color when selecting a treatment table is also essential. We recommend that you choose upholstery that's abrasion, oil, water, and stain-resistant; such upholstery guarantees durability and is easy to clean and maintain. Vinyl, Leather, and PU are great choices.
Upholstery color also goes a long way; some colors (like blue and green) are more calming than others, some colors (like yellow and orange) ignite more happiness than others, and some shades (black and brown) more easily camouflage stains than others. If your patients are children, you should consider colorful upholstery with art designs that will capture their attention.
11. Casters (Wheels)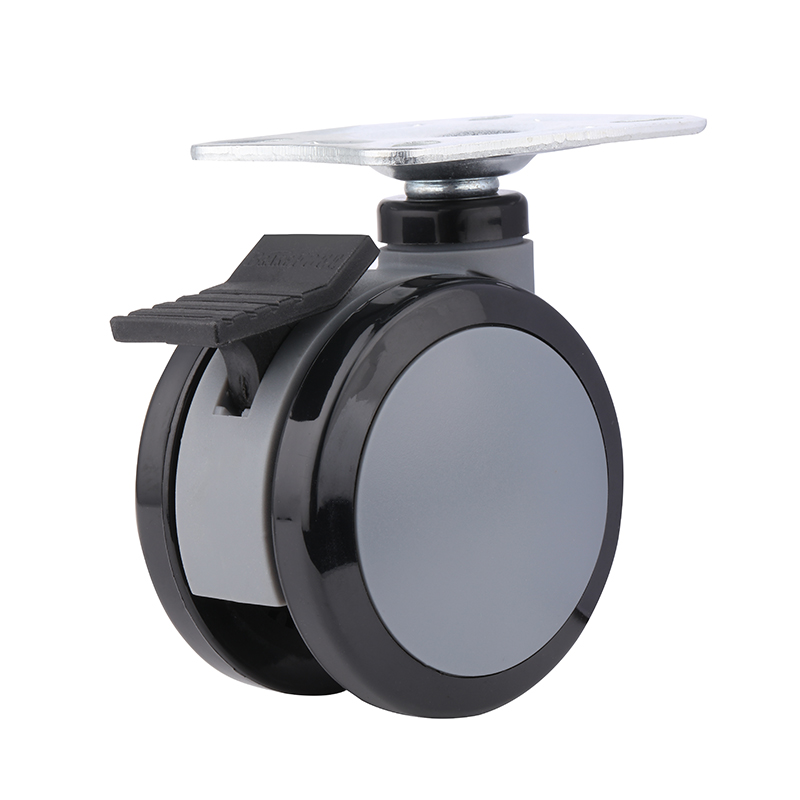 Casters are another critical consideration when selecting a treatment table. You may need to move the table within the room to access parts of the client's body, you may need to reposition the table to create more space, or you may need to move the table between different rooms in your facility; having a wheeled table comes in very handy in all these instances. In most cases, treatment tables have locking castors so the table can steadily remain in place once positioned.
12. Table Design - Stationary, Portable, & Adjustable
Last but not least, table design also plays a significant role when selecting your ideal treatment table. Would you like a stationary table, a portable table, a manually adjustable table, or an electronically adjustable table? Stationary tables are more stable and great for high-traffic facilities, portable tables are perfect for on-the-go practitioners, and adjustable tables can be maneuvered as necessary during treatments for better client access. The ideal table design meets your requirements and allows you to perform patient treatments efficiently.
Conclusion
Treatment tables are an essential part of the examination and treatment of patients and the crown jewels of any spa, practice, or treatment facility. At Massage Tables Now, we understand that and why we have curated the best treatment tables from top industry leaders; Custom Craftworks, DIR, Earthlite, Oakworks, and Touch America.
Check out our extensive collection here and treat yourself to that Treatment table you have always wanted, today! Use TREAT5 when checking out and receive 5% off any of our treatment tables. Also, be sure to check out our Electric Exam Tables blog for an in-depth guide on choosing the right electric exam table.
In case of any questions, chat, call, or email our helpful and friendly customer service at: (888) 515-0444 and hello@massagetablesnow.com. We will happily help you find the perfect treatment table for your spa, facility, or practice.