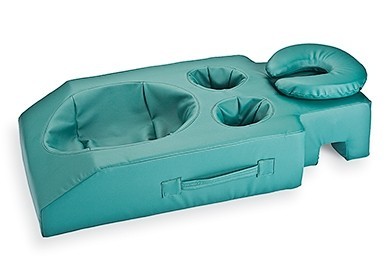 The massage industry has evolved in recent years to provide the best and latest massage supplies to a variety of massage practitioners and retailers. Now, an up-and-coming or reputable massage therapist can find oils, creams, and many essential supplies for any type of massage practice. On top of that, with all the different kinds of massage therapies out there, it's no wonder there's a solid selection of massage chairs and tables that can fit every purpose. From portable massage tables to stationary or chiropractic tables, a massage therapist has the option to choose the best table for his or her practice. But what about a table or supplies made strictly for pregnancy?
A Different Type of Back Pain During Pregnancy
During pregnancy, women oftentimes experience all sorts of aches and pains, the most prevalent being back pain. Most often than not, this back pain is usually where the pelvis meets your spine, at the sacroiliac joint. There are a lot of reasons why a pregnant woman could be having this kind of back pain, such as weight gain, posture changes, muscle separation, or stress and hormonal changes.
However, the good news is that there are several techniques that can help keep these specific back pains at bay for pregnant women. Patients can enjoy acupuncture, mild swimming, walking, stationary cycling and more to alleviate back pain when pregnant. But if all else fails, a great massage catered specifically for pregnancy will work wonders.
Pregnancy Massage Techniques
For many patients, there is nothing really like a smooth massage to easy some tension on the lower back. This is even truer for pregnant women. It is advisable that regular massages are carried out during pregnancy, as it can really help reduce stress and anxiety, and provide an easier sleep time at the end of the day.
During a pregnancy massage, we advise choosing a proper pregnancy cushion and headrest for good positioning and/or a good qualified pregnancy table that can provide plenty of room for the patient. The difference between these massage supplies and regular massage supplies are the extra room they have for maneuvering. This allows heightened comfort for the pregnant patients involved and better access for the massage therapist.

As far as the therapy itself goes, prenatal massage is immensely popular and has widely been used to help pregnant women cope with their back, shoulder or leg problems. A prenatal massage uses efflueuage, meaning touch lightly, which is a Swedish massage technique. It works using gliding strokes to gently soothe all different areas of the patient's body. To get the best out of this massage, a 60 to 90 minutes minimum practice is recommended.
Choosing the right massage supplies can make or break your practice, and is even more important when dealing with pregnant patients. With the right supplies, you can rest assured knowing your patients' well-being is at the forefront.