Of all the massage oils and creams a therapist can use, vitamin K cream is one of the most versatile, as it has dozens of uses and benefits. Did you know that vitamin K can help with skin elasticity? Talk about an added benefit when you're receiving a massage. Whether you are looking to clear up acne or simply revitalize your skin with a more youthful appearance, you simply can't go wrong with this naturally occurring vitamin.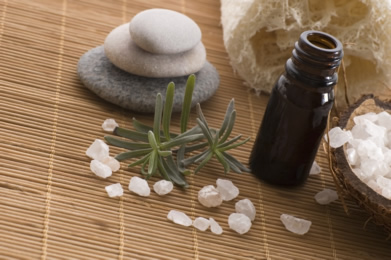 The good news for massage patients is many health and beauty products have begun producing creams and lotions with vitamin K. This allows the individual to reap all of the benefits associated directly on their skin where they need it most.
Spider Veins
You might be surprised to hear that vitamin K cream is used to treat spider veins. Although they usually aren't any cause for serious medical concern, spider veins create an unsightly appearance that can greatly lower one's self-esteem and quality of life.
People suffering from this all-too-common condition frequently find themselves covering up with additional layers of clothing to hide their skin. The good news, however, is that studies have proven vitamin K cream and massage oils to be an effective treatment tool against the appearance of spider veins. When applied topically to the skin where spider veins are present, the cream will naturally work its way into the blood stream where it relaxes the constricted and oftentimes cut-off vessels.
If you intend on using vitamin K cream to treat spider veins, you'll need to apply it directly to the area at least once a day, preferably after you've showered. Showering or bathing after you've applied it may cause the cream to wash out, making it less effective at treating your condition. I recommend applying it on your affected skin at nighttime and letting it work in your sleep.
Post-Surgery Recovery
Doctors and surgeons oftentimes prescribe or recommend vitamin K oil to patients after receiving surgery. The ingredients found within, primarily the vitamin K, help to reduce swelling and bruising caused by the surgery. It's a simple and effective way to greatly reduce one of the worst side effects associated with common surgery: bruising.
Sources of Vitamin K
In addition to topical vitamin K, the mineral can be found in a variety of different foods. Some of the most common foods containing this naturally occurring compound include:
Kale
Spinach
Collards
Swiss cheese
Turnip greens
Broccoli
Cabbage
Asparagus
Adding these foods into your daily diet will provide your body with an essential nutrient that most people lack and help correct your skin from the inside out. In fact, vitamin K deficiency is a serious problem that can greatly increase your risk of coronary disease.
There's simply no substitute for vitamin K cream, however. You can eat all the green, leafy vegetables you want, but it's not going to give you the same direct effect that a quality cream product has on the skin.
If you are suffering from rosacea, acne, spider veins or stretch marks, talk with your doctor about using vitamin K cream as a natural treatment option. It's a non-evasive treatment method that works wonders for the skin, so give it a try to see how it affects your condition. The bottom line is that you simply aren't going to know whether or not it works until you try it.