It's no secret that there are a vast amount of different brands when it comes to buying professional massage tables and accessories. This can cause a lot of confusion for first-time massage therapists and may even prevent you from making the right decision when the time comes to make a purchase. Everything from size to weight to durability is scrutinized, and at times, all you may have are a few credible reviews to glean information from.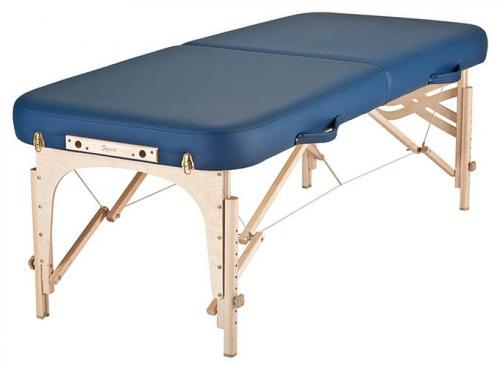 In this post, we will point out the differences between some of the major professional massage tables to show you their strengths and weaknesses, and guide you towards making a more educated decision on massage tables.
Earthlite, A Massage Table for Professionals
When it comes to professional massage tables, there are few brands that fit the bill in terms of quality, and Earthlite is one of them.
Earthlite massage tables and accessories have been one of the leaders in the industry for years. In fact, their products are so versatile that they're one of the world leaders on professional massage tables. Since Earthlite was founded in 1987, they've continued to build environmentally friendly tables at an affordable price, increasing their products' accessibility to a larger and broader demographic. This has made Earthlite a great first stop for new massage practitioners looking to buy their very first table.

Earthlite legs and braces are made of Canadian hard maple wood and the table tops are made of Baltic birch plywood, both of which are renewable wood sources. In addition to that, they also use environmentally friendly foam and vinyl on all their products. Their affordable portable tables range from $260-$740 USD.
If you're a massage therapist who wants a durable product that has a strong seal of approval, then an Earthlite table is the table for you. Seasoned professionals will love the Earthlite Luna Portable massage table for its compactness. It fits perfectly in the Earthlite carry case (sold separately).
Quality Massage Tables from Custom Craftworks
Custom Craftworks is another top-of-the-line brand of professional massage tables. This brand has supported professional massage therapists and educators since 1986. It is also a popular massage table among beginner and advanced massage practitioners because of its wide range of available products.
Custom Craftworks offers great innovative and long-lasting products, using environmentally friendly, non-toxic wood finishes. They also offer a great warranty on their products: five years for foam and three years for fabric. This warranty is a huge pull for many massage therapists who are looking to set up a moving practice, since they might experience more wear and tear on their supplies due to constant moving and packing.
The Custom Craftworks Solutions Heritage massage table is perfect for beginners looking for the ease of a new table but the sturdiness of an older model.

If you're on the lookout for a professional massage table, Earthlite and Custom Craftworks offer environmentally friendly and high-quality options for the new or seasoned massage therapist. Regardless of your practice, there's a massage table out there for you.