At Massage Tables Now, we have many new customers who've recently graduated or have made the decision to start their massage therapy business. As such, there's always been some confusion on the differences between stationary massage tables and chiropractic tables. Which one is better for your practice? Which one is more versatile? Can stationary tables be chiropractic tables too?
Choosing one over the other all depends on your needs as a massage therapist and your goals for your business in the long term. Some massage therapists want a stationary table that will last them years and years, providing the same quality experience from day one. Other massage professionals want the latest chiropractic tables because they have a wide variety of clients -- everyone from athletes to office workers.
Not sure which way to go? Let our handy guide on chiropractic and stationary massage tables help point you in the right direction.
Stationary Massage Tables
A stationary massage table is a staple for many massage therapists. It is also referred to as a lift, electric table, or spa table. If you've ever been to a spa or massage therapy office, you've probably sat in one of these and can attest to its high level of comfort.
The main difference? These stationary tables are bigger and usually weigh more than chiropractic or portable massage tables. These tables are heavier and weigh anywhere between 180 lbs to 200 lbs, depending on the make and model. They're also easier to maneuver, as practitioners can easily use a manual tilt back option or a pneumatic assist tilt back for tilting the table back and forth. Because of this added feature, and in part because of its size, these stationary massage tables can be more expensive. They are considered higher end and most often used professionally.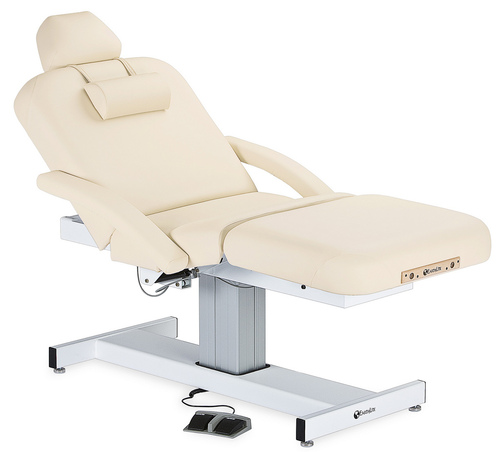 Shop Now! Earthlite Everest Salon stationary massage table
Chiropractic Massage Tables
As a complete 180 to stationary massage tables, chiropractic massage tables are, as the name states, widely used for sports injuries by many therapists and chiropractors. Professionals who use these tables might often focus on diagnosing patients with neuromuscular disorders through massage or adjusting and manipulating the patients spine to kickstart the healing process.
Chiropractic tables are often well padded for customer comfort and its height is easily adjustable to suit the needs of the therapist and the patient. It's also important to note that there is a different range of chiropractic tables, including portable and stationary massage tables, to also accommodate mobile chiropractors who need to travel and meet with patients. Massage therapists who invest in a solid chiropractic massage table tend to find a durable carry case to accompany them.
Overall, these tables typically weigh less than the bigger stationary massage tables or spa tables. A normal portable chiropractic tables weigh an average of 34 Ibs while the stationary chiropractic tables weigh between 100 and 180 lbs.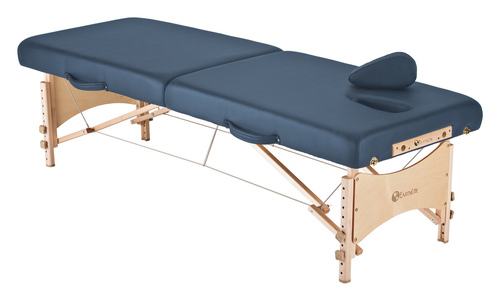 Shop Portable! Earthlite MediSport Chiropractic Massage Table
Shop Stationary! Earthlite Apex Stationary Massage Table