We are experts in helping spa and salon owners to select the right stationary massage tables to exceed your clients' needs. At Massage Tables Now, our number one goal is to help you to find success in your massage therapy business or medical practice. We carry a large selection of top-of-the-line products with your needs in mind based on over 30 years of experience in the industry.
Why Having a High-quality Stationary Massage Table Matters
Having a high-quality stationary massage table will ensure the greatest health benefits and ultimate comfort not just for your clients, but for your technicians as well.
In 2021, 34% of consumers went to a massage therapist's office for a massage while 24% of consumers chose to visit a massage franchise or chain. Meanwhile, 13% of consumers received their last massage at a name-brand chain while another 7% of consumers got a massage at home or at the home of someone they knew.
That's a lot of options for consumers to consider. Clearly, making sure you have the best stationary massage table has never been more important!
Stationary Massage Tables vs. Portable Massage Tables - Pros and Cons
If you own a salon, investing in a stationary table may be in your best interest. Especially if you don't plan on making "house calls."
Stationary massage tables offer several features that you can't find on a portable massage table such as self-contained storage cabinets. This extra storage space is especially valuable real estate in smaller offices.
Typically, more versatile than portable tables, stationary massage tables come with useful features like hinged tilt tops. This enables you to easily adjust the table from a horizontal position to a vertical position. Another popular feature is a face cradle, which provides added convenience and comfort for treatments requiring a prone position.
Comfortability should also be something you consider. Stationary massage tables often can support a thicker cushion. That means added support for your client to relax into so they can fully enjoy their experience.
While portable tables tend to be the more popular option, stationary tables draw a heavy competition. You can learn more about the differences between stationary vs. portable massage tables by visiting our discussion page.
What to look for in a Stationary Massage Table
Deciding which stationary massage table is right for your business can be confusing.
Some basic considerations include: brand, size, color, style, safety, weight capacity, fabric/upholstery, features & accessories, and cost.
We're here to help you navigate what to look for when choosing a stationary massage table both you and your clients will love.
Here are our picks for the Top Five stationary massage tables in 2022.
Oakworks Stationary Exam Treatment Table, POWERLINE
Reliable hardwood frame with reinforced hardware
Cost effective
Safe, durable, comfortable
Earthlite Stationary Massage Table, Flat Top, Bottom Shelf, TERRA

Strong, comfortable & adjustable
Manual height adjustable legs
Richly upholstered with deluxe 3" cushioning
Earthlite Stationary Massage Table, Tilt, SEDONA
Elegant, beautiful, and inexpensive
Optimum functionality
Easy pneumatic tilt
Oakworks Massage Table, Electric/Hydraulic Flat Top, CLINICIAN
Hydraulically adjustable
Removable, replaceable padded top
Resilient support, maximum comfort
Custom Craftworks Classic Series Massage Table, TAJ MAHAL BASIC
Simple, elegant flat top design
Strong and practical with 800 lb. capacity
Complements spas, salons, and massage therapy clinics
A bit more about why these stationary massage tables made our Top 5 List and are must haves for 2022.
1. Oakworks Stationary Exam Treatment Table, POWERLINE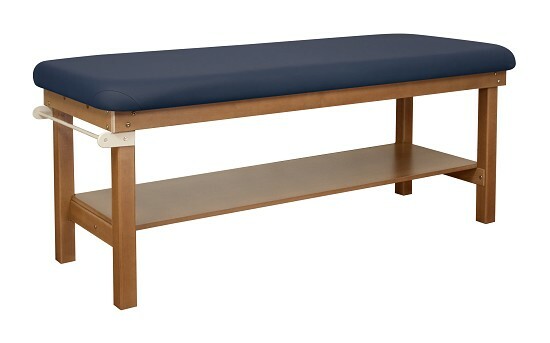 Benefits You'll Love
Quick and easy set-up takes only 12 minutes so you're up and running faster
Durable hardwood construction with a 500lb weight capacity
Convenient paper roll holder is included and attaches easily to the top of the table
The Oakworks Powerline Exam Treatment Table proved to be a Top 2021 Seller with good reason. When you need a table that is quick to set up, comfortable for your clients, and simple to adjust (flat top or tilt back), this is a table you can count on to deliver and to last while making a lasting impression for your business.
The Powerline treatment table is cost effective without sacrificing the high-quality materials or performance you're looking for in a treatment table to please both the technician and the client.
With your choice of a flat top or a tilt back, any adjustments you make will be supported by an innovative wave design for the locking mechanism so your client can relax safely. This table was built to last for a long time with a beautiful hardwood frame that is secured with reinforced hardware and a weight capacity of up to 500 lbs.
While the inviting tabletop is padded with 2" Comfort Foam, you also have the option to upgrade to the 1.5" Semi-Firm Foam, which is covered in your color choice of Oakworks® exclusive, PVC-free, 100% polyurethane faced fabric TerraTouch, featuring a durable cloth backing to create the ultimate combination of suppleness and wear-ability.
Learn more about the Oakworks POWERLINE.
2. Earthlite Stationary Massage Table, Flat Top, Bottom Shelf, TERRA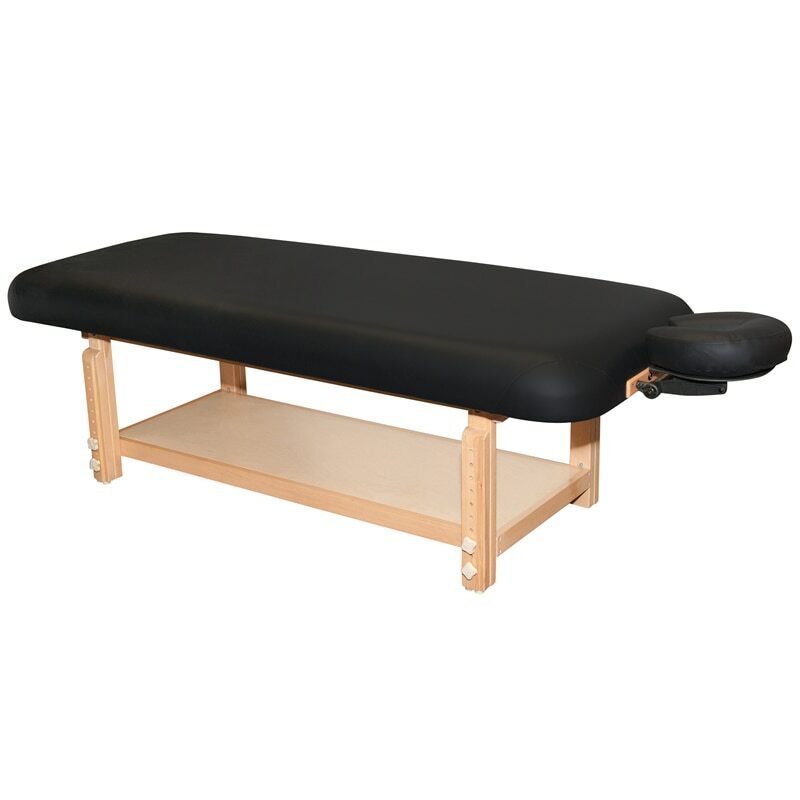 Benefits You'll Love
Unbelievably comfortable thanks to a generous three plush inches of premium cushioning 
Easy assembly so you can get right to work
Keep your supplies organized with handy shelf storage
If you're looking for something that's both durable and comfortable, the Earthlite TERRA™ Treatment Table is the one for you. This sturdy table was designed with robust massage, chiropractic, physical therapy, and spa applications in mind. The Earthlite TERRA can support spa applications up to 800 lbs. of working weight.
Your clients will love relaxing into three plush inches of premium cushioning covered in supple and durable Nature's Touch™ 100% PU upholstery.
The table's beechwood frame includes a shelf that's perfect for storing on-hand supplies.
If you're short on space, you'll love that the TERRA can be stored easily and neatly simply by removing the legs and base.
Read even more about the Earthlite TERRA.
3. Earthlite Stationary Massage Table, Tilt, SEDONA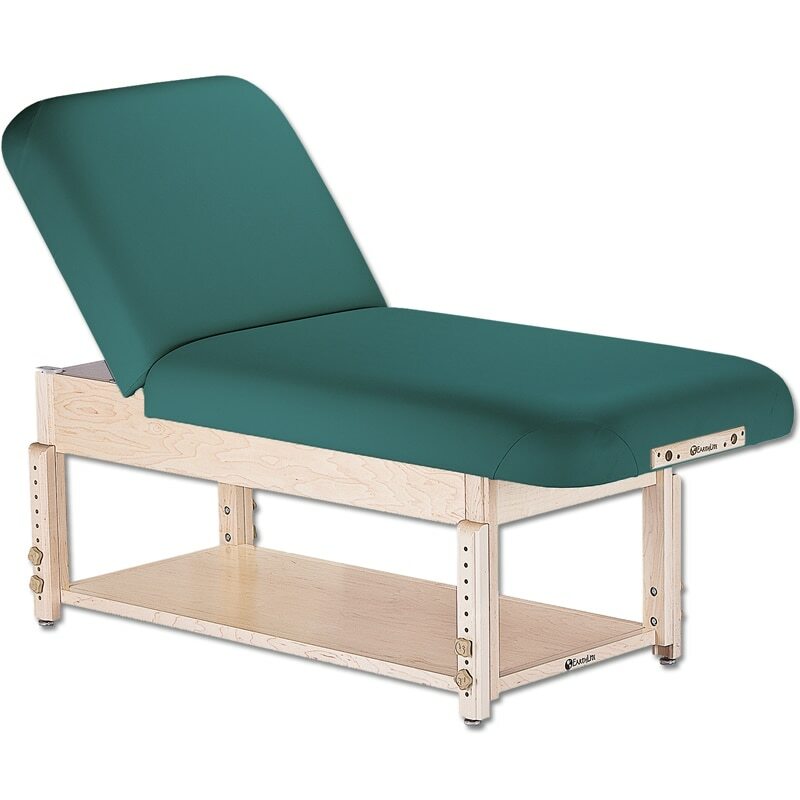 Benefits You'll Love
Table adjustments are a breeze thanks to a pneumatically assisted tilt back
Elegant handcrafted North American Maple shelf base comes standard with cabinet upgrade available
Maneuverability is easy due to the table's hand-upholstered rounded corners
If you're looking for a treatment table solution that's as beautiful as it is affordable, the Earthlite Sedona™ Tilt Back Massage Table delivers both and so much more.
Thanks to its innovative tilt-back design, you'll be able to offer your soon-to-be happy clients even more services such as cleansing facials and medi-treatments involving advanced skin care and rejuvenation services. You don't need to worry about the expense or issues related to electrical equipment with this table because there are none! Just a simple one-touch lever and you're good to go. Double knobs on each leg provide added strength so you and your clients can focus on the treatment and not the table.
Not only does this table offer you three widths to choose from, but a generous pallet of upholstery colors and beautiful base finishes (the Earthlite Sedona comes standard in Natural Maple).
Not only is the Earthlite Sedona people friendly, but this durable and long-lasting table is environmentally friendly as well made of only eco-friendly managed forest materials.
Read even more about the Earthlite Stationary Massage Table, Tilt, SEDONA.
4. Oakworks Massage Table, Electric/Hydraulic Flat Top, CLINICIAN

Benefits You'll Love
Cost effective economical flat top requires no electricity to operate
Fully customizable and sturdy table can support up to 500lbs for a variety of treatments
Easy to adjust both height and incline
It doesn't get any better than the Oakworks Clinician™ Electric/Hydraulic Lift Flat Top Massage Table when it comes to style, comfort, and convenience on a budget
Your clients can be in the moment and enjoy the silence without the interruption of a loud motor thanks to an innovative electric/hydraulic lift design that allows you to adjust the table height easily using a well-placed foot control.
Relaxing is easy because of the superior quality of the table's AeroCel padding, which offers resilient support with a softness that conforms to your client's body's curves. The Clinician Table Series features a removeable and replaceable padded top that is also easy to clean and disinfect. You can choose from a variety of colors to match your salon or spa.
For added luxury, the Oakworks Clinician offers the option to add an integrated heated top to further pamper your clients. Embedded in foam, this feature runs on three settings with automatic shutdown after 10 hours making it both safe and energy efficient.
The tabletop itself is upholstered in your choice of Oakworks® exclusive, PVC-free, 100% polyurethane faced fabric TerraTouch. This fabric meets the requirements of ISO 10993-1:2009 Biological Evaluation of Medical Tables and passes testing for Cytotoxicity, Skin Irritation & Sensitization as well as CA TB117 Fire Retardance testing.
A beautiful cabinet base with ample storage space makes the Oakworks Clinician not only visually appealing, but convenient, too. The space-saving cabinet is designed as a frame and wood panel, one-piece slotted wood, or one-piece frosted acrylic sliding door to suit your taste. Beautiful North American Hard Maple comes standard, or you can upgrade to a variety of stains or lacquer finishes to match your salon or spa décor.
Read more about the Oakworks CLINICIAN.
5. Custom Craftworks Classic Series Massage Table, TAJ MAHAL BASIC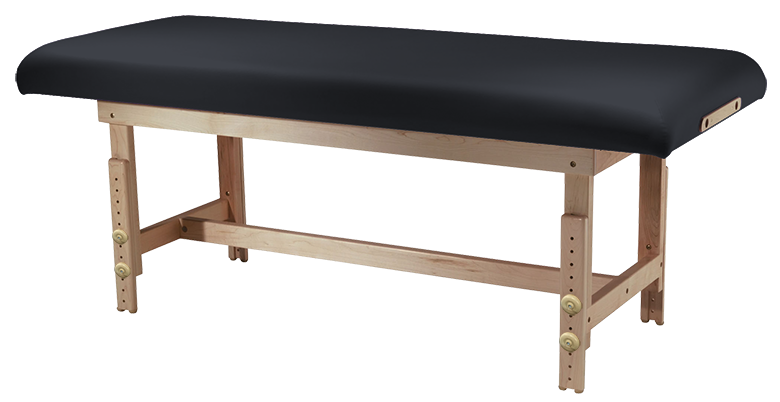 Benefits You'll Love
Simple, elegant design complements spas, salons, and massage therapy offices
Engineered for maximum efficiency with manually adjustable back and knee cushions
Customizable to suit your needs, including cabinetry, breast recesses, and Touch Response Foam
The Custom Craftworks Taj Mahal Basic is a favorite with spa and salon owners who are looking for a simple yet sleek design that offers both durability and practicality.
With a load capacity that can handle up to 800 lbs., the classic maple Taj Mahal Basic is one of Custom Craftwork's strongest tables. Featuring three base options, including H-frame, shelf, or cabinet, this treatment table has fixed height or adjustable height options with dual knobs. Your clients will enjoy resting comfortably and securely on 3-inch thick, multi-layered foam. Your technicians will appreciate its dual-end accessory ports.
In addition to the Taj Mahal's standard features, you can easily customize your table with available upgrades including Natural Touch upholstery in a variety of colors, and Touch Response Memory Foam, rounded corners, breast/scapula recesses, and cabinetry. Your larger clients will appreciate sliding side arm extensions for additional space to support their arms.
Read more about the Custom Craftworks Taj Mahal BASIC

We hope our list has helped you to narrow things down. With so many great options to choose from, you can see why it's important to do your research and take your time before deciding what stationary massage table is right for your spa or salon.
If you're still not finding what you're looking for or have any questions chat, call, or email us: (888) 515-0444 | hello@massagetablesnow.com. We'll be happy to help you find the right stationary massage table to suit your needs!
FAQ
What makes a Stationary Massage Table Durable?
Selecting a sturdy stationary massage table is important to withstand day-to-day use and achieve ROI. Your table should be comfortable yet firm and easy to clean in between customers. High-density foam helps to cushion your customers while PU leather is easy to maintain and sanitize. Your table frame should be made using strong, heavy-duty materials like steel or solid wood to ensure customer safety while being able to hold customers of varying size and weight.
What does Adjustability mean for Stationary Massage Tables?
The adjustability of your massage table is crucial not only for your client's comfortability, but for your therapist to be able to do their best work. Electric massage tables make adjusting the height of your table a breeze using whisper-quiet remote or hand/foot pedal. It's critical to be able to adapt to your massage table based on the type of services being offered as well as to meet your customer's individual needs.
Do Stationary Massage Tables have Wheels?
Some stationary massage tables come with embedded or retractable wheels while others do not. Tables with wheels are more convenient than those without giving you a near portable experience. Wheels allow therapists to roll their table from place to place during treatments or from room to room before and after treatments. Wheels are especially useful when space is limited, especially for busy or smaller spas and salons.