Massage therapists often use a variety of massage supplies to help enhance their practice and the experience of their clients. From bolsters to pads, these supplies help accommodate patients and make it easier and more comfortable for both parties when giving treatment. These bolsters are also often used by ordinary people to accommodate their head, neck or back due to injuries or some sort of discomfort, and in doing so, can be great for other non-massage-related activities, such as yoga or general stretching.
When using professional bolsters for massage therapy purposes, it's helpful to note that they are usually about the width of a regular massage table, which can range from 28, 30 or 32 inches, depending on the make and brand. They are typically either made out of leather or vinyl. There are also a variety of different bolsters that are readily available in the market. You can find them in round, half round or wedge varieties.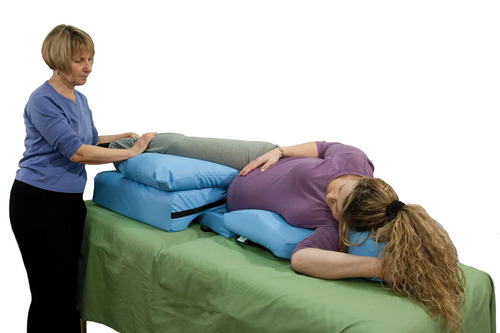 How to Use a Professional Bolster
The bolster is straightforward to use and very intuitive in terms of design and placement. When you're feeling strain in your head, neck, or feet, that tends to be one of the best indicators that you should grab a bolster.
One of the key ways to make a massage more comfortable for your patient is to place the bolster under their feet when they are belly down. This allows you easier access to massage the lower part of their legs.

Another great way to support the back and legs of the client is to place a bolster between their knees, helping them adjust their posture and making things a lot more comfortable. This simple technique is oftentimes recommended for patients with back pain, so they can alleviate any additional stress while they sleep.

When massaging pregnant women laying on their side, it's nice to offer them a bolster to place between their knees and under their stomach to decrease any impact. Keep in mind that while bolsters offer a firm option, some pregnant patients may prefer a regular pillow, as it is a softer choice.
Bolsters Outside of Massage
While bolsters are primarily used in massage therapy, they can also be used for yoga practices. When doing a reverse child pose with toes together, knees apart folding forward, scoop the tailbone under and lean backwards on the bolster. This is an easy way to align the spine along the bolster -- and it also gives a phenomenal stretch after a long yoga practice.
A bolster can have many uses as they're perfect for spreading weight and alleviating strain. Whether it's massage, yoga, or other physical activities, using a bolster is a great way to heighten your comfort experience.