Living Earth Crafts (LEC) is the world's most recognized manufacturer of spa furniture featuring luxurious and versatile designs made with quality materials that guarantee superior client comfort. Since 1973, LEC has been at the forefront of spa furniture innovation by combining sustainable manufacturing with exceptional functionality, advanced technology, and undeniable style. This is why LEC furniture and equipment can be found in 193 countries worldwide.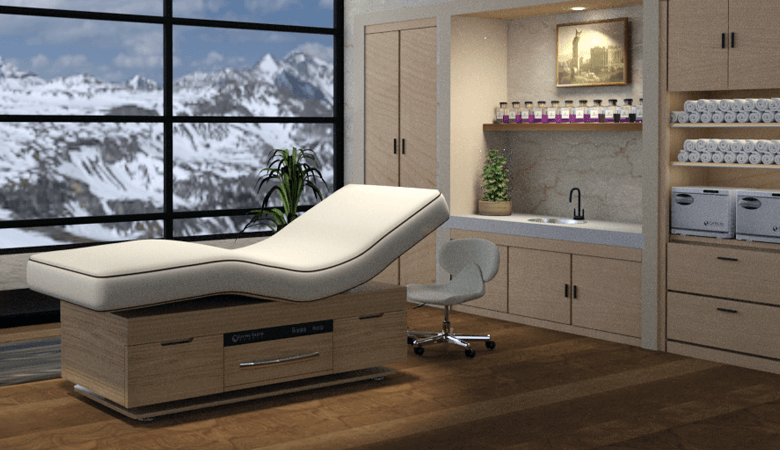 In addition to its innovative products, LEC is committed to environmental sustainability without compromising quality or luxury. The company's guiding sustainability principle focuses on respecting nature, using farmed and renewable wood sources from managed forests, offsetting its carbon footprint with a generous sponsorship of tree planting initiatives, using earth-friendly materials and processes, and ensuring sustainable factory and office environments.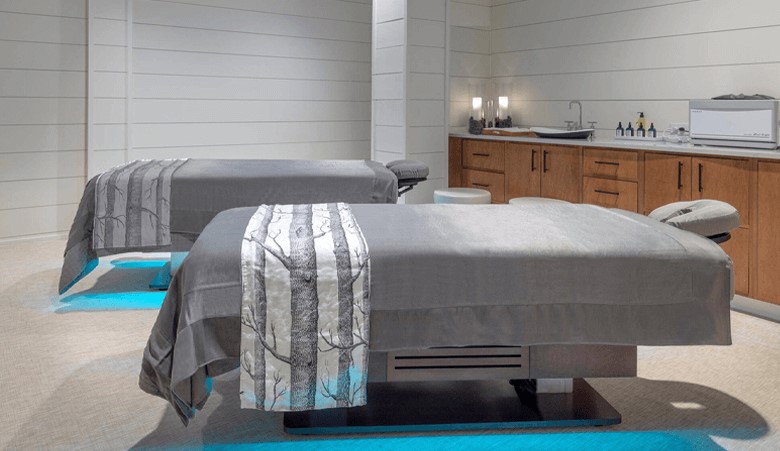 Our premium Living Earth Crafts line features numerous world-class products; treatment tables, electric lift tables, stationary massage tables, wet treatment tables, salon tables, spa & relaxation loungers, massage chairs, pedicure chairs, pedicure spa chairs, pedicure bowls, technician stools, and accompanying accessories. We invite you to browse our extensive collection today, and to kick things off; we'd like to introduce you to our favorite LEC products that we believe will make excellent additions to your therapeutic spa: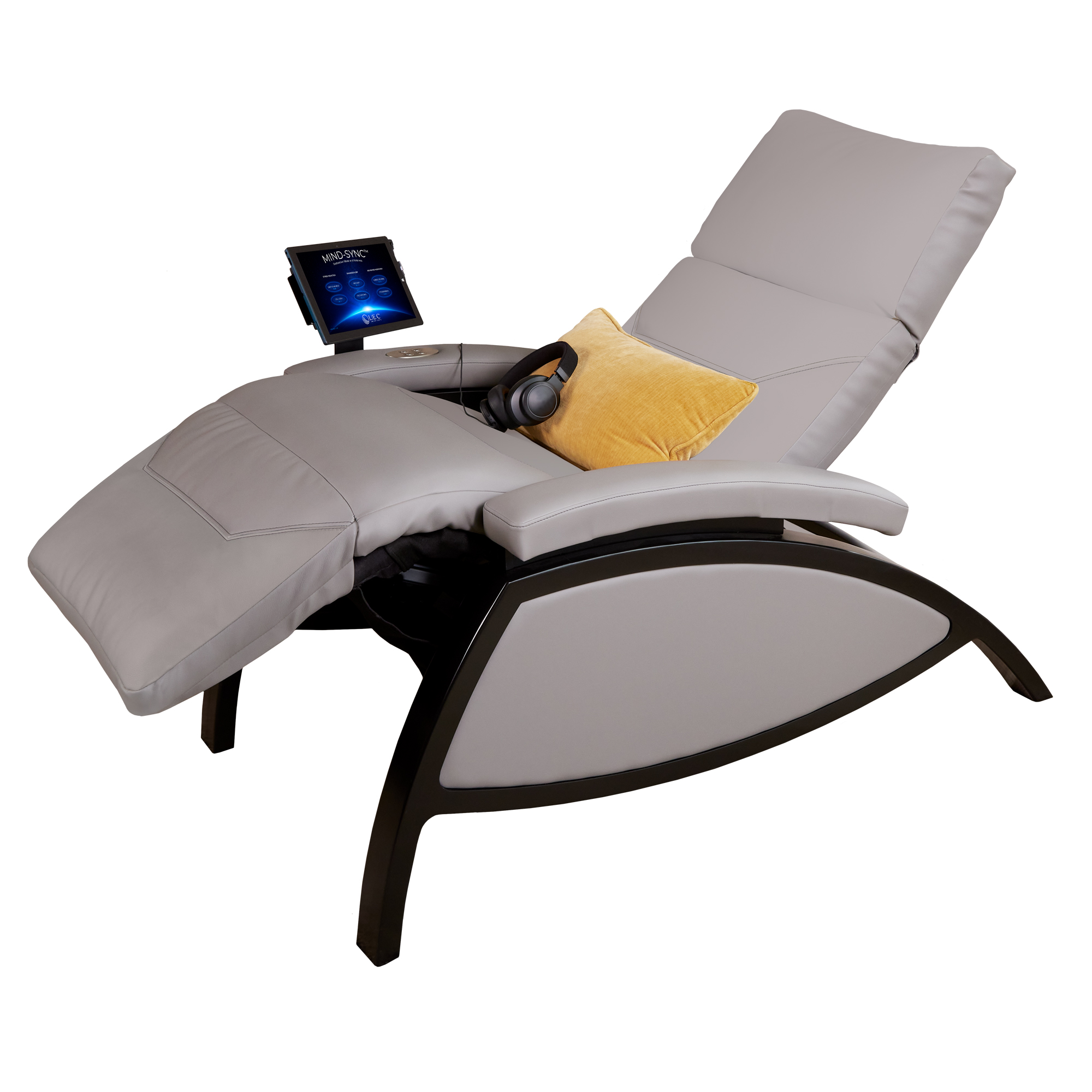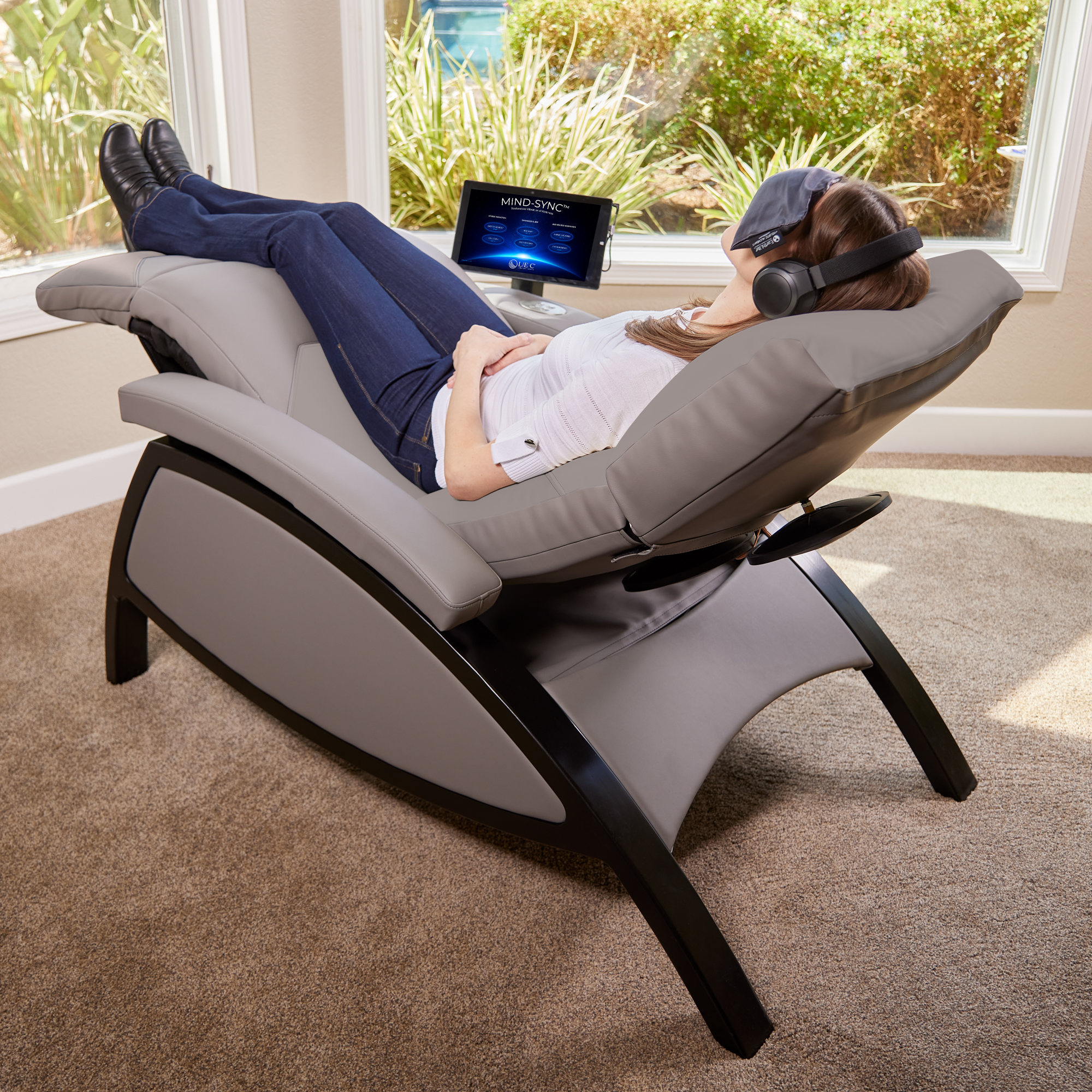 The LEC Mind-Sync™ Harmonic Sleep Lounger is an unattended, zero gravity treatment lounger designed to reduce stress and anxiety levels and enhance restorative sleep states. The Mind-Sync™ Lounger combines clinically tested, vibro-acoustic sound therapy with perfect zero gravity positioning for accelerated guest restoration.
Benefits You'll Love:
Intuitive 10" touch screen control system eliminates the need for attendants
Adjustable zero gravity recline promotes unparalleled relaxation, recovery, and ability to sleep
Four powerful 80 watt per channel transducers create an unprecedented harmonic experience with full-spectrum sound waves
Six treatment programs targeting stress reduction, enhanced sleep, and restorative meditation (20 to 60 minutes each)
Soft start and stop whisper-quiet, UL-listed motors move the chair into variable zero gravity positions for the ultimate stress relief
Relaxing lounger features luxurious Comfort-Flex™ double-needle stitched cushions with lush Cloudfill™ polygel
Lounger has a convenient USB charging port and comes with premium, noise-dampening headphones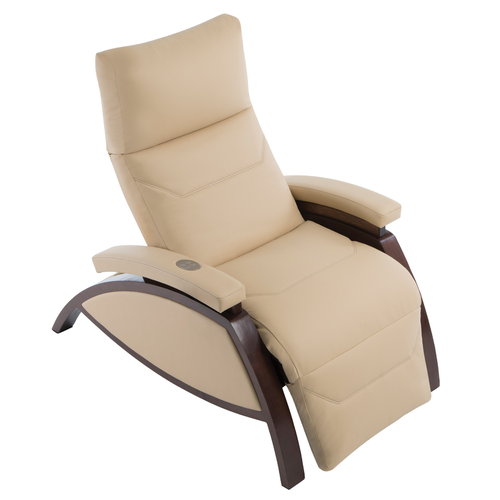 Designed for commercial spa use, the ZG Dream Lounger from Living Earth Crafts fuses the scientifically proven relaxation benefits of zero gravity positioning with LEC's world-renowned custom-built craftsmanship. Your clients will experience life-changing spinal decompression and muscle relaxation in the world's most comfortable recliner. The versatile ZG Dream Lounger offers spas the ability to perform express treatments like facials, scalp treatments, reflexology, manicures, and pedicures while the client is in zero gravity positioning.
Benefits You'll Love:
Fully retractable footrest enables easy client access and pedicure capability
Soft start and stop whisper quiet, UL listed motors
Orbital™ electronic pivoting for smooth electronic adjustments
Easy-to-use chair controls are embedded in the armrest for easy access including variable zero gravity positioning
Replaceable cushions for extended chair life
Commercial grade, hand-finished modern frame
Luxurious Comfort-Flex™ upholstered cushions with premium double-needle stitching
Comfortable - filled with plush Strata™ memory cushioning and has a Cloudfill™ Headpillow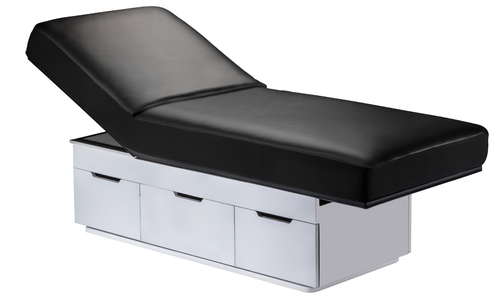 The Century City Treatment Table from LEC features the industry's lowest "true-measure" height range. Wireless hand and/or foot remotes control the electric height adjustment from a low 20.5" to a 36" height. The luxurious, fully electric salon top has the 4" Strata™ Memory Foam Cushioning System wrapped in durable and soft Comfort-Flex™ upholstery. The table base utilizes the space with well-situated tilt-out storage spaces and a drawer for extra storage and convenience.
Benefits You'll Love:
Lowest "true-measure" height table available - standard at 20.5" with 19".5 available as an upgrade
Height reaches 36" with the push of a wireless hand or foot remote
4" Strata™ Memory Foam Cushioning System is standard with the option of a 5.5" GelTech™ SpaMattress™ mattress for the ultimate comfort
Dual-pedestal base lifts easily and quietly, supporting up to 500 lbs.
Tilt-out discreet storage for towels and supplies with a center drawer that can be replaced with a digital warming drawer
Infrared hand-held remote control for wireless operation of the table
LED color-changing chromatherapy lighting system
Wireless hand and foot controls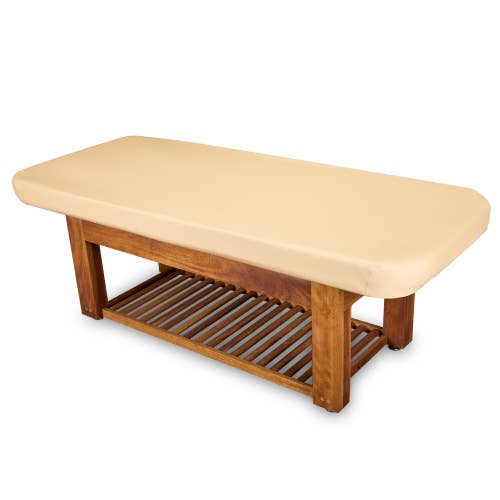 The Napa La Mer™ Wet Treatment Table is the perfect solution for wet treatments, massage, Vichy showers, body wraps, mud masques, scrub treatments, and more. This beautiful shelf table is crafted with treated, water-resistant Teak wood, marine grade foam, and Aqua™ vinyl. Add stainless steel hardware and a vented HDPE top, and you have a table ready to endure the constant rigors of a wet room environment.
Benefits You'll Love:
Non-electric, manual hydraulic lift system with fold-away handle
Water-resistant teak base with marine grade foam and Aqua™ upholstery makes this table perfect for wet treatments
Upholstered top is designed to be removed for periodic disinfecting and cleaning or replacement
Stainless steel hardware is great in a wet environment
Sturdily constructed to hold up to 500 pounds of weight
Water-resistant teak base with slotted shelf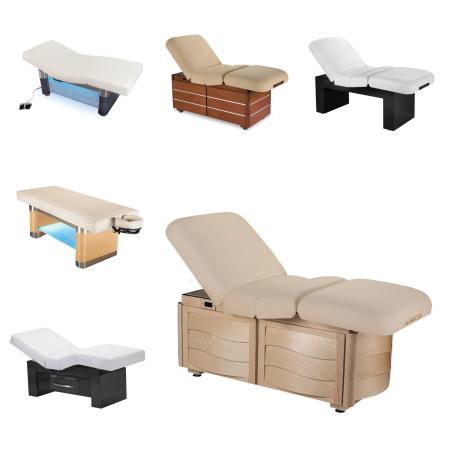 The groundbreaking Nuage line features six exceptionally functional tables that cater to different needs; Nuage Vector™ Treatment Table, Nuage Pedestal Base Salon Massage Table, Nuage Vector + Studio Treatment Table, Nuage Contemporary Cabinet Salon Massage Table, Nuage Cuvée Cabinet Salon Massage Table, and Nuage Pedestal Base + Studio Treatment Table.
Benefits You'll Love:
Smooth and quiet synchronized Electra-Glide lift actuators lift up to 625 lbs.
Fully articulating electric salon tops with rounded/square corners
Ultra-durable Comfort-Flex™ upholstery is chemical, moisture, scratch, and oil resistant
Includes programmable hand and foot controls and strata 4" Strata™ memory foam cushioning system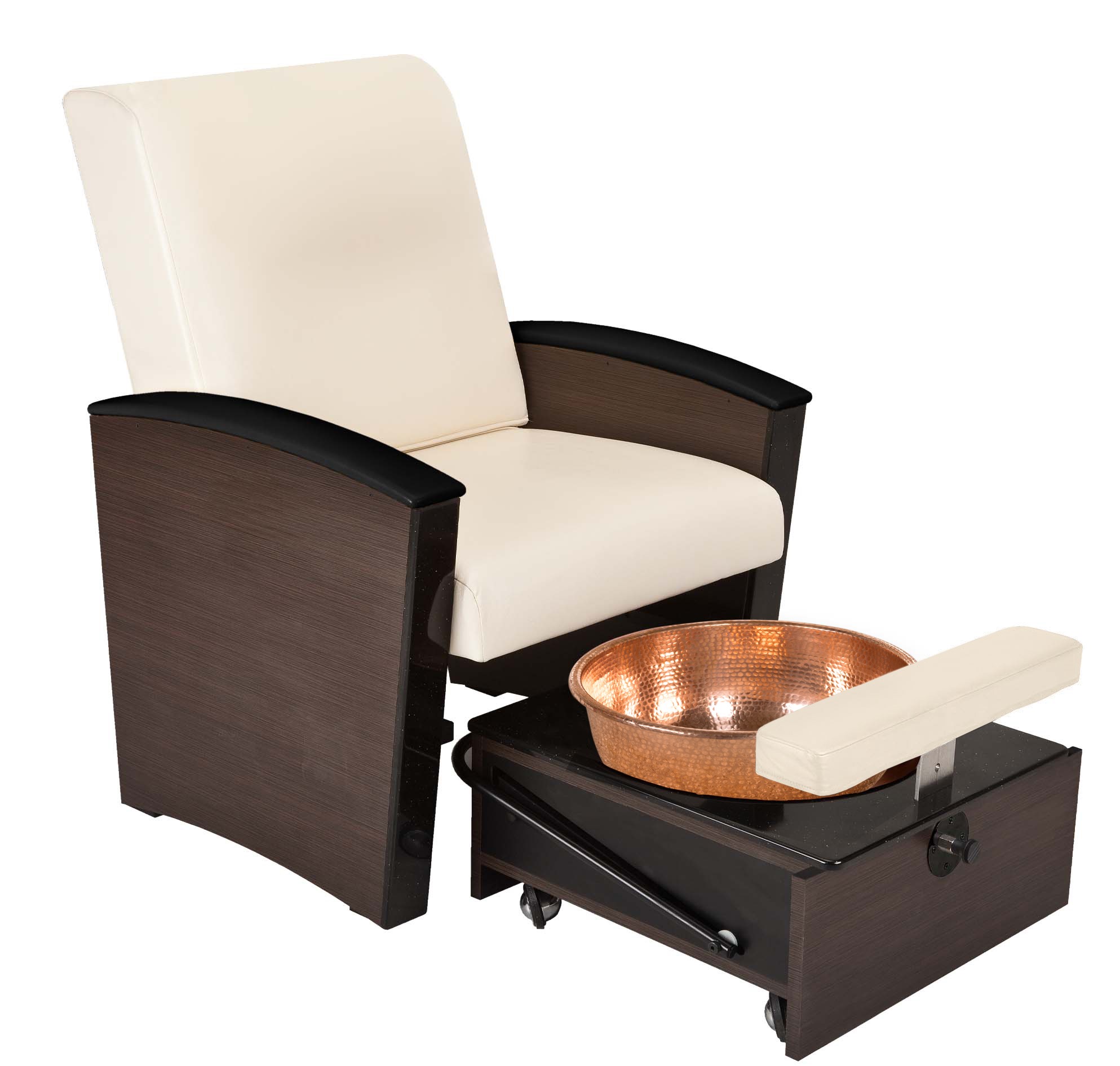 The Mystia™ Luxury Manicure / Pedicure Chair with TuckAway™ Pedicure Chair by LEC is designed to indulge clients in complete relaxation while providing practitioners with impeccable quality. Adorn the TuckAway™ footbath with your choice of a hammered copper or stainless-steel bowl. Your clients will thoroughly enjoy the ultimate comfort of Living Earth Crafts' famous 4" Strata™ memory foam cushioning system. It is covered in your choice of various upholstery options and colors; custom design your non-plumbed Mystia™ Pedicure Chair today!
Benefits You'll Love:
Choice of hammered copper or stainless-steel footbath
Strata™ 4" memory foam cushioning system creates for maximum client comfort
No plumbing required
Design your chair with your color choices of upholstery, laminate, and footbath trim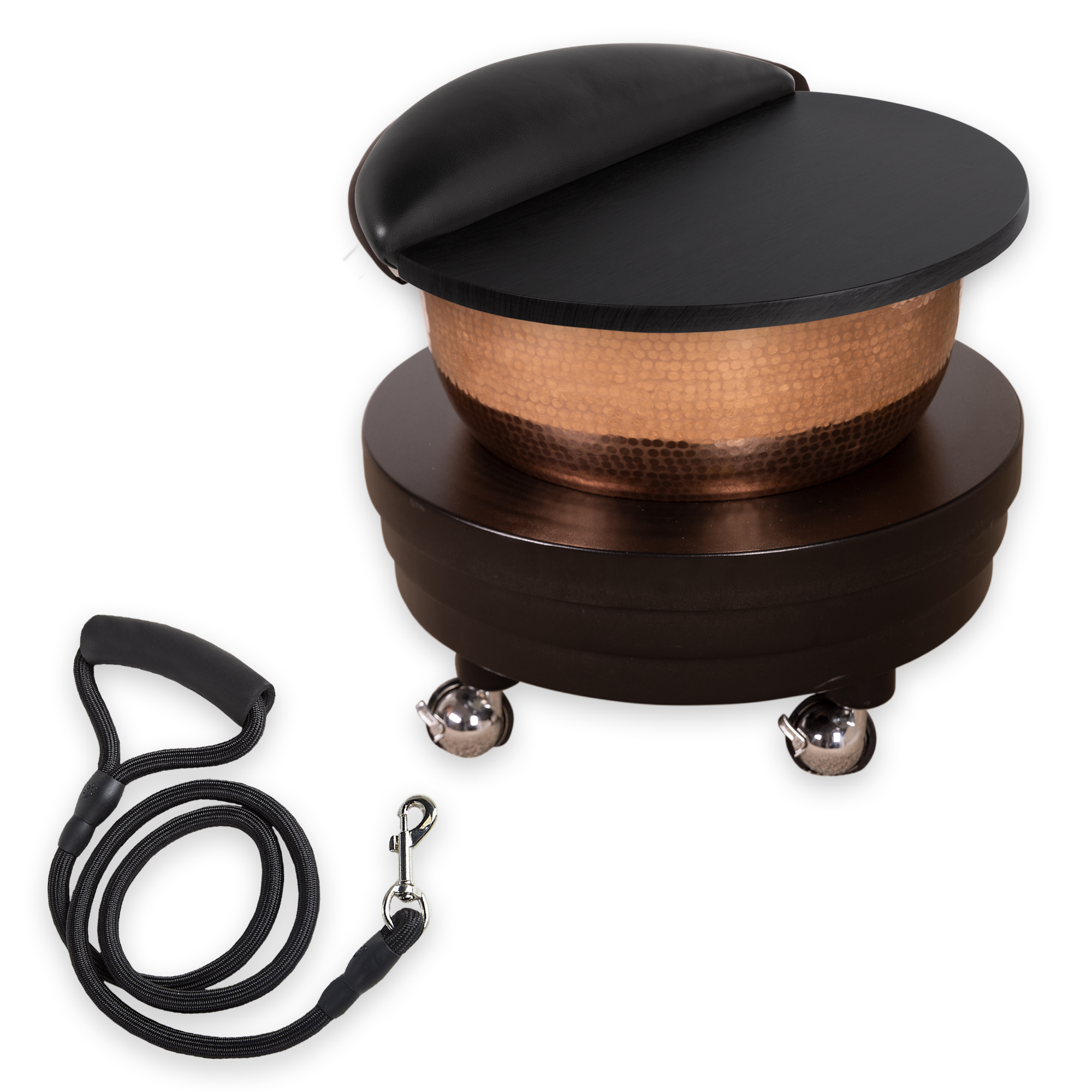 Roll up to any seat you deem fit for your next pedicure with the glamorous Portable Pedicure Bowl and Roll-Up from LEC. The Roll-Up is laminated in your choice of color and topped with an elegant pedicure bowl of durable and cost-effective commercial stainless steel or handmade, naturally anti-bacterial copper. The copper bowl has a hammered finish and is treated for tarnish resistance. Both bowls feature at least 6.5" depth for great soaking and a wide base to accommodate foot sizes up to men's size 14 (US). The set includes a crescent-shaped upholstered footrest and lid that attaches snugly to the rim of your bowl. The base features locking wheels.
Benefits You'll Love:
Mobile pedicure roll-up cart with locking ball casters for performing pedicure nearly anywhere
Choose your laminate finish to match your decor
Includes rolling base, footrest, lid, leash, and your choice of copper or stainless-steel pedicure bowl
Bowl generously fits feet up to men's size 14 (US)
Base raises the height of the bowl by 9" and fits the bowl snugly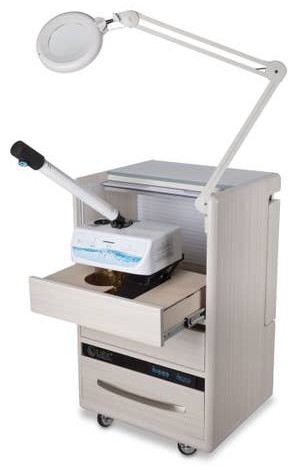 The compact, Mid-Century design, roll-top LEC Parker Spa™ Trolley includes and neatly houses a professional Silhouet-Tone® steamer and a versatile Daylight Lamps® full-spectrum mag lamp. The practical tempered glass work surface, soft close drawers, surge-protected power strip, and soft rolling casters make the Parker Spa™Trolley a must-have in any spa. Customize the look with your choice of laminate and glass top.
Benefits You'll Love:
Neatly houses a professional Silhouet-Tone® steamer and versatile Daylight Lamps® full-spectrum mag lamp
Features three generously sized, soft-close storage drawers
Durable chemical and water-resistant finish with safety glass top - impervious to acetone, heat, and other damaging elements
Surge protected power strip eliminates excess cables and keeps things neat
Optional Digital Warming Drawer controlled with multiple temp and timer settings
Enjoy the versatile Living Earth Crafts Duet Stool for nail techs with a seating height range of 15.25" – 21" that allows for manicures and/or pedicures. Add an extra 2" of padding for an increased height when needed. Choose from square or rounded corners to suit your style or salon design. You will appreciate the incredibly comfortable seat and backrest cushioning and your choice of Comfort-Flex™ upholstery color. You will find that the Duet Stool is an all-in-one solution for those tired of switching back and forth between stools.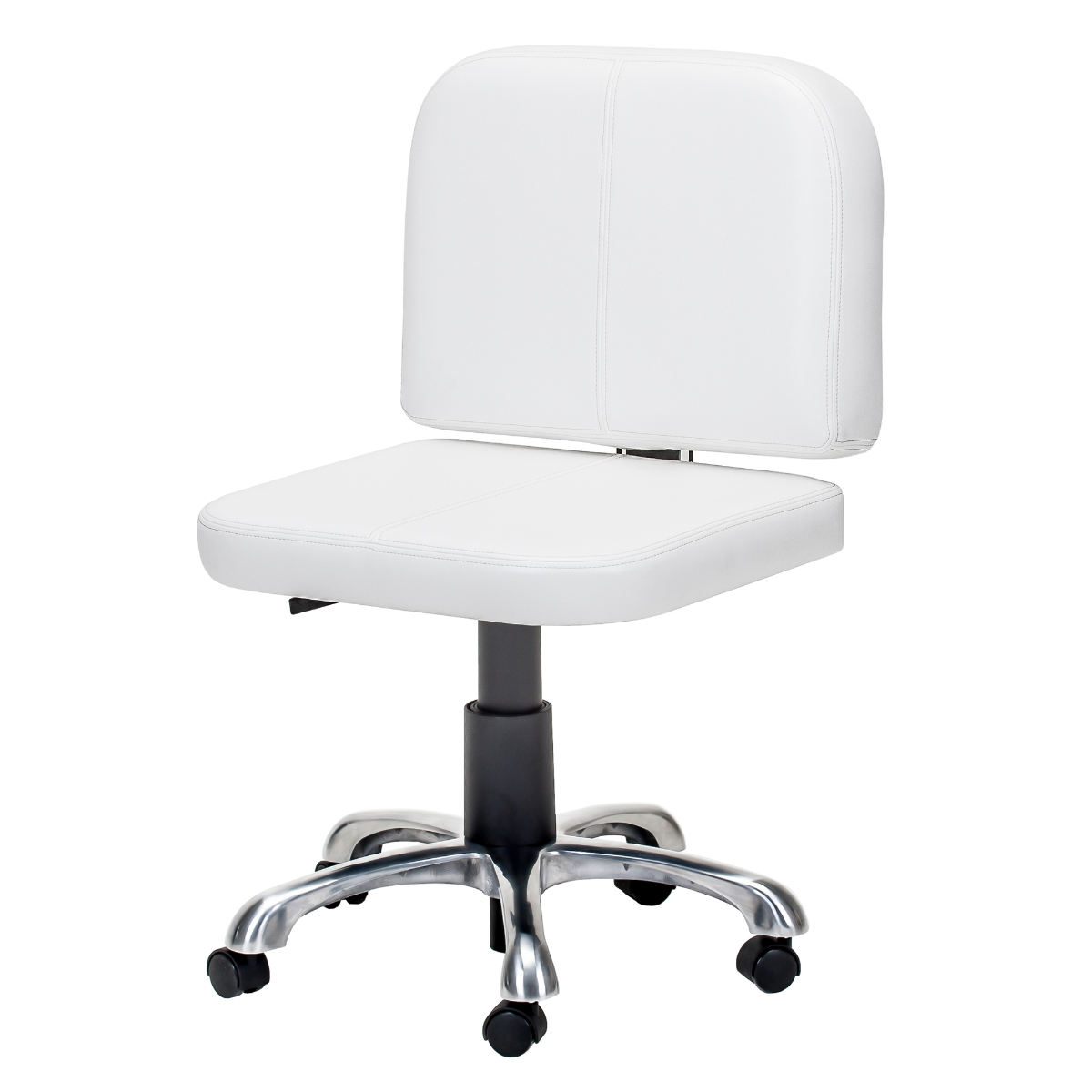 Benefits You'll Love:
15.25" – 21" height range to allow for use when performing manicures and/or pedicures
Choose from square or round corners to suit your style and decor
Seat back adds comfort for long workdays
Choose from easy to clean and maintain Comfort-Flex™ upholstery or multiple upgrades
Add an extra 2" of padding that can be removed when not needed
In case of any questions, chat, call, or email our helpful and friendly customer service at: (888) 515-0444 and hello@massagetablesnow.com. We will happily help you create your dream spa/massage parlor.