Choosing a career field is one of the most important decisions a person can make. Not only can it determine your income, it can also have a tremendous impact on your overall health and well-being. The average person spends roughly 90,000 hours working throughout his or her life. That's a lot of time, and a big reason why it's important to pursue a fulfilling profession.
We surveyed nearly 1,200 licensed massage therapists to learn about their career satisfaction. Numerous research studies have examined massage from a clinical perspective; however, few have analyzed the viewpoint of massage therapists.
Are massage therapists happy with their profession? What are their employment opportunities? What job conditions matter most to them? Is there anything the industry needs to improve?
Here are a few key takeaways from the study.
Summary of Findings
Overall, 88% of surveyed massage therapists are "very satisfied" or "satisfied" with their careers.
99% of massage therapists believe their work has a positive impact on their clients.
Upon earning a massage license, 62% of therapists land a job in the field in less than 1 month, while 22% report earning a job at the 1 month mark.
78% of therapists "strongly agree" or "agree" that their massage therapy training program prepared them for a career in the field.
Nearly 2 out of 3 massage therapists have experienced unwanted sexual advances from clients.
Overview of the Study
For this report, we surveyed 1,197 certified massage therapists between July 13 and August 21, 2018. Responses from individuals who did not identify as licensed massage therapists were not included in the analysis.
The respondents were 88% females, 12% males, and less than 1% who identified as agender. 77% of the individuals worked in the United States and 21% in Canada, while the remaining 2% were based in various other countries.
Massage Therapists Have High Job Satisfaction
We asked the question "How satisfied are you with your career as a massage therapist?"
Here is what we found.
The majority (52%) of the survey respondents reported feeling "very satisfied" with their careers, while 36% selected "satisfied" and 7% chose "neither satisfied nor dissatisfied." Even more telling: only 5% feel "dissatisfied," and even less (1%) are "very dissatisfied,"
These results suggest that massage therapists are significantly more satisfied with their careers than the average American worker. A survey published in 2018 by The Conference Board reported that 51% of U.S employees feel overall satisfied with their careers.
It's also important to compare job satisfaction with professionals working in similar fields. Our findings indicate career satisfaction among massage therapists is on par or in some cases even higher than other healthcare professions.
A survey by the National Opinion Research Center found nearly 75% of physical therapists are "highly satisfied" with their job. By comparison, a study by PracticeMatch analyzed job satisfaction and salary trends among physician assistants and nurse practitioners. The study found 44% of physician assistants and 38% of nurse practitioners are "very satisfied" with their careers.
Massage Therapy Provides Meaningful Work
When we asked massage therapists about how they view the impact of their work, the results were staggering. Nearly 99% believe their work has a positive impact on clients. 1% were unsure and only 0.2% responded that they do not believe their work has a positive effect.
Massage therapists have the opportunity to help clients improve their physical and mental well-being. The findings from this study are clear: massage professionals are confident their work makes a difference.
Helping Clients Feel Better Is What Matters Most
In order to learn what matters to massage therapists, we asked them to rate how important different factors are to their overall job satisfaction. Answers were recorded on a 5-point scale (1=Not at all important, 2=Somewhat important, 3=Important, 4=Very important, 5=Extremely important).
Massage therapists rated "helping clients feels better" as the most important factor to their job satisfaction. In fact, 57% of the respondents said it was extremely important. It's clear that MT's are intrinsically motivated to help others.
Therapists rated "job security" as the second most important factor for career satisfaction, even ahead of income. This makes sense when you consider that more and more occupations are being outsourced or replaced with automated alternatives. A 2017 report by McKinsey & Company predicted that 1 out of 3 workers in the United States will be displaced by automation by 2030. Fortunately for MT's, it's unlikely robots will be able to perform deep tissue or hot stone massage anytime soon.
Location independence was the least important factor impacting job satisfaction. 21% of the respondents reported it as "somewhat important", while 17% reported it was "not at all important."
Compensation & Educational Costs
It's hard to discuss job satisfaction without talking about money. Everyone wants to earn a fair wage that allows them to live comfortably.
MT's Earn a Competitive Wage
Salaries for massage therapist can vary depending on a variety of factors such as certifications, geographic location, and years of experience. The Bureau of Labors Statistics lists the 2017 median annual salary for massage therapists at $39,990. According to Salary.com, the average hourly wage for a massage therapist in the United States is $21-28. By comparison, the median annual salary for other healthcare support positions is significantly less at $33,920.
It's important to note that many therapists work part-time in some capacity, which can reduce take-home pay. According to the Bureau of Labor Statistics, approximately half of of massage therapists worked part-time schedules in 2016.
Massage therapists can earn even more if they gain additional experience and develop management skills. They also have the opportunity to start their own business, in which case income potential is as high at their ability hustle and scale operations.
Massage School: Cheaper & Shorter
Tuition fees at massage therapy schools are much less expensive than most four-year colleges, and take less time to earn a degree. Massage therapy programs typically cost a total of $3,000-$14,000, and can often be completed in less than one year - which means 2-3 more years of income earning.
A bachelor's degree, by comparison, can pose a huge financial burden on students and their families. According to The College Board, the average annual cost of tuition for the 2017-2018 school year was $9,970 for state residents attending public colleges, $25,620 for out-of-state residents at public universities, and $34,740 at private colleges. That adds up to a total between $39,880 and $138,960 for a four-year degree.
Despite the lower tuition costs, our research indicates the majority (54%) of massage therapists take out student loans to pay for their courses and training. Although this figure is relatively high, it's lower than the rate faced by college graduates. According to The Institute of College Access & Success, 65% of the graduates from US colleges in 2017 had student loan debt.
Career Opportunities
The massage industry is growing. According to U.S. Bureau of Labor Statistics, employment of massage therapists is expected to increase 26% from 2016 to 2026. But what does the job market look like?
Plenty of Jobs for the Taking
We were curious to see how difficult it is for massage therapists to get a job once they earn their license. Nobody wants to invest time and money pursuing a career, and then not be able to find relevant work. The story of the recent college grad with a liberal arts degree working as a barista has become commonplace.
It turns out, that isn't an issue for massage therapists. Massage therapy school involves a lot of hands-on training. Students graduate with the skills they need to get a job right away.
78% of massage therapists "strongly agree" or "agree" that their massage school and training prepared them for career in the industry. This is a strong indication they have the soft skills and technical training required to exceed in their profession, and deliver value to clients.
86% of the therapists surveyed "strongly agree" or "agree" that they were easily able to earn a position in the field.
Massage therapists have no trouble landing a job. In fact, many survey respondents indicated they had a position lined up prior to receiving their certification. Overall, 62% were offered a job in less than 1 month after earning their license. 22% said it took approximately 1 month to receive a job offer, while 5% said it took 2 months.
Diverse Employment Settings to Choose From
Massage professionals work in many different employment arrangements. To learn about the job opportunities available, we asked them to describe their employment status.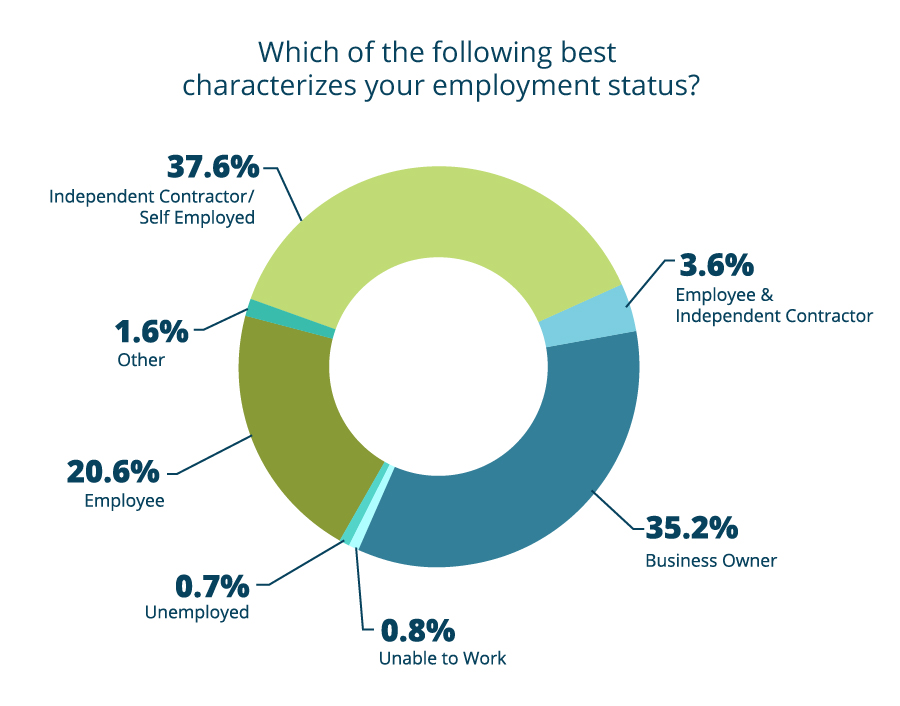 One of the benefits of a career in massage therapy is the flexibility it affords. 38% of the MT's described themselves as self-employed. These individuals are their own bosses and can often determine their work schedules. They have a high degree of autonomy. This is a good option for people who prefer to work from home or who do not want to be constricted by the traditional 9am-5pm workday.
35% of the respondents defined themselves as business owners. These people are employed by their own corporation or LLC. They manage and hire a team of massage therapists. This is an ideal situation for people with an entrepreneurial spirit, and who are comfortable with the inherent risk that comes with running a company.
If the responsibility of overseeing a business isn't appealing, there are other employment options. 21% of survey respondents defined themselves as employees who work for a massage company. They typically receive benefits and protections, as well the security of a consistent paycheck.
Less than 1% of the respondents defined themselves as unemployed. As of August 2018, the unemployment rate in the United States and Canada was 3.9% and 6.0% respectively. This is further evidence that demand for massage therapists is extremely high.
Massage therapy is a versatile occupation, capable of satisfying both those who prefer to work alone with a flexible schedule, and those who favor more traditional employment on a team of healthcare professionals. It also offers career growth opportunities for individuals who enjoy aspects of running a business. Most importantly, massage therapy is a growing field in high demand.
The Impact of the Gig Economy
The gig economy has transformed the nature of work. More and more workers are now freelancers and independent contractors, instead of full-time employees. Technology companies such as AirBnB and Uber have disrupted entire industries. With just the click of a button, consumers can order goods and services directly from their smartphone.
We were interested to learn about the impact the gig economy is having on massage therapists. Numerous on-demand apps such as Soothe and Zeel have gained traction. But are MT's interested in working for these platforms?
Our findings indicate only 18% of therapists would consider working for an on-demand service. With the evolution of the gig economy, we were surprised more MT's were not interested in this method of delivering care.
There are a number of potential reasons: unpaid time traveling to client location, lack of benefits, logistical challenges such as requirement to transport equipment, or liabilities of providing in-home care. Ultimately, more research is need to better understand massage therapists' perception of on-demand services.
Demands of a Career in Massage Therapy
Pain Points That Impact Job Satisfaction
Every job comes with drawbacks. In order to learn about some of the pain points massage therapists face in their daily work, we asked them to rate how different factors negatively impact their job satisfaction. Answers were quantified on a 5-point scale (1=Not at all, 2=Slightly, 3=Moderately, 4=Very, 5=Extremely).
Out of the seven variables analyzed, inconsistent income was the factor that most negatively impacted job satisfaction. 51% of the survey respondents selected "extremely" or "very" to grade the impact a lack of consistent pay has on their overall career satisfaction.
Massage is a physically demanding job. Therapists are on their feet for most of the workday and engage in repetitive movements with their arms and hands. It's no surprise that physical burnout was the second most highly ranked factor in terms of negative impact on job satisfaction.
Too much administrative work was the least problematic. 26% of respondents said it only "slightly" impacted their job satisfaction, while 28% reported it did "not at all" have an effect.
Challenges the Industry Faces
In the same way every occupation comes with a set of cons, every industry faces its own unique challenges. There were two specific issues we were interested in examining relevant to massage: injuries and sexual misconduct.
Massage Therapy Can Take a Physical Toll
In order to have a better understanding of massage therapy's physical impact, we posed the question "Do you suffer from overuse syndromes such as carpal tunnel, tendonitis, or arthritis from working with your hands?"
Overall, 39% of respondents indicated they experience overuse injuries from working with their hands all day. Females are slightly more likely than males to experience physical pain and injuries. While it's not a problem for most therapists, it's still a relatively widespread issue. Massage therapists rely on their hands and upper extremities in order to make a living. It's critical they engage in self-care in order to avoid common ailments and sustain a long career.
Sexual Misconduct Is Not Uncommon in the Workplace
There is no denying it. The nature of the relationship between a therapist and client can open the door for sexual misconduct. This can include inappropriate comments, flirtatious behavior, physical contact, and even sexual violation.
While receiving a massage, people are in a vulnerable position. They often are wearing little clothing and their bodies are being rubbed by a stranger. It can be an uncomfortable setting for some individuals. According to the American Massage Council, sexual misconduct is the number one claim filed against massage therapists in the United States.
For the purpose of this study, we were interested in examining sexual misconduct from the perspective of therapists. Is this problem unique to massage clients? Or is sexual misconduct something MT's experience as well?
To find out, we asked the following question: "Have you ever experienced unwanted advances or inappropriate sexual behavior from one of your clients?"
Here's what we found.
Overall, 63% of massage therapists have experienced inappropriate sexual behavior from clients. While it's a more common problem for female therapists, it's not an issue that is exclusive to one gender. The majority of males (56%) reported they have experienced unsolicited sexual advances from clients during their careers too.
Numerous MT's who participated in the study wrote a detailed message outlining their opinion about the topic. Here's what some of them had to say:
"I've had many occasion when men found out I was a massage therapist the common joke would be around 'happy endings'. When I used to tell people I was a nurse, I never had any sexual comment made. I know we fight hard to be seen in the medical realm of professions, but there is a stigma that has not been erased from a lot of people's minds yet." -Anonymous
"Don't try to pretend that massage parlors, where happy endings are expected, never get confused with legitimate massage therapy practices...It's something that needs to be addressed." -Anonymous
"I suspect RMTs deal with inappropriate sexual advances from clients far more often than most other healthcare providers. When it's happened, it has greatly impacted my job satisfaction." -Anonymous
"The worst part of being a massage therapist is that people compare therapeutic massage with prostitution and this gives hard working, legit massage therapists the unfortunate experience of having to deal with men looking for illegal, sexual services on occasion. This is also a concern for physical safety at times if you are working alone at a location with new male clients." -Anonymous
Stories about massage therapists touching clients inappropriately tend to receive the headlines. For example, BuzzFeed reported in 2017 that more than 180 women had claimed sexual assaults at Massage Envy locations.
This story alone was covered by the Washington Post, The Daily Beast, CBS, USA Today, CNN, Fox News, NBC, Huffington Post, Business Insider, Chicago Tribune, and many other news media. But when it comes to the sexual innuendos and unwanted advances experienced by massage therapists, it's assumed to be part of the job description.
A recent report by TechCrunch found the customer database of Urban Massage, an on-demand massage service available in parts of the UK and France, was leaked. Private information was exposed, including many records of allegations of sexual misconduct by massage clients. Even in a traditional spa setting, there can be issues with inappropriate behavior. The situation can be even more risky when therapists provide in-home care.
How Therapists Can Address These Difficulties
In order to do excellent bodywork, massage therapists need to be physically and emotionally healthy.
MT's are at risk for developing injuries from repetitive use of their hands, arms, and shoulders. Many of these injuries can be avoided with proper technique and body mechanics. For example, often therapists depend too much on their wrists and fingers to give a massage, which can cause carpal tunnel syndrome. Kathy Reitsch, a massage therapists based in Phoenix, told the HealthDay, "You have to use gravity and the weight of your body to really accomplish some of the work that you're doing, rather than just the wrist, fingers, and shoulders."
It's also important MT's make sure the massage table they are using is adjusted to the proper height. Even a couple of inches can make a significant difference on the stress placed on joints. Stretching and taking breaks throughout the workday is also crucial.
One way massage therapists can prevent sexual misconduct is by setting boundaries. There are various ways to do so. For example, providing clients with personal space to undress, as well as making sure private body parts are covered throughout the entire session can help. While it's easy to let a small comment or gesture slide, massage therapists should speak with their clients in order to enforce verbal and physical boundaries. The key is to set a precedent so clients don't feel they can test the waters.
Study Limitations
This research sheds light on career satisfaction among massage therapists. However, there are limitations to the study that should be noted. Since the majority of the survey respondents are based in the United States and Canada, it's possible the data would look differently if more regions were included in the analysis.
Additionally, only a limited numbers of variables were analyzed for the impact on job satisfaction. Other factors that were not included could significantly affect career satisfaction as well, either positively or negatively. Further research is needed to have a more granular level of understanding of work conditions, and the perspective of massage therapists.
Conclusion
There are many benefits to working in the massage field. Therapists have high job satisfaction. They are less likely than college students to get into debt to pay for their education. In addition, they are able to find a job almost immediately after graduating, earn a competitive wage, and have many employment opportunities to choose from.
While working as a licensed massage therapist can be very rewarding, the profession poses challenges for some people. Ultimately, employers and massage schools must properly educate and train therapists in order to help address these difficulties, remove negative stereotypes, and attract more talented healthcare professionals to this thriving industry.

Share This Image on Your Website