Over the years, Earthlite has worked hard to gain the trust of its customers and bring quality products to the massage industry. Earthlite's brand has become synonymous with the best there is in massage tables and massage supplies.
Most recently, we took an in-depth look at Earthlite massage tables to find out if the Spirit or Spirit LT is the right massage table for your practice. In this post, we'll take a deep dive into popular massage supplies by Earthlite, the professional carry case and the basic carry case, to see which accessory suits your business needs.
Earthlite Basic Carry Case
The Earthlite basic carry case is a simpler model to the current professional carry case. It has a completely different set of dynamics when it comes to pockets and structure. The basic case has different pockets to help hold a wide variety of different massage supplies, such as oils, table warmers, sheets, and more. A reinforced bottom also helps to prevent any scrapes or bumps to your equipment.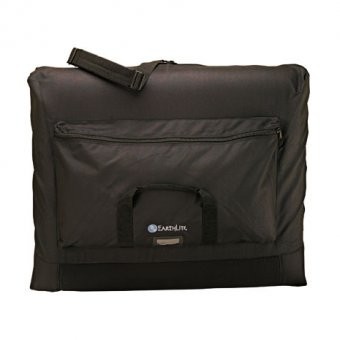 Who is the Earthlite Basic Carry Case for? This case is perfect for newer massage therapists who are just building their arsenal of massage supplies. Whether it's an array of scented or unscented lotions, the basic carry case is versatile and spacious. Students and part-time practitioners will also appreciate this carry case.
Shop Now! Earthlite Basic Carry Case
Earthlite Professional Carry Case
The new Earthlite professional carry case is stronger and sturdier for enhanced protection of your table and supplies. The case holds the table and has one big pocket. It has a very convenient internal accessories pouch to hold all of your common supplies (oil, sheets, creams, and bolsters). You can also choose sizes ranging from 28, 30 or 32 inches, making it convenient no matter your business needs. The professional carry case also boasts a much stronger and reinforced bottom for enhanced stability.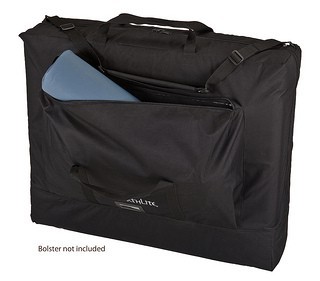 Who is the Earthlite Professional Carry Case for? The busy massage therapist or seasoned practitioner, of course. This carry case is filled with extra pockets and compartments for the massage therapist who has enough supplies to fill them. Whether it's a new assortment of covers, oils, or lotions, the professional carry case is a one-stop shop for practitioners in the massage industry.

Shop Now! Earthlite Professional Carry Case