Massage Tables Now knows that massage therapists have unique requirements when it comes to the services they offer. That's why we offer such a wide selection of lightweight massage tables. We've based our inventory on years of valuable feedback collected from professional massage therapists who know these tables and use them daily. What it comes down to is this: not just any old table will do when it comes to practitioner ergonomics and providing the safety and comfort your clients deserve.
Approximately 47.5 million people had a total of 214 million massages in the U.S. in 2018. That number continues to rise each year as the medical benefits of massage become better understood. That's a lot of opportunity waiting to happen. Beginning massage therapists, especially, tend to start out with lightweight and portable massage tables, which enables them to begin to practice without investing beyond their means on more stationary and permanent equipment and furniture.
We understand that the massage table you choose also represents your business and your brand. Having a lightweight massage table that you can count on wherever you go is more than a want—it's a need if you're looking to compete, sustain, and grow your business.
What Qualifies as a Lightweight Massage Table?
While there are no hard-set rules when it comes to what qualifies as a lightweight massage table, we at Massage Tables Now have classified anything under 35 pounds as fitting the bill—whether your lightweight table is of the portable or stationary variety.
Bottom line: therapists should not have to worry about undue strain while moving, transporting, or storing their massage table in between client visits. Lightweight massage tables are the perfect solution to avoiding injury on the job so that you can excel at your job!
What are the Benefits of a Lightweight Massage Table?
Whether you're a beginning therapist just starting out or an experienced practitioner looking to expand your business, having a high-quality lightweight massage table enables you to provide top-notch service with every treatment.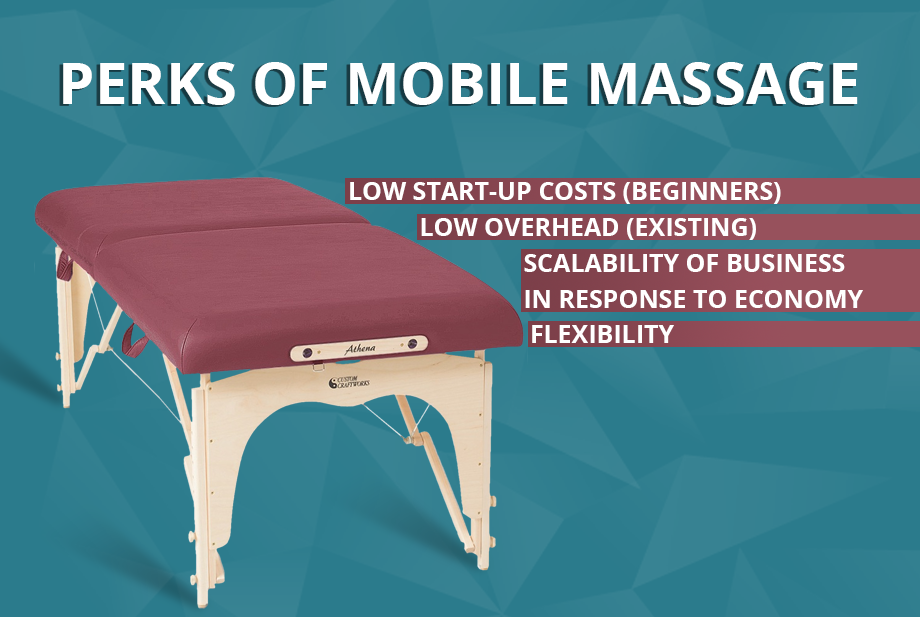 Why You Should Consider Using a Lightweight Massage Table
A 2020 American Massage Therapy Association survey revealed that 40% of massage therapists who responded indicated they travel to either a client's home or workplace as part of their job. It's a trend that doesn't seem to be slowing down anytime soon with clients seemingly happy with this alternative to onsite visits and therapists happy with the increased freedom and flexibility mobile massage offers.
Going with a lightweight massage table (which in most cases is going to be of the portable variety rather than stationary) is oftentimes a decision influenced by your budget. Typically, you'll find this type of table to be much more affordable than a stationary massage table.
Whereas a stationary table may be the right fit for someone looking to provide services on-site only, and with a more established business and a deeper pocket from which to draw—a lightweight portable table may be more appealing for a therapist just starting out or someone not looking to set up a permanent shop.
Cost, however, is not the only factor in choosing to use a lightweight massage table.
Another consideration is a fluctuating economy. Like many businesses that have forgone brick and mortar—the decision to ditch the expense and overhead of owning a salon is appealing to most. Still, others simply enjoy this extra freedom and the ability to be more flexible with their hours of operation.
How to Choose a Lightweight Massage Table
1. Durability: Most therapists chime in that providing a well-constructed, safe, and secure platform is of the utmost importance. Making sure your clients can easily get on and get off your massage table is critical. The last thing you want to have happen is for a client to slip or fall during their treatment.
You also want a table that will last through the wear and tear that comes along with the business of massage therapy.
2. Size: Think about your clientele and how to best meet their needs. Your clients should never have to squeeze onto a table or otherwise feel as if they may fall off at any given moment. Size is important. Massage tables tend to run between 25"-32" inches wide, with standard dimensions generally being 30" wide by 72" long.
3. Comfort: Comfort is key. Nobody wants to receive a massage on a bed of nails. Make sure your table has enough cushion to keep your client cozy and relaxed throughout their treatment. You may give the best massage this side of the Mississippi, but if your table is uncomfortable—too firm, too narrow, too short, or too wobbly—that's what your client may walk away remembering.
4. Sanitary: Making sure your lightweight massage table can be sanitized and cleaned quickly and easily should be at the top of your list. Look for table materials that you can sanitize without damaging your investment over time. And you want to be able to do this quickly so that you're not wasting precious time you could otherwise be spending on your clients.
5. Features/Options: Lightweight massage tables come with all sorts of features and options from padding or foam thickness to upholstery to face cradle to color to adjustability. Think about what features are important to you as a massage therapist in order to provide your client with the best treatment possible. Also consider the table from the client's point of view and what options may make their experience the best one ever.
6. Weight: Know the difference between table weight and support weight. This is especially important when it comes time to transport your table from place to place. The lighter the table, the easier it is to transport and less wear and tear on your back. Support weight is how much weight your massage table can bear. Lightweight and portable massage tables have the capacity to hold up to 600 pounds and more despite their lighter table weight. It comes down to how well a table has been designed and constructed.
Here are five options for standout lightweight massage tables in 2022:
Oakworks Wellspring Portable Massage Table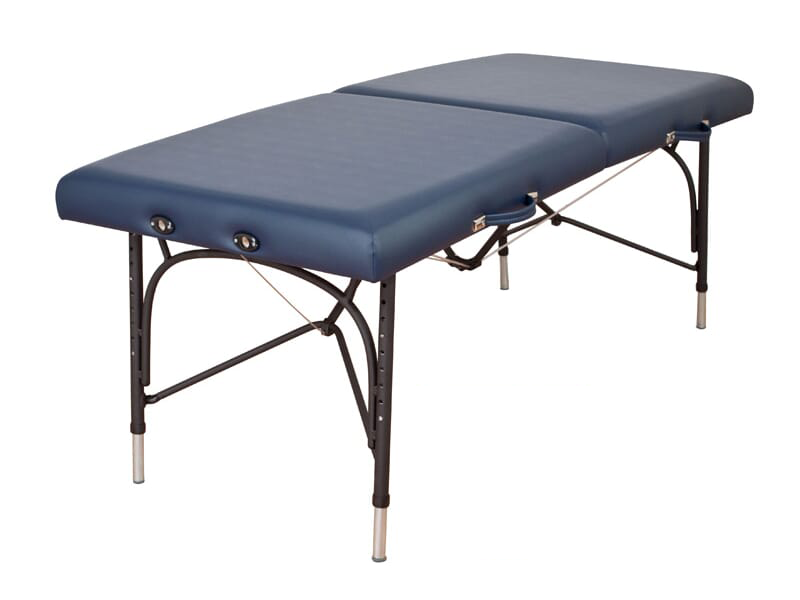 Outstanding ergonomic client access
Scratch resistant and easy to clean power coated aluminum
Sturdy, dependable, durable
Earthlite Harmony DX Portable Massage Table
Comfortable, durable, and stylish
Ergonomic design
Great value
Earthlite Luna Portable Massage Table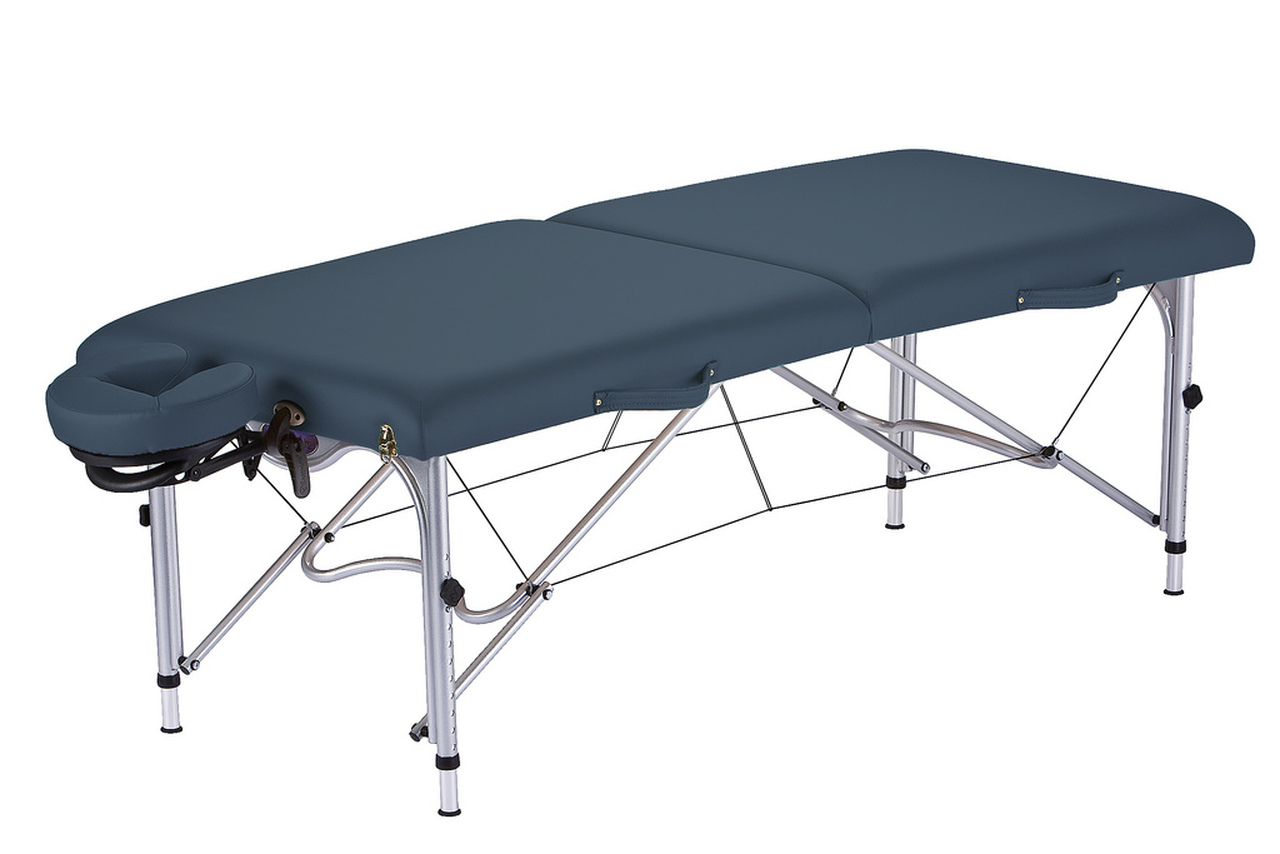 Beautiful, sleek, simple
Ultra-lightweight and sturdy
Reiki ready full-size bed aluminum frame
Custom Craftworks Athena Portable Massage Table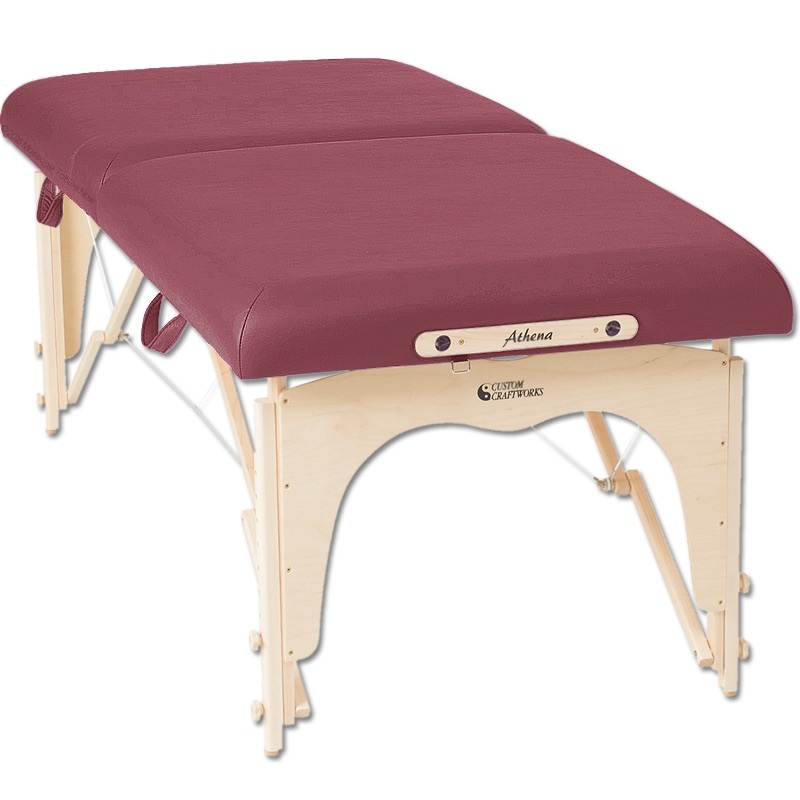 Superior quality
Easy set up and transport
Fully customizable
Pisces Pro New Wave II Lite Portable Massage Table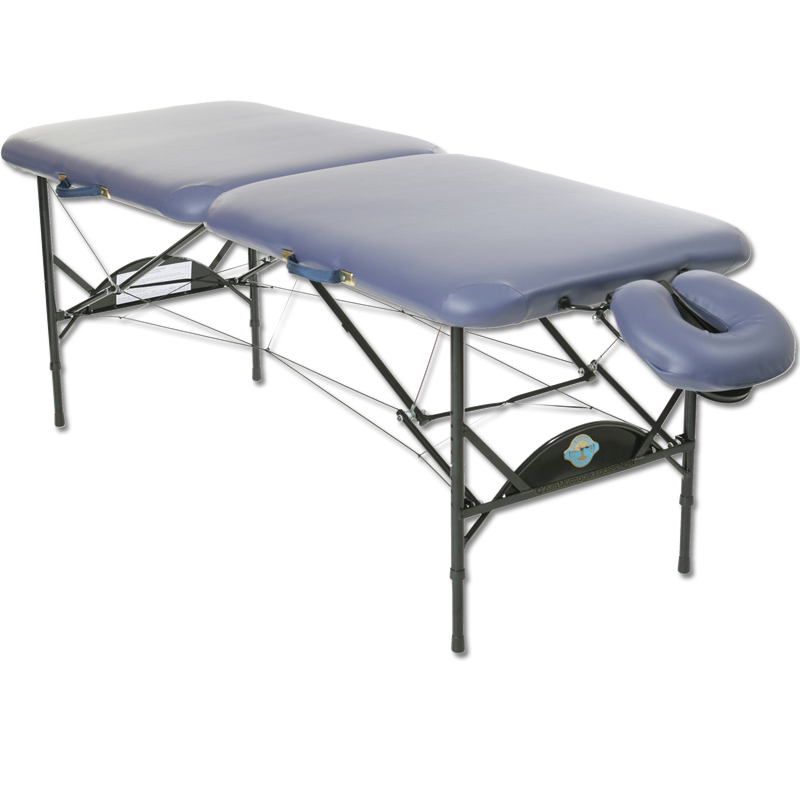 Stylish modern design
Lightest full-size massage table available
Lays flat for Shiatsu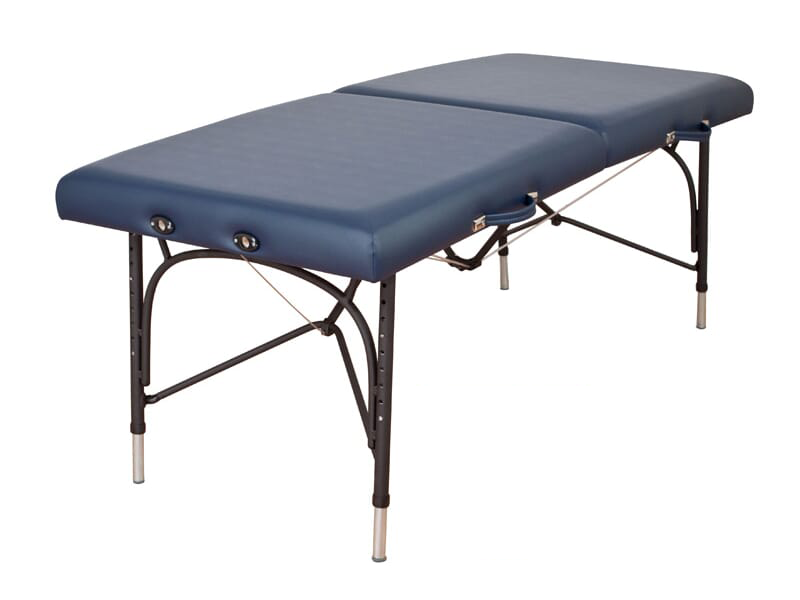 Lightweight aluminum makes transport a snap
Designed to support larger, heavier clientele
Scratch resistant and easy to clean power coated aluminum
If you're looking for a lightweight table that's incredibly sturdy and offers excellent ergonomic client access, the Oakworks Wellspring portable massage table should be at the top your list. Wellspring thought of everything with this simple, dependable, and durable design that works well for therapists. Therapists on the go looking for a lightweight option in response to having to frequently transport their table long distances or up and down flights of stairs will especially love this table.
While portable and lightweight, the Oakworks Wellspring isn't lacking in strength and craftsmanship, constructed with T6 aircraft aluminum that will safely and securely support your clients with a working weight up to 550 lbs. If that's not enough, this table includes incredibly strong, patented Integra Hinge, the easy-to-use UniLock closure system, a complementary suspension system, and telescoping legs that won't bend or break when you need them the most.
The height of the Oakworks Wellspring lightweight massage table can be adjusted from 24" to 34" with a convenient push button. Although the Wellspring Portable Massage Table comes standard with 2." Semi-firm padding, you have the option to upgrade to 3" plush or 4" Aerocel for the ultimate in client comfort.
Looking to stand out from the crowd? You will thanks to a variety of TerraTouch upholstery colors to choose from. Not only are the colors beautiful, but the exclusive medical grade fabric is PVC-free, which means it can be cleaned using hospital-grade disinfectants and will hold up longer.
Specifications:
Dimensions: 73"L x 29 or 31"W x 24 - 34"H
Weight: 25 - 30 lbs
Weight Capacity: 550 lb.
Learn more about the Oakworks Wellspring Portable Massage Table
Squeak-proof vinyl covering makes treatments more peaceful and enjoyable
Ultimate comfort for clients due to ample padding and breathable face cradle
Ease of transport, ease of cleaning, and ergonomic design – this is a complete massage solution
Comfort and style need not come with a heavy price tag, as is evidenced by the lightweight Earthlite Harmony DX Portable Massage Table. This eco-friendly massage table, weighing in at just 34 lbs., packs a punch when it comes to the detail and quality therapists love to be able to offer and clients love to enjoy. Even better, the table is as easy on your wallet as it is on your back.
Constructed with managed forest, hard Maple legs, braces and outlets and aircraft quality, along with Russian Birch plywood decking you've got a safe and sturdy work area that's comfortable, solid, and a snap to transport.
Manufactured with comfort in mind, your clients will be impressed as they enjoy the table's 2 ½" dual layer, CFC free, foam cushioning system designed to inspire instant relaxation. You'll love the many beautiful upholstery color options available for this well-built table, including black, teal, agate, and burgundy. The table is simple to clean so you can keep it looking fresh and new for a long time.
The face cradle provides just the right amount of cushion making it comfortable, but with a hole that makes it easy to breath and relax. Massage perfection.
Your package includes a deluxe adjustable headrest and crescent cushion along with a single pocket carry case for easy transfer.
Specifications:
Dimensions: 73"L x 30"W x 23" - 33"H
Weight: 34 lbs
Max. Static Weight: 2400 lbs
Max. Working Weight: 600
Lead Time: 1 - 2 weeks
Learn more about the Earthlite Harmony DX Portable Massage Table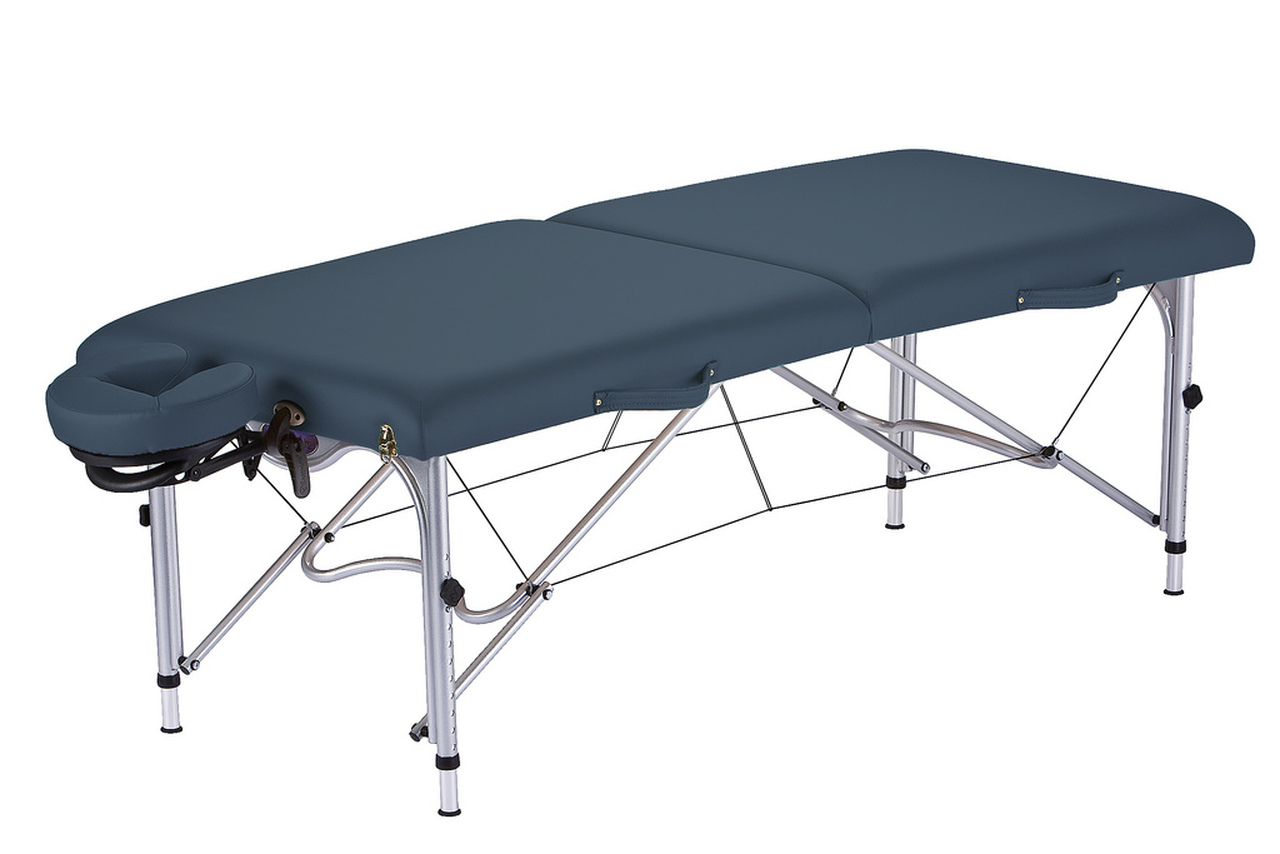 Ultra-lightweight, stable, spacious, and comfortable full sized massage table
Easy carry and simple setup make this perfect for mobile massage
Beautiful, sleek, simple design fits in with most salon décor
The Luna by Earthlite is an excellent choice if you're looking for a lightweight massage table that's well constructed, comfortable, and easy to set up and put into position.
What sets the Earthlite Luna Portable Massage Table apart from the rest is its amazing durability thanks to its patent-pending Reiki-ready super-lite aluminum frame and patent-pending Shimmy-Lok™ leg brace system. This enables maximum portability while reducing wear and tear many standard portable tables endure during set up, take down, and transport.
Not just strong and stable, this ultra-lightweight gem hits all the right spots, leaving clients feeling truly relaxed upon its Pro-Lite™ 2-layer 2¼ cushioning system covered in buttery soft, eco-friendly, 100% PU Natursoft™ Upholstery. The Flex-Rest™ self-adjusting face cradle with Form-fit™ memory cushion only adds to an unforgettable experience.
Specifications:
Dimensions: 73"L x 30"W x 24" - 34"H
Weight: 29 lbs
Static Weight: 3000 lbs
Max. Working Weight: 750 lbs
Learn more about the Earthlite Luna Portable Massage Table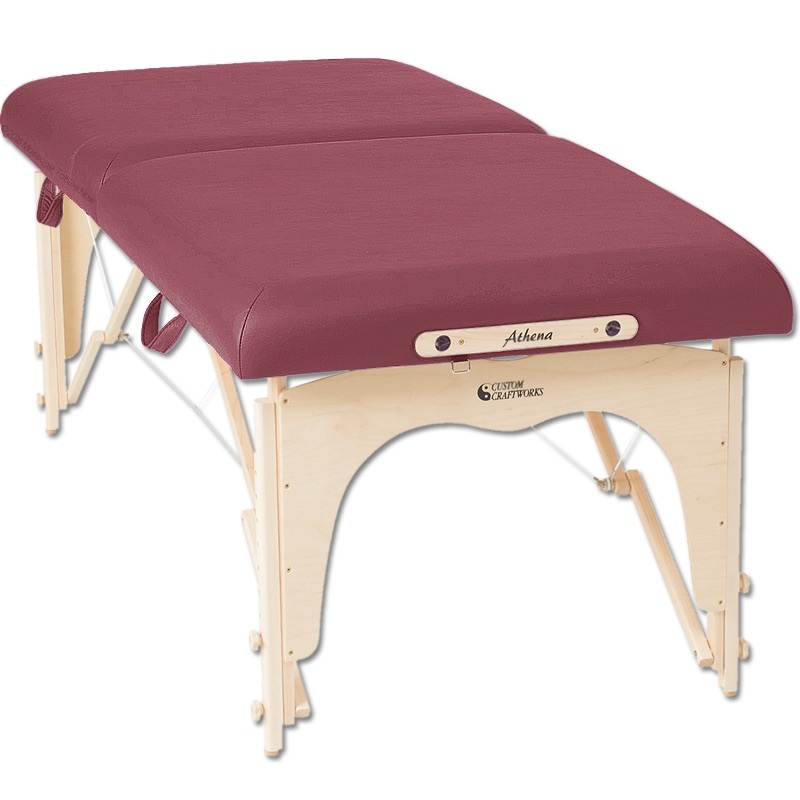 Superior construction and study feel ensures a longevity and ROI
Fully customizable to fit your clients' needs, including Shiatsu release
Lightweight and easy to carry with capacity to support up to 650 lbs.
If you're looking for a lightweight massage table that's fully customizable, constructed using premium materials able to support up to 650 pounds of pressure, the Athena Portable Massage Table is your answer.
You'll find a mix of North American hard rock maple, American poplar, and birch, complemented by aircraft-quality cables, seven-ply Reiki end panels, and double height knobs provides all the stability you need. The unmatched craftmanship gives you and your clients a sense of security so you can stay focused on providing excellent treatment while your table does its job.
At just 31 lbs. (28"W) or 34 lbs. (3"W) and 73"L this lightweight massage table is easy to transport from place to place and easy to take down and setup thanks its innovative Shiatsu release feature which means no tools are required!
Your clients will love the table's soft 3-inch thick, multi-layer memory foam system enhanced by True Touch upholstery available in a wide variety of standard color options and upgrade options so you can find the perfect match to your brand. The Athena boasts enhanced cleanability, too, thanks to advanced topcoat protection.
The Athena offers options like cutouts and plugs for breast-scapula recesses, prenatal, and crescent face rest and plug; round corners, side arm and/or foot end extension holes, a sliding arm extension, and an 8" on-center dual-end accessory port.
Specifications:
Dimensions: 73"L x 28 or 30"W x 25-35"H
Weight:

28"W: 31 lbs. 
30"W: 34 lbs.

Load Capacity: 650 lbs.
Lead Time:  4 weeks
Learn more about the Custom Craftworks Athena Portable Massage Table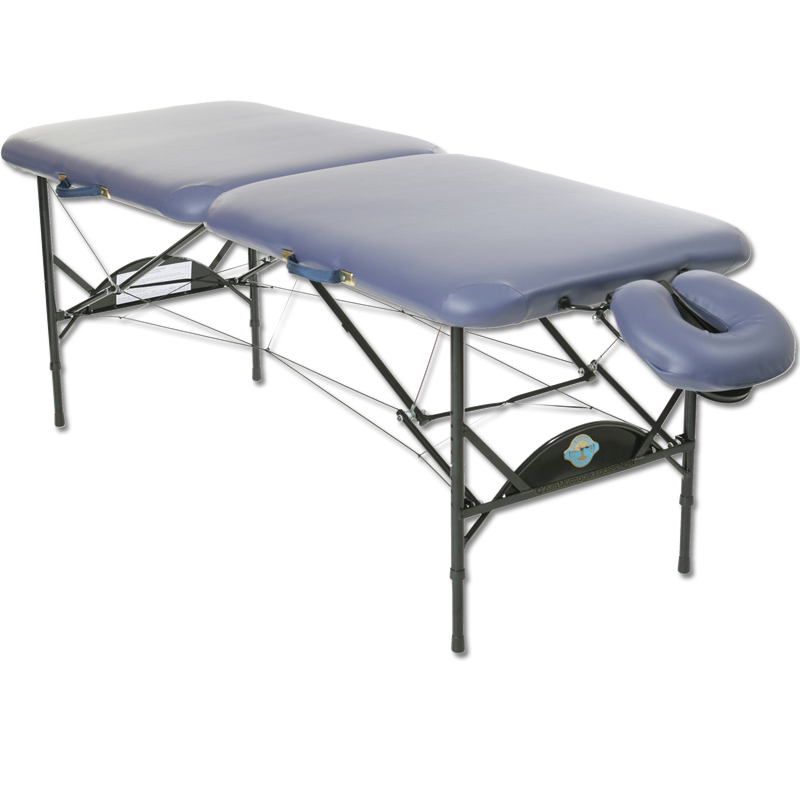 Effortless to carry starting at 22 pounds making transport safer and easier
Use flat table for Shiatsu thanks to no assembly Versa-Cable System
Friction-free and absolute quiet operation because of welded hinges, diagonal brace brackets, and nylon washers and bushings
The Pisces Pro New Wave II Lite Portable Massage Table is a stylish and versatile dream come true for the mobile massage therapist looking to provide clients with a truly professional experience.
If you're looking for a lightweight full-size massage table that won't break your back during transport, the Pisces is as light as they come starting off at a mere 22 pounds. And while that may have you wondering whether it can stand up to the wear and tear of daily use—wonder no more. Thanks to its superior construction, this lightweight massage table can support a working load of up to 500 pounds thanks to a tubular steel frame that keeps things light yet sturdy.
Not only is the Pisces functional, but it's super relaxing, too. Your client will enjoy resting on top of the table's innovative Pisces Pro woven web top that's comfortable, but water resistant, stain resistant, and easy to clean with foam that's easy to replace.
Available with either a black or almond frame, choose from a large selection of exciting upholstery colors with an option to upgrade to ultra-leather. The Pisces comes with a cushy standard face rest, plus memory foam cushion, but you can upgrade to a double tilt. Other options include an arm sling, arm rest (front or side), table extender/leg rest, and rolling stool.
Specifications:
Dimensions: 73"L x 29" or 31"W x 24" to 33"
Weight:

Ultra Leather Upholstery with 1 3/4" Foam:

29"W: 22.5 lbs.
31"W: 23.5 lbs.

Ultra Leather Upholstery with 2 1/2" Foam:

29"W: 23.5 lbs.
31"W: 24.5 lbs.

Soft Touch Upholstery with 2 1/4" Foam:

29"W: 24 lbs.
31"W: 25 lbs.

Maximum Static Weight: 2,700 lbs.
Maximum Working Load: 500 lbs
Learn more about the Pisces Pro New Wave II Lite Portable Massage Table
FAQ

How much does a lightweight massage table weigh?
Lightweight massage tables typically weigh 35 lbs. or less because they are designed from lighter materials such as aluminum or composites rather than wood and may be smaller in size than a full-size bed. It's important that you choose a table capable of withstanding regular use and transport.
How heavy is a portable massage table? 
Portable massage tables can range from 22 lbs. to 100 lbs. and should not be confused with lightweight massage tables, which are typically 35 lbs. or less. Factors that may play into the weight of a portable massage table include the type of frame (wood or aluminum), density of foam and type upholstery, and length and width.
Are lightweight massage tables sturdy?
Lightweight massage tables are designed to be sturdy, oftentimes with an aluminum frame to make it strong and durable with the capacity to support a working weight (client weight) typically up to 600 lbs. as well as to withstand the wear and tear of setup/takedown and transport.
If you're still not finding what you're looking for or have any questions, feel free to chat, call, or email our helpful and friendly customer service at: (888) 515-0444 | hello@massagetablesnow.com. We'll be happy to help you find the best lightweight massage table to best fit your needs!