Regardless of your age, gender, and medical condition, everyone has experienced physical pain at some point in their life. According to the National Center for Health Statistics, over 76 million Americans (25%) suffer from chronic pain – more than heart disease, diabetes and cancer combined.
The Problem With Modern Pain Treatment
Unfortunately, modern-day healthcare systems are centered around the use of drugs to relieve pain and discomfort. If a patient walks into a doctor's office to complain about back pain, the doctor will likely recommend an over-the-counter medicine like acetaminophen or prescribe a stronger painkiller.
While these drugs may offer some temporary relief, it's usually short lived and comes with its own set of risks and adverse side effects. A safer and more effective long-term solution for the treatment of pain lies in massage therapy. In fact, any indicator of pain may be a reason to get a massage in the first place.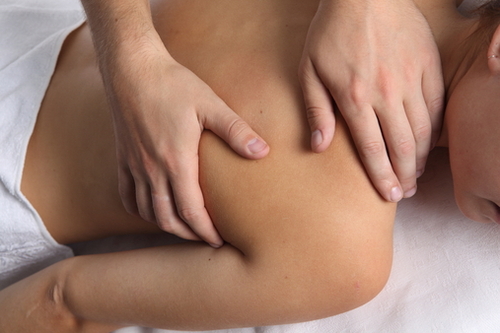 The Solution: Massage Therapy
More and more people today are looking towards massage therapy to treat their pain. Massage therapy offers many benefits. Whether it's Swedish deep-tissue, sports, or any of the dozens of others types of massage, this practice offers a safe and effective way alleviate pain and physical discomfort.
A study published in the journal Outcomes of Therapeutic Massage for Hospitalized Cancer Patients also found massage therapy to alleviate pain and anxiety in patients undergoing cancer treatment (source).
Another study, published in the Archives of Internal Medicine, found massage therapy to offer lasting pain relief to individuals suffering from chronic lower back pain. With lower back pain currently ranked as the leading cause of disability worldwide, this study reaffirms the importance of seeking alternative forms of treatment.
The Science Behind Massage and Pain Relief
How is massage therapy able to reduce pain? Medical professionals believe its related to the chemical changes which occur in the body as a result of being massaged. Massage promotes the release of endorphin, oxytocin and serotonin, all of which are known to play a role in pain. With higher concentrations of these chemicals flowing through the body, massage therapy clients will naturally experience lower pain levels.
Tiffany Field, Ph.D., director of the Touch Research Institute at the University of Miami School of Medicine, shared some insight into the subject, noting that chemicals such as serotonin may also improve pain as well as sleep patterns.
" Most people go to massage therapists to reduce pain. There's a release of serotonin, which is the body's natural production of anti-pain chemicals. Additionally, an aggravating factor in pain syndromes can be a lack of deep, restorative sleep. Massage is very effective at increasing deep sleep. With more deep sleep, you have less pain," said Field.