How to Choose the Best Spa Tables?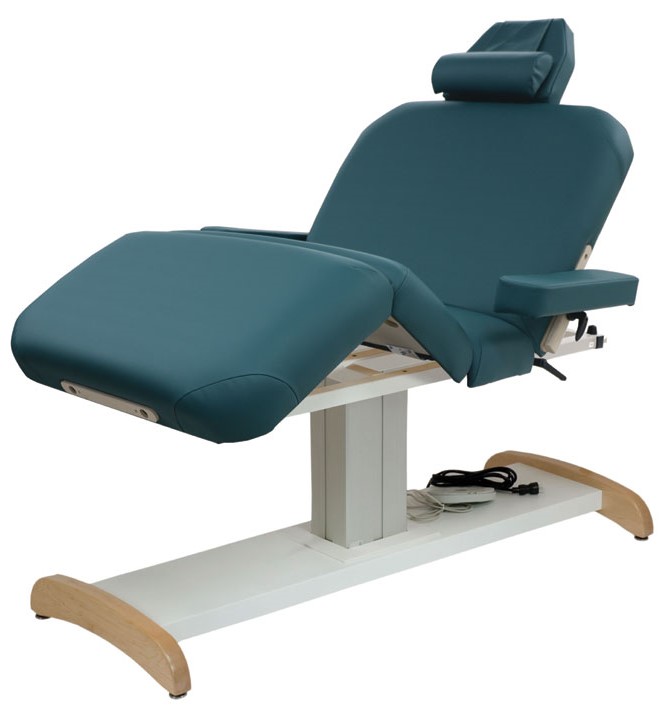 Spa tables (more popularly referred to as massage tables) are an essential piece of equipment for any spa or salon that offers massage or body treatments. They provide a comfortable and safe surface for clients to lie on during treatments, and can also enhance the overall atmosphere and aesthetic of your spa. However, with so many styles, materials, and features to choose from, it can be challenging to choose the right spa table for your needs. In this guide, we'll discuss the key factors to consider when choosing a spa table.
Key Considerations When Choosing Spa Tables
When shopping for a spa table, there are several important considerations to keep in mind. These include size and weight capacity, comfort and ergonomics, height adjustability, upholstery material and colors, additional features and accessories, and maintenance and care.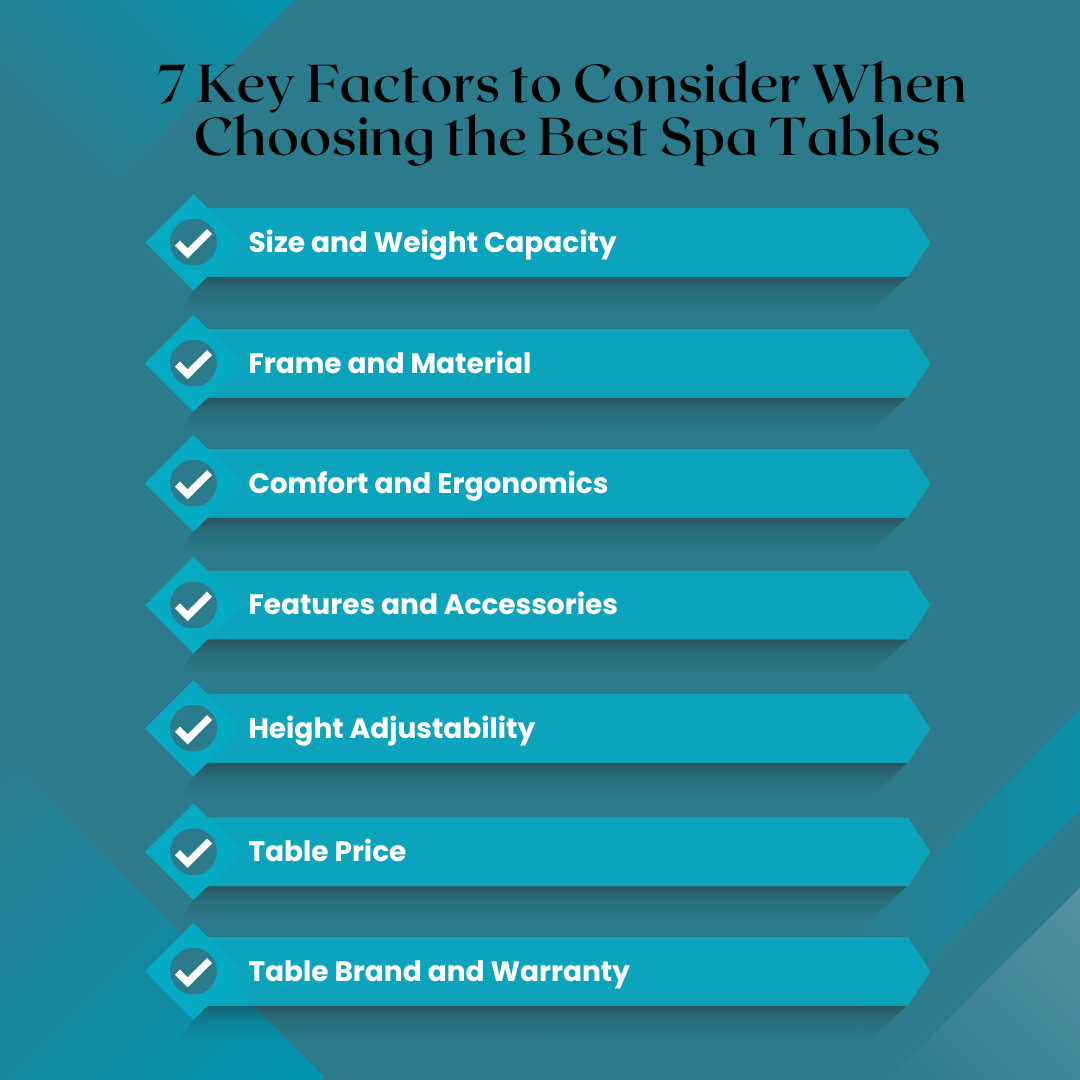 1. Size and Weight Capacity
The size (massage table dimensions) and shape of the spa table are crucial for providing client comfort and allowing for different treatments. It's essential to choose a table that's wide enough to accommodate clients of different sizes and shapes. It should also have a comfortable length to ensure that the client's head and feet are not hanging over the edges. The typical massage table size is a length of 73" and a width of 28" or 30". The shape of the table should be ergonomic and allow for easy access to the client's body during treatments.
The weight capacity is also crucial, as it should be able to support your clients' weight without sagging or breaking. Most spa tables have a massage table weight limit of 400 to 600 pounds, but some models may be able to support more. For example, the Master Massage 30" Cabrillo Stationary Table has a maximum working capacity of 1000 lbs. and a static weight capacity of 4000 lbs.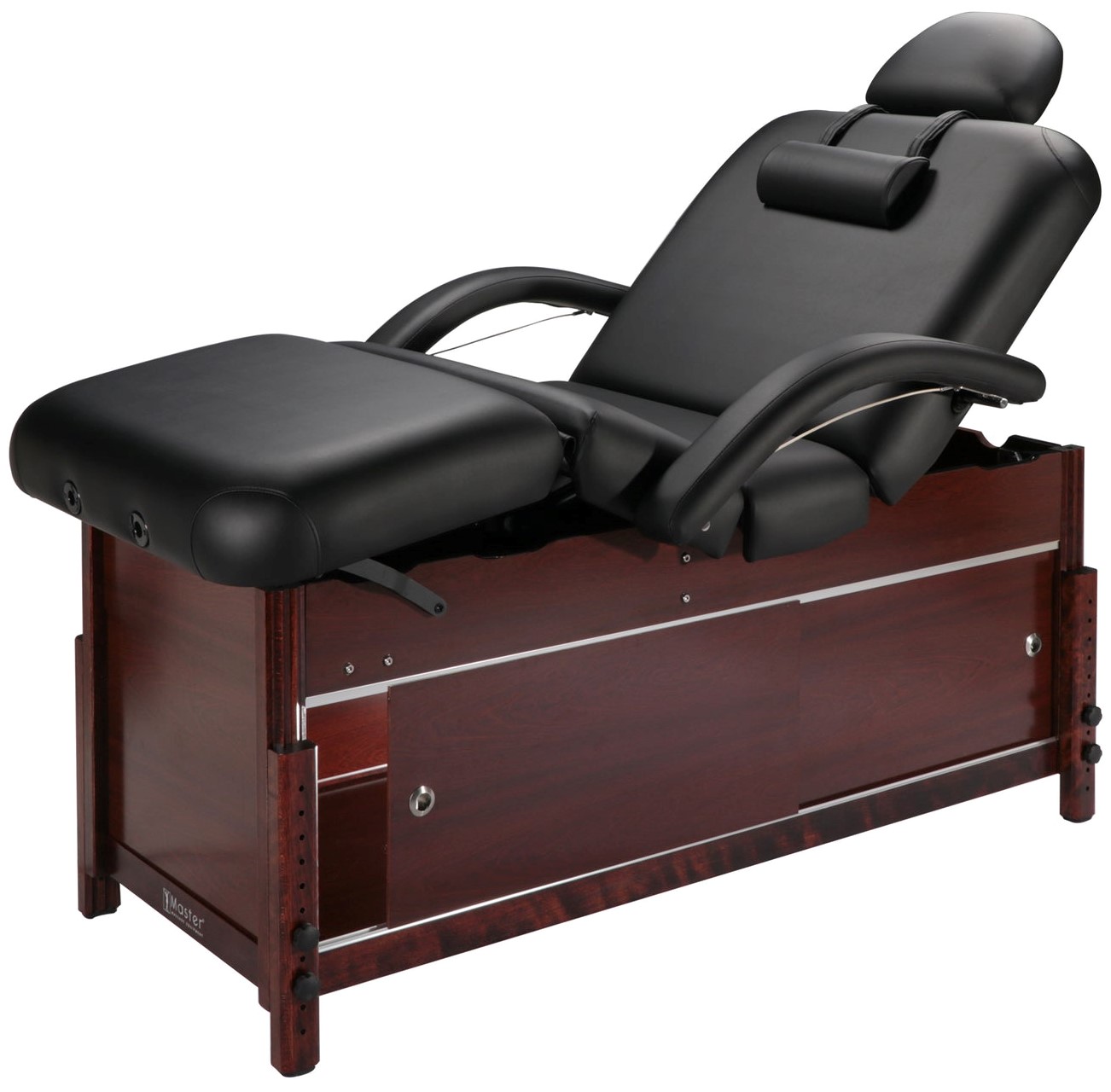 2. Frame and Material
Spa tables are an investment, and it's essential to choose a durable and sturdy table that can withstand frequent use. Spa tables typically have wood, steel, and aluminum frames. Wooden tables are the most traditional and a popular choice because they offer a warm and natural feel, however, they require regular maintenance to prevent wear and tear. Stainless steel and aluminum tables are durable options that require minimal maintenance. Aluminum tables are especially lightweight, making them ideal for mobile therapists.
Upholstery material and colors are also important considerations. Look for a table that has high-quality upholstery that is easy to clean and maintain. Vinyl and PU Leather are popular choices for spa tables because they are durable and easy to clean. Make sure to choose a color that complements your spa's decor and branding.
3. Comfort and Ergonomics
Comfort and ergonomics are also crucial considerations when selecting a spa table. Look for a table that has thick padding and high-quality upholstery that provides excellent support and comfort for your clients. The table should also have a face cradle and armrests to help your clients relax and feel more comfortable during their treatment. Ergonomics is another important consideration. The table should be designed to minimize strain on the clients' bodies or your body during treatments.
4. Features and Accessories
Another essential factor to consider is the features of the spa table. Some tables come with adjustable headrests, armrests, and face cradles, providing additional comfort and support. Additionally, some tables have built-in storage compartments and heating pads, adding extra convenience for you and your clients.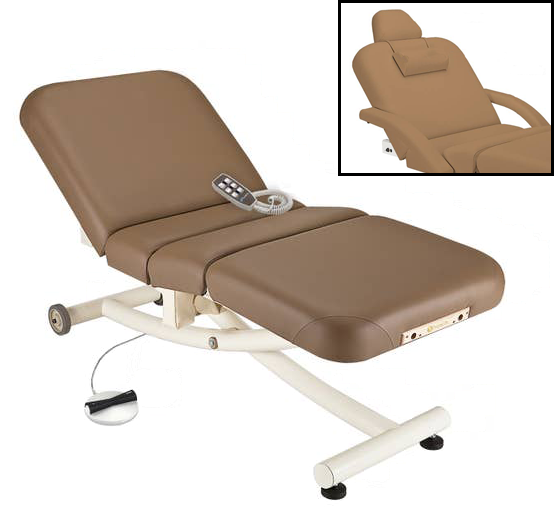 Accessories can also enhance the functionality and comfort of your spa table. Some popular accessories include bolsters, heating pads, and headrest cushions. Look for a table that has these features built-in or can accommodate these accessories.
5. Height Adjustability
Height adjustability is a critical feature to look for when buying a spa table. Make sure to choose a table that can be easily adjusted to accommodate different clients' heights and body types. Some tables have a manual adjustment feature, while others use motors to adjust the height.
6. Table Price
If you've ever asked yourself the question "how much is a massage table/spa table?" you've come to the right place. The price of a spa table can vary greatly, a fact that is clearly demonstrated by our tables which range from $750 - $6,000. While it may be tempting to go for the cheapest option available, be sure to consider the table's quality and durability. We advise you to choose a table that fits your budget without compromising on quality. Investing in a high-quality spa table can save you money in the long run by avoiding the need for frequent replacements and repairs. It's important to consider the long-term cost of maintenance and replacement when choosing a spa table.
7. Table Brand and Warranty
Finally, consider the brand and warranty of the spa table. Look for a reputable brand with a history of producing reliable, high-quality products. There are several top spa table brands to choose from, including EarthLite, Oakworks, LEC, Touch America, and Master Massage. These brands are known for their high-quality materials, superior craftsmanship, and innovative features. Additionally, check the warranty offered by the manufacturer. A good warranty will protect your investment and provide peace of mind in case of any defects or issues with the table.
Top Spa Tables
Many massage therapists and practitioners have, at one point or another, asked themselves: What is the best massage table/spa table? Worry no more, for we are here with the answers The best and most popular spa tables currently are:
1. Earthlite ELLORA Electric Lift Massage Table, Flat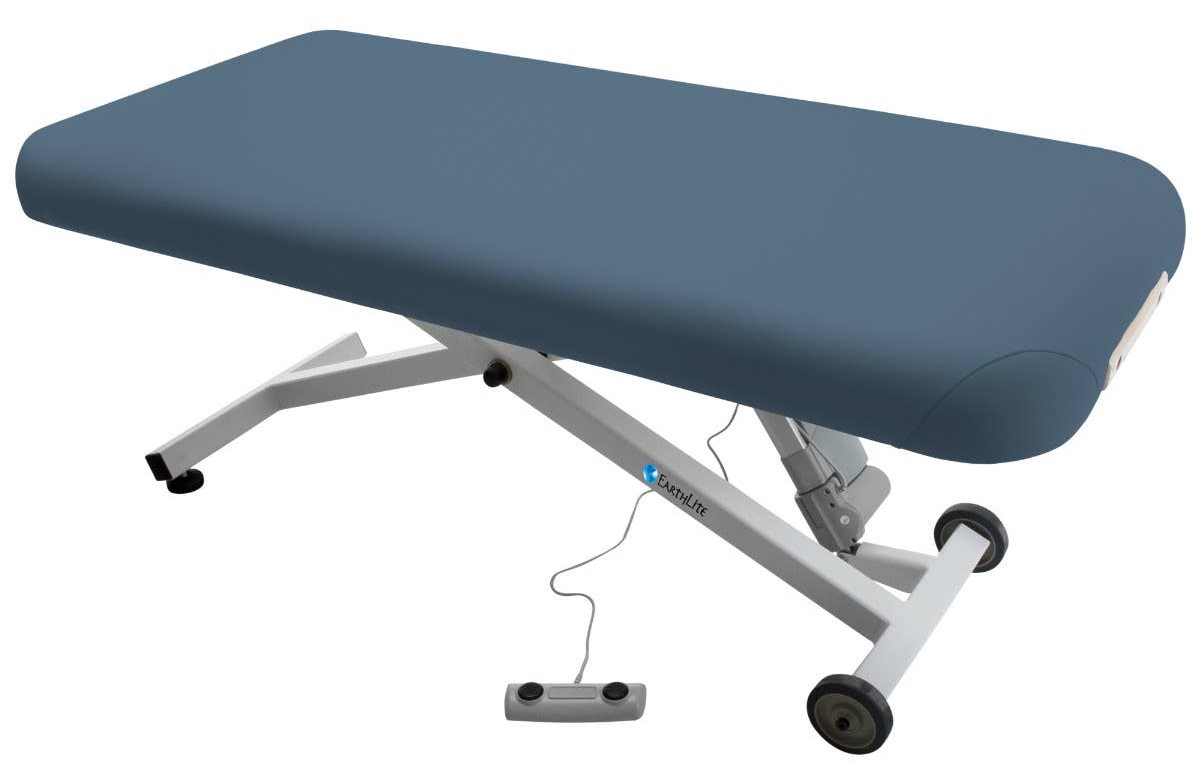 2. INK Electric Esthetician Facial Chair Bed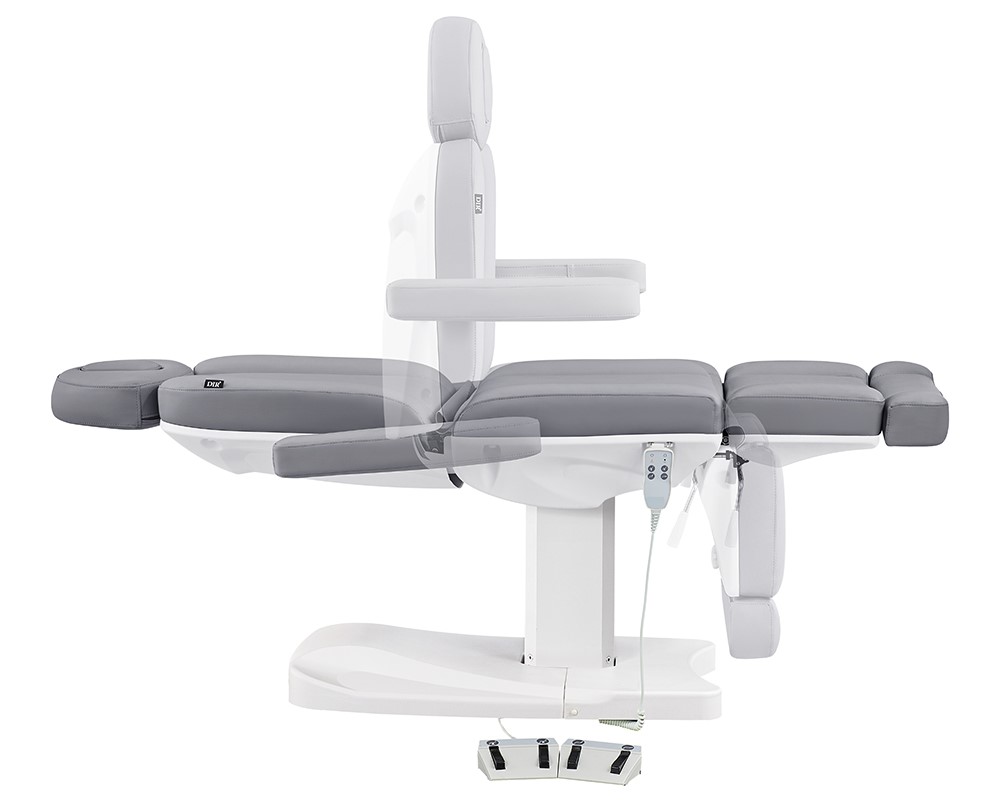 3. Touch America Powered Lift Spa Treatment Table, VENETIAN PowerTilt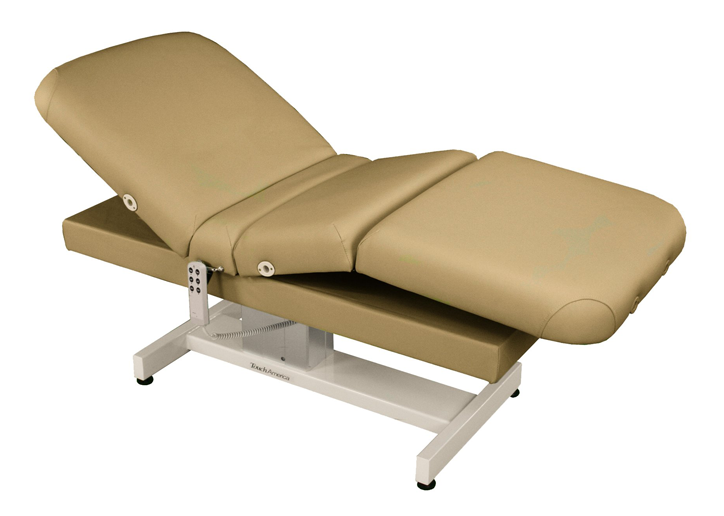 Conclusion
In conclusion, investing in the right spa table is crucial to providing your clients or yourself with the ultimate relaxation experience. When shopping for a spa table, consider the type of table, size and weight capacity, comfort and ergonomics, height adjustability, upholstery material and colors, additional features and accessories, price, and brand and warranty. With these considerations in mind, you'll be able to choose a spa table that is perfect for your needs and provides the best client experience. Once done, be sure to browse our Spa Furniture and Accessories & Supplies.
If you have any queries, feel free to contact our customer service team at (888) 515-0444 or drop us an email at hello@massagetablesnow.com. We are available during business hours via online chat as well. You can reach out to us anytime, as we offer 24/7 email support. Our team of professionals is not only dependable but also friendly; we take pride in our prompt response time and will ensure that your query is researched thoroughly before responding to you on the same day or within one business day. Happy shopping!
FAQs
What to look for when buying a massage table?
When buying a massage table, there are several factors to consider:
The width of the table should accommodate all clients comfortably while allowing the therapist to provide effective treatment without straining their own body.
The length of the table should also be considered, with most tables being around 73 inches and adjustable face cradles adding about 7.5 to 9 inches to the total length. The right massage table will magnify the quality of your work and give clients a high-quality experience, so it's important to find the best massage bed for you.
Other factors to consider include the massage table weight limit, the quality and fabric styles, weight capacity, and whether you want a portable or fixed table.
Finally, all tables should have adjustable height settings to suit the therapist's needs and practice.
What is the best material for a massage table?
Another key factor for how to choose a massage table is the material; it is an essential feature to consider. PVC and PU are both popular options and when constructed properly, both types of vinyl offer a professional grade look and feel. Other materials to consider include the frame, foam, and the type of fabric used for the table sheets. While some prefer 100% cotton sheets, others opt for cotton/polyester blends for their wrinkle resistance and greater durability. Ultimately, the best material for a massage table depends on personal preference and budget. Investing in a high-quality table with quality materials will help enhance the quality of work and give clients a comfortable and satisfying experience.
What size massage table is best?
The massage table size and massage table dimensions that are best for you depends on you, your clients, and the services offered. A standard massage table width is around 30 inches, which provides ample space for most people. However, if you are a larger therapist or your clients are larger, consider a wider table, such as 32 or 34 inches. The length of the table should also be considered. The standard length is around 73 inches, but if you work with taller clients, consider a longer table, such as 77 or 80 inches. Finally, the height of the table should be adjustable to ensure that you can work comfortably and with proper body mechanics. Our blog, Why Is Choosing the Right Massage Table Size Important? explores all this and more, be sure to check it out!
What are the different types of massage tables?
There are two main types of massage tables: portable, stationary and electric.
Portable massage tables are lightweight, foldable, and easy to carry and transport. They are ideal for mobile/on-the-go massage therapists or anyone who needs to frequently move their table.
Stationary massage tables are just that, fixed. They are heavier, more durable, and are designed to stay in one place, as such they offer a lot of stability and typically have large weight capacities.
Electric massage tables have an electric lift mechanism (motor) which helps adjust the massage table height via foot or hand controls or a foot bar system.
Massage tables can also be categorized based on their adjustable features. Some popular massage tables are hydraulic, pregnancy, tilt-back, and flatbed tables.