Taking time to understand the pros and cons of electric spa chairs is important. So is knowing what to look for when it comes to brand, style, look, and accessories when deciding on the right chair for your space. And because there are so many electric spa chairs on the market, we'll walk you through a few of our top options.
Massage Tables Now has happily helped over 30,000 business owners, like you, in keeping their clients satisfied by helping you choose the perfect equipment and furniture for your spa or salon.
We know you work hard. Whether you're just starting out, or making a change to your existing business, investing in furniture or equipment can feel daunting. That's why we're here to help you to better understand everything you need to know about electric spa chairs to make sure you're getting the most for your hard-earned money.
What is an Electric Spa Chair?
An electric spa chair is a type of procedure chair used to perform treatments in medical spas, beauty salons, and other healthcare facilities. Electric spa chairs are popular with practitioners, technicians, and clients because of the versatility, durability, and technician/client accessibility and reputation as being a highly adjustable piece of furniture.
These versatile chairs are perfect for everything from facials, permanent makeup, waxing, tattoos, microblading, massages (some electric spa chairs can be adjusted to lay flat), other beauty and spa services, as well outpatient surgeries and procedures.
Why do you need an electric spa chair?

It may seem like a silly question, but it's an important one. The type of spa chair you need is mainly driven by the menu of services you plan to offer. From facials to microblading—as well as an array of medical and cosmetic procedures—choosing a chair that is versatile enough to accommodate all of what you plan to provide to your clients will play into your ability to perform these services exceptionally well.
Pros and Cons of Electric Spa Chairs

When it comes to what's good about electric spa chairs, things like comfortability, adjustability, accessibility, and durability come to mind. Not to mention, they tend to be much quieter than their non-electric counterparts.
Technicians and clients appreciate how accommodating electric spa chairs are—both from a standing (tech) and seated (client) position. When it comes to working with clients and patients all day every day, ergonomics is important. Having a chair that's easy to work with can make or break a technician's back and feet—quite literally.
Thankfully, electric spa chairs make it easy for technicians to adjust the backrest and leg rest using convenient hand or foot pedals or remote control. Enough can't be said for how important adjustability is when it comes to accessibility for clients who may have limited ability—especially raising and lowering capabilities. Being able to adjust the height of your chair works in favor of technicians, too, in helping to minimize or avoid back pain from having to hunch over clients throughout the day.
The smooth and quiet adjustments that come with an electric spa chair is a huge bonus, especially during treatment, to decrease distraction for both the technician and the client.
Last, but not least—electric spa chairs tend to be more durable and sturdier due to their extra weight. This works in your favor while performing services. Your clients will appreciate this, too, when it comes to feeling safe and secure allowing them to sit back and relax.
While there's plenty good to say about electric spa chairs, you should also know up front that electric spa chairs are typically more expensive than other spa chairs. But considering the many pros listed above you can understand why.
It's also important to note that electric spa chairs require electrical wiring, so logistically speaking you need to be more intentional in where you place your chair making sure there's an electrical outlet in the nearby vicinity.
And while we talk about the heft associated with these chairs as a positive when it comes to strength and longevity, it can also be a negative because you will need to take this into consideration based on your space location and size.
Considerations when Choosing an Electric Spa Chair
1. Comfort is Key
Maybe the most important consideration when choosing a chair is its level of comfortability. It can't be said enough, if your client isn't relaxed, they won't enjoy their treatment no matter how amazing your service. So choose your chair wisely. The right cushioning, padding, and upholstery can mean the difference between an unhappy client walking away with discomfort or a client walking away with an unforgettable experience. You don't want something so plush
2. Quality

You need to consider the quality of your electric spa chair. Although it may be tempting to go cheap, especially if you're just starting out, consider your chair an investment. Important to the success and long-term sustainability of your business. Because it is such a central part of your business, consider other areas to cut back rather than what may very well be your most important piece of spa furniture.
3. Maintenance

Maintaining your salon furniture is a necessary and worthwhile investment of your time and money. It's never fun to hear an odd whir or clanking sound especially during an appointment. Let's face it—"repair bill" may as well be a dirty word. While the hope is that your chair will last for years to come, realistically, you may need parts replacement at some point. Although not a pleasant investment, repairs are typically still less expensive than replacement. Brand name chairs tend to last longer and make it easier to order replacement parts. We always recommend that you ask about warranty options as well as return policies.
4. Accessibility
People come in all shapes and sizes and with different mobility abilities. When choosing an electric spa chair, think about how you can best meet the needs of your clients who will be climbing into and out of your spa chair.
Additionally, think about the technician who will be providing services for long stretches throughout the day. It's no wonder the ability to adjust the height of your spa chair is a major consideration.
5. Adjustability
Rarely do you require a client stay in one position for the entirety of their spa treatment—no matter the procedure. Think beyond the sitting position and think about their head, arms, legs, and even feet. A comfortable client is a happy client. An electric spa chair makes it easy to adjust their position as needed to ensure they stay relaxed and carefree while you or your technician makes the magic happen.
6. Keeping it Clean
Nobody wants to sit in a dirty spa chair. Unkempt salon furniture is a great way to cause a mass exodus of clients rushing out the door to post negative reviews on social media. Most clients indicate cleanliness as being of the utmost importance when visiting a spa or salon. People like to feel safe knowing that furniture and equipment has been properly sanitized. You need a chair that is made to withstand a lot of use and subsequent cleaning in-between guests.
7. Size Matters
Pretty basic, but immensely important, is making sure you measure your workspace before choosing an electric spa chair. Do this to avoid backing both you and your client into a corner (literally).
Chair width and length are important details when choosing a chair right for your business. The chair should not only accommodate your clients but should be easy to work with and navigate around.
8. Life Expectancy and ROI
As with any piece of furniture you place into your spa or salon, when putting your hard-earned money into an electric spa chair you'll want to consider things like quality and design. Choosing a chair that will stand the test of time on the "style scale" as well as the test of time on the "use scale" will make your wallet smile just as much as the clients lucky enough to be able to use it.
9. Budget
Electric spa chairs generally are more expensive than standard examination chairs. Whether you're just starting out or you've been in business for a bit—it's easy to feel a little sticker shock. When you understand where your investment is going, you may realize that an electric spa chair is worth every penny. Rather than feeling pressured to go for the bells and whistles, do your research to determine what you actually need vs. what may put you into an uncomfortable debt. There are many middle-of-the-road options that offer great range of features and accessories.
Here's a snapshot of 5 of our favorite electric spa chairs with features and accessories your clients will love.
DIR INK Electric Facial/Esthetician Chair
Dimensions: 75"L x 32.5"W x 25 - 35"H
Weight Capacity: 400 lbs.
Power Requirement: 110V
Features:
Easily control height adjustment and reclining backrest powered by 2 electro-hydraulic motor
Superior stability thanks to steel frame structure
Extra comfort due to high-grade faux leather upholstery with durable, high-density foam
Adjustable and removable armrests and extendable leg rest
Interchangeable headrest
Marimba Powered-Lift Treatment Chair by Touch America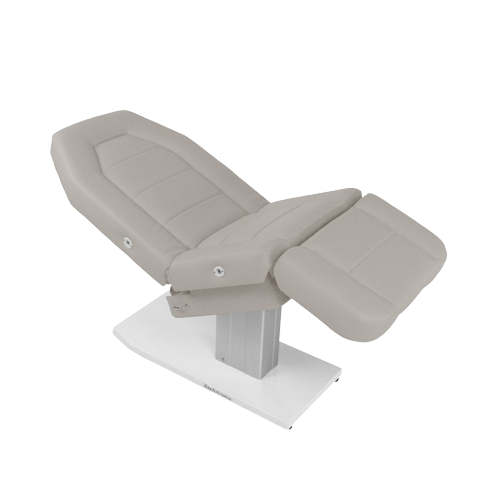 Dimensions: 70"L x 29"W x 22.5"H
Weight Capacity: 375 lbs.
Power Requirement: Base lift motor: One 24v DC, 5 amp max motor/actuator in the pedestal extrusion; Tilt motor: One 24v DC, 5 amp max motor/actuator in the pedestal extrusion (powered through the same transformer as the top actuators); Top motors: Two 24v DC, 5 amp max motor/actuators, UL recognized; powered through a 110v, 5 amp transformer
Features:
Sleek, yet low-profile, contemporary design easily matches with salon décor
Versatility makes this chair perfect for facials, waxes, manicures/pedicures
Optional upgrades include flex armrests, salon head/footrest, facial neck bolster
Extra comfort due to SoftTouch PU leather available in an assortment of stunning colors
Easy to control chair height and tilt thanks to fully motorized design with convenient hand controller
Touch America ADA HiLo Powered Lift Treatment Table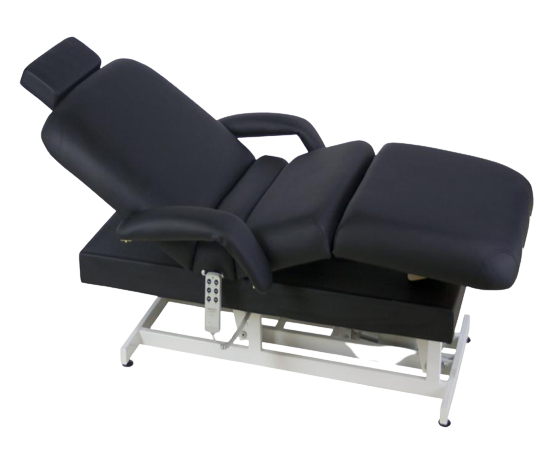 Dimensions:  73"L x 30W x 19 - 34"H
Weight Capacity: 500 lbs.
Features:
Achieve perfect positioning thanks to ADA-compliant infinite adjustment electric lift height range
Provide ultimate client comfort with UltraSoft-Touch padded polyurethane (PU) leather upholstery available in almond, camel, black, or white
Simple to clean and sanitize with accommodating PU vinyl
Enhance your client's experience with upgrades like high-end accessory rackage, flex armrests, and contour FaceSpace face cradle and pillow
Oakworks 300 Series Medispa Treatment Chair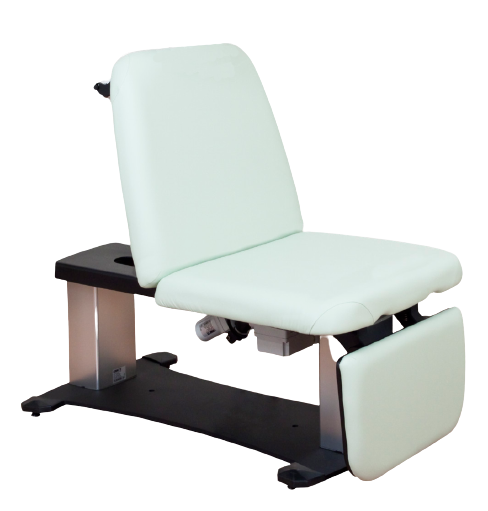 Dimensions:  3 Section Top: 74"L x 27"W; Backrest/Fowler: 26"L x 27"W; Seat Section: 24"L x 27"W; Leg Rest Section: 24"L x 27"W
Weight Capacity: 600 lbs.
Power Requirement: 115V/60Hz
Features:
Fantastic ergonomics thanks to open base design
Exceptional durability and safety with capacity to support up to 550 lbs. thanks to simple and reliable, twin tower design
Achieve perfect positioning, helping your client to feel relaxed and safe with 2.5" Comfort Foam (Standard)
Top is specially designed for supine or prone positioning
Touch America Powered Lift Empress Spa Treatment Chair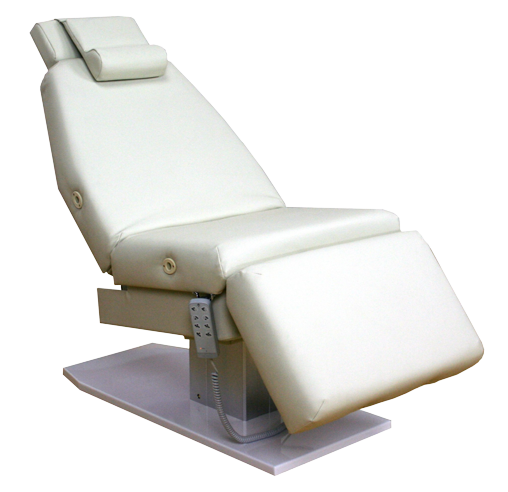 Dimensions:  63"L x 27"W x 21.5"H
Weight Capacity: 800 lbs.
Power Requirement: 110V
Features:
All-in-one chair is suitable for facials, waxes, manicures/pedicures and more
Petite design looks great and matches well in most salons featuring six SoftTouch PU Leather colors
Achieve client comfort and accessibility with easily adjustable motorized height and tilt using hand controller
Extra comfort thanks to 4 triple wrap foam top
Optional upgrades include head or footrest, salon neck bolster, and flex arms
With so many electric spa chairs to choose from, you can see why it's important to do your research and take your time before deciding what chair is right for your spa or salon.  
If you're still not finding what you're looking for or have any questions chat, call, or email us: (888) 515-0444 | hello@massagetablesnow.com. We'll be happy to help you find the right electric spa chair to suit your needs!