Having the right electric exam table is key when it comes to improving the medical services and quality of care your patients deserve. Electric examination tables are a popular solution because of how easy it is to change your table height and position with minimum effort with as little impact as possible to the patient.
While it may not seem that important, the ability to adjust your exam table's height to correspond with a patient's needs can make all the difference during an exam. Traditional stationary or fixed-height examination tables have been shown to negatively impact a patient's quality of care, especially for those with limited mobility—from physical disabilities to the elderly.
For example, a survey given to administrators asked whether or not parts of an exam were skipped when a barrier to service was encountered—specifically when examining a patient with disabilities—revealed 40% of participants acknowledged parts of an exam were skipped, 76% indicated patients were examined in their wheelchairs when unable to transfer onto an exam table, 52.4% reported requesting patients bring someone to help with lift or transfer, 76% indicated their employees were trained to lift a patient, while just 4.8% of practices had a mechanical lift available to transfer patients.
Clearly, patients unable to transfer to an examination table were at a disadvantage when it came to receiving the quality of care they deserved. Sadly, insufficient exams due to the lack of patient mobility can lead to misdiagnosis or inability to detect a developing condition due to the lack of a complete or thorough examination.
The availability of an electric exam table makes improved medical care and services a reality for both provider and patient by enabling mobility-restricted individuals to mount an exam table. Not only does this enhance patient quality of care, but it also reduces the time required to train and use lift teams, equipment, or rely on transfer assistance from a patient's caregiver.
At Massage Tables Now, we recognize that knowing what to look for goes a long way when choosing the right electric exam table for your unique practice. Whether you're a health care facility, hospital or ambulatory care center, specialty clinic, or private practice you need to start by identifying the needs of both your practitioners and your patients.
Let's take a moment to define what an electric exam table is as opposed to other types of examination tables.
What is an Electric Exam Table?
An electric exam table is a powered platform with the ability to raise and lower either the entire table or individual parts in order to position and support patients during medical examinations and/or treatments using a foot or hand control.
Factors to Consider When Choosing an Electric Exam Table
When it comes to choosing an electric exam table you should consider what types of capabilities are needed to best suit your practice.
The ability of your table to move in a way that benefits both the practitioner and patient is critical to being able to provide the best service during long and oftentimes busy days. Working with patients can take a toll on practitioners, making ergonomics something to think about. You need a table that's versatile and promotes unobstructed access to the patient.
Comfort is also key on the patient side. You want to be able to raise and lower patients smoothly and with as little difficulty as possible. This is especially important when treating the elderly, disabled, as well as patients recovering from an injury or even surgery.
Stability, utility, and durability is of the utmost importance for facilities like hospital emergency rooms or ambulatory care units that tend to see a higher patient volume. Safety factors must be considered when it comes to both the practitioner treating the patient as well as the patient's wellbeing. Features like headrests and footrests further enhance the patient experience.
Top 5 Electric Exam Tables of 2022
Touch America Powered Lift Spa Treatment Table, VENETIAN Face & Body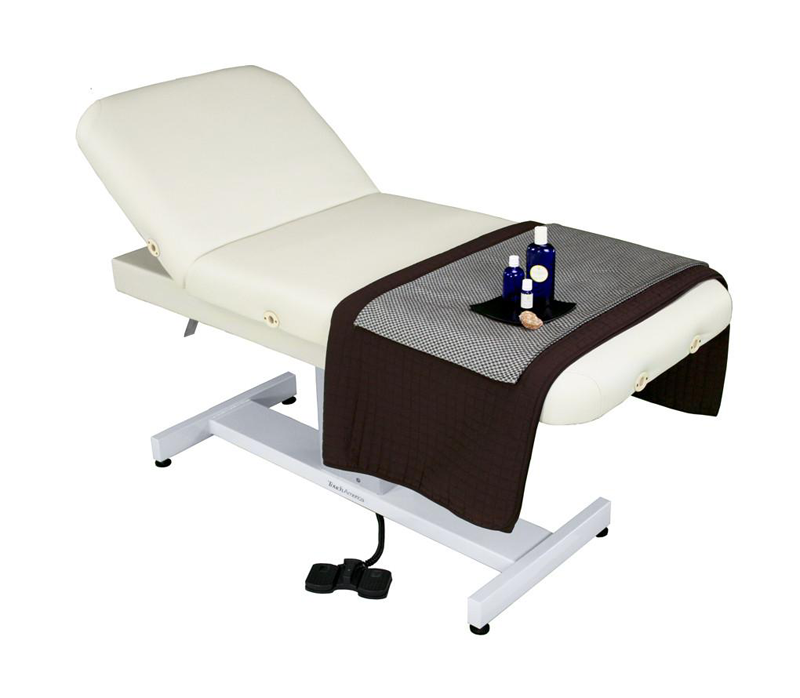 Simple elegance
Electric lift heigh range 24"-32"
UltraSoft-Touch upholstery
DIR Electric Massage/Treatment Table, MAR EGEO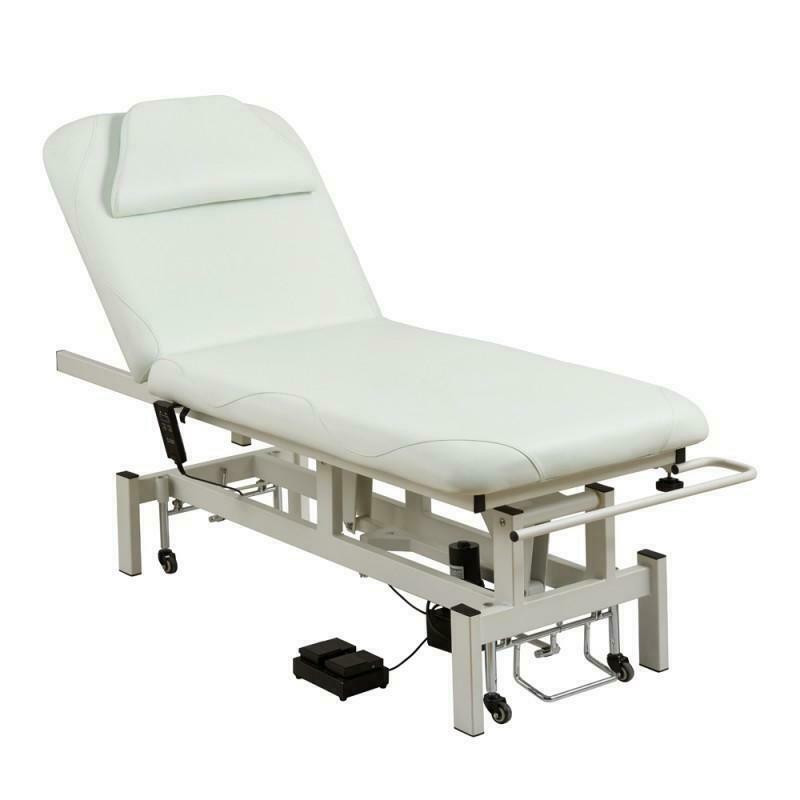 Strong enough for all types of medical procedures
Height adjustable with foot or hand control
Heavy duty metal frame
Custom Craftworks ERGOSPA Electric Treatment Table, Deluxe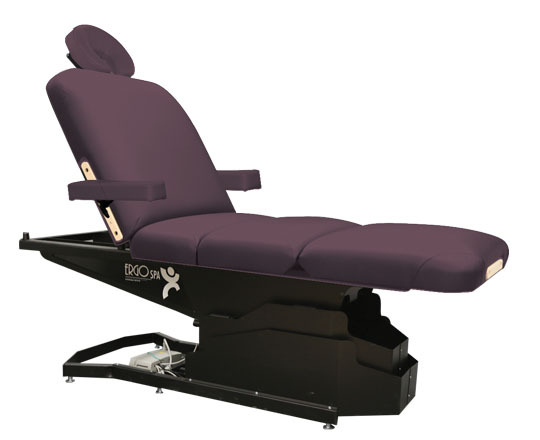 Contemporary style
Relaxing whisper quiet lift system
True Touch upholstery
DIR Fully Rotating All-Purpose Esthetician Medical Chair, PAVO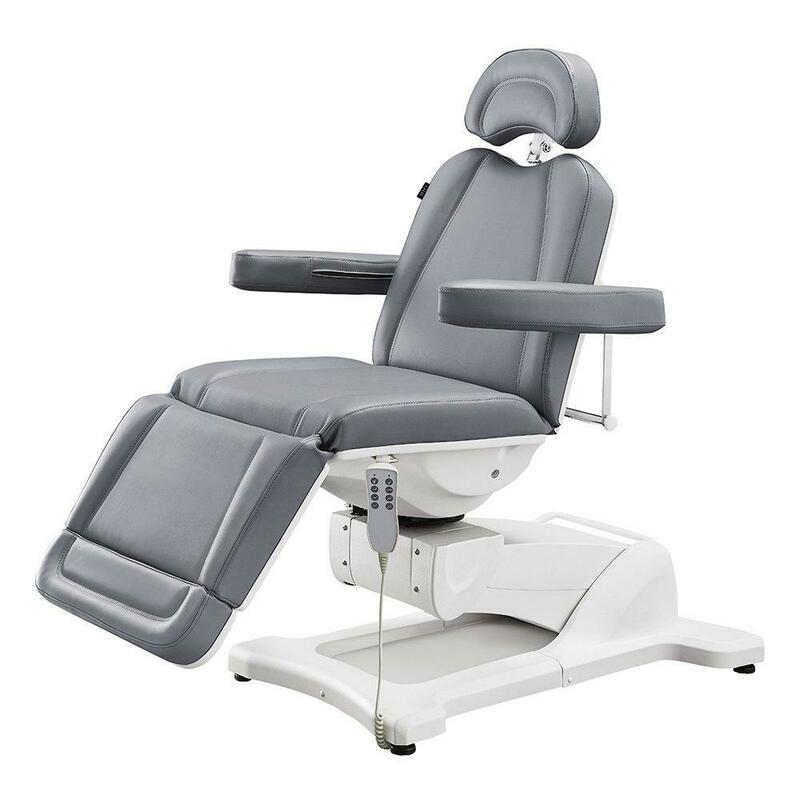 180-degree rotating seat
Interchangeable, flexible dual headrest
Removable arms
DIR Electric Facial/Massage Table, EBRO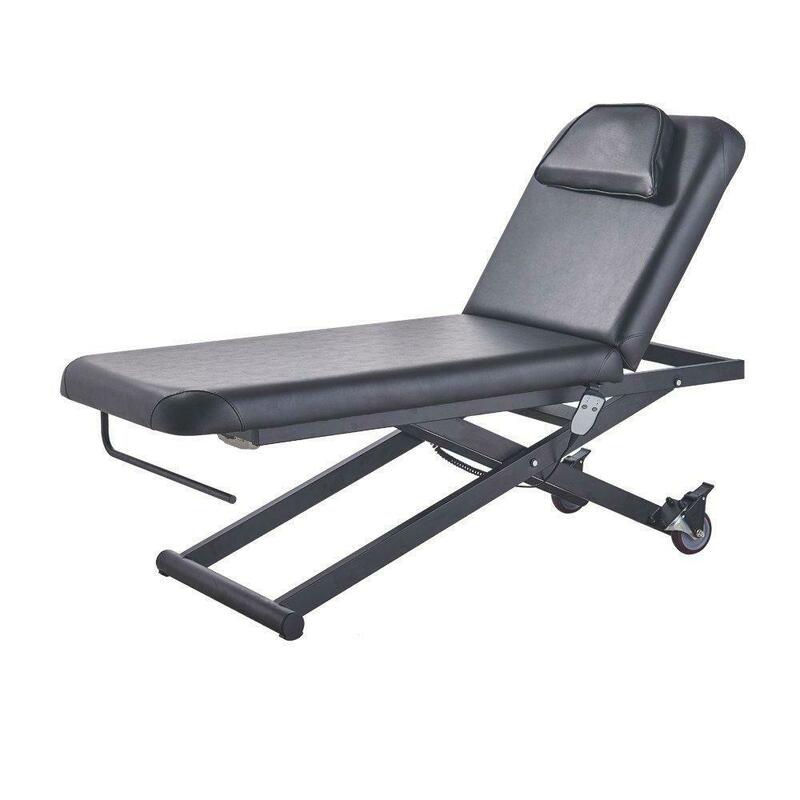 Ultimate entry-level choice for medical spa
Superior stability
Comfortable high-density memory foam Our
Our Top 5 electric exam tables for 2022.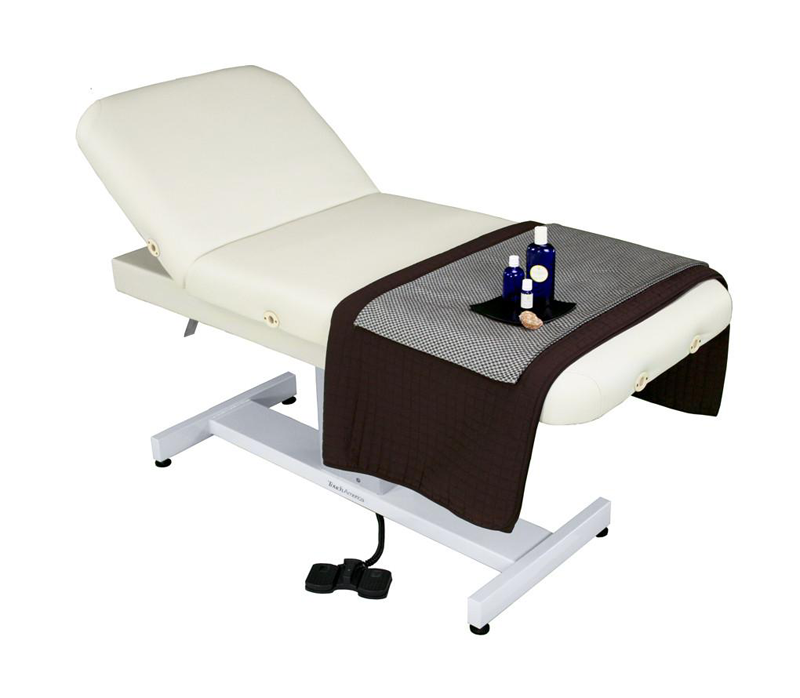 Benefits
Achieve intended position with infinite adjustment electric lift base
Ultimate comfort four-inch-thick 3-layer foam top
High-end accessory upgrade package available
The Venetian Spa Treatment Table is versatile and suitable for an array of examinations and treatments. Your patients will appreciate the fact that this table's 0-80° tilt range, which practitioners can achieve easily thanks to the Venetian's straightforward manual-lift back section.
Patients with mobility issues will feel safe and secure from start to finish thanks to the Venetian's 24"-32" electric lift height range making accessibility easy and convenient.
The table top itself provides superior comfort thanks to its generous four inch thick, 3-layer foam top and UltraSoft-Touch PU vinyl. You can choose from a variety of colors to match your space including almond, camel, pebble, slate, or white.
Learn more about the Touch America Venetian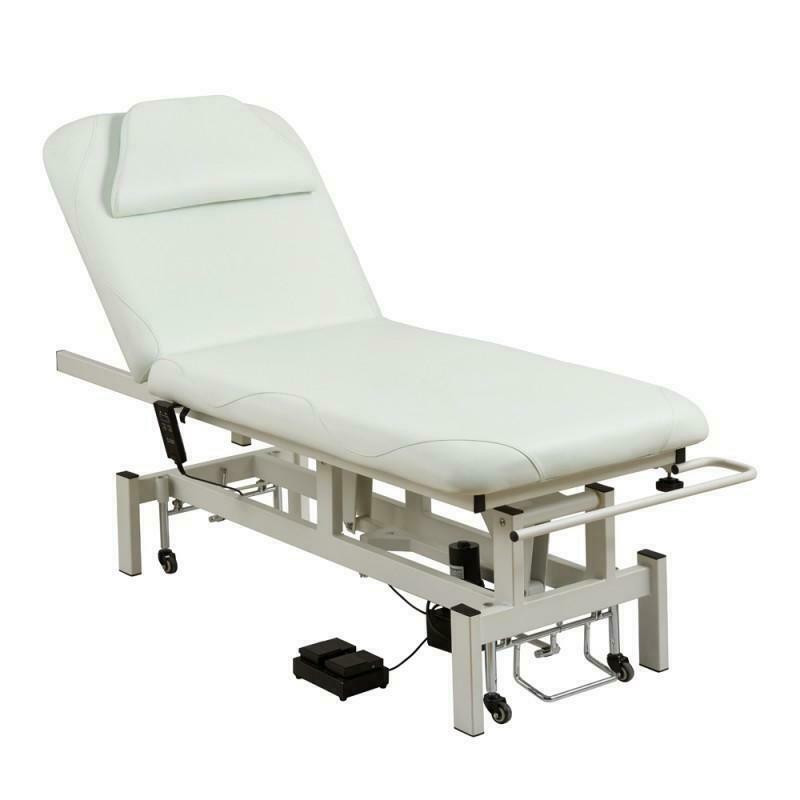 Benefits
Enhanced safety and stability due to heavy-duty metal frame structure
Prone position procedures simplified as a result of removable headrest pillow/6" face hole
Easy to clean and sanitize with high-grade soft vinyl
Priced right and built strong enough to support all types of medical procedures, the DIR Salon Furniture Mar Egeo will not disappoint with its adaptability to your practitioner and patient needs.
Super comfortable high-density memory foam with high-grade faux leather upholstery is perched atop a heavy-duty metal frame structure built to support weight up to 400 lbs.
You'll find that patient accessibility is easy because the Mar Egeo's height is adjustable (up to 33 inches) using convenient electronically controlled foot or hand controls. The backrest, too, can be adjusted manually for added comfort and/or support. A removable headrest pillow reveals a face hole for prone procedures.
Maneuverability is simple because the Mar Egeo by DIR Salon is fitted with roller wheels making transfer between areas and rooms a snap. This is especially important for busy offices.
Learn more about the DIR MAR EGEO.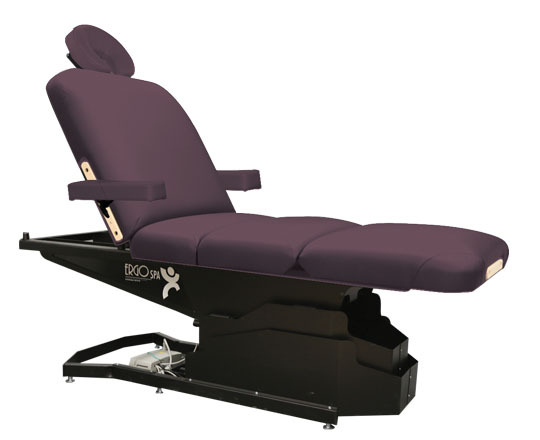 Benefits
Effortless adjustment for lift back and knee cushion thanks to convenient hand control panel
Easily raise and lower table using single-foot control
Durable precision cut steel base
Deluxe may be an understatement when it comes to what the Custom Craftworks Ergospa fully electric treatment table has to offer.
This electric exam table offers a combination of contemporary style and solid performance punctuated by a precision cut steel base and complemented by a durable black power coat finish.
The Ergospa Deluxe allows practitioners to quickly and easily adjust the back and knee cushion using a convenient hand control panel. You can achieve elevation (20 to 30") effortlessly using our whisper quiet single foot control pedal lift system.
Your patients will appreciate the table's luxurious True Touch upholstery with comfy 3" Touch Response Foam and 9" Deluxe adjustable face rest and pillow for a truly relaxing experience.
The Ergospa Deluxe electric exam table is ADA compliant.
Learn more about the ERGOSPA Electric Treatment Table, Deluxe.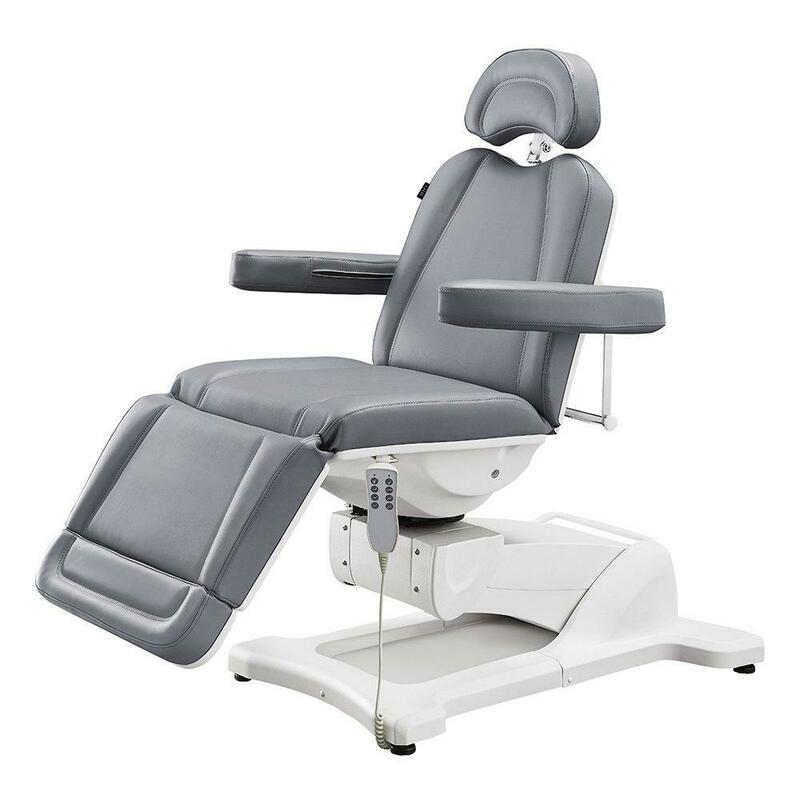 Benefits
Adjustments are smooth & quiet resulting from 4 electro-hydraulic motors
Enhanced comfortability and durability due to high-density memory foam and high-grade faux leather
Multiple medical and beauty procedures are enhanced because of easily interchangeable dual-headrest
The full-electrical all-purpose beauty bed/chair Pavo is considered revolutionary for good reason. From its four electro-hydraulic motors that make operating the backrest, split leg-rest, height, and tilt adjustments a snap to its removable arms for increased versatility—this truly is a chair you can count on no matter the procedure. All movement is easily controlled with an eight-button hand remote control.
Practitioner-patient accessibility is everything. 180-degree rotation with a manual adjustment means you can perform procedures with precision and comfort.
Whether you're a medical office, a medical spa, tattoo parlor, or salon & spa, the Pavo medical chair has what you need with all the practitioner and patient conveniences and comforts in mind.
Your patients will enjoy the chair's high-density memory foam and high-grade faux leather that work together to create an incredibly comfortable experience complemented by durability that makes this chair a worthwhile, lasting investment.
Learn more about the DIR Pavo Medical Chair.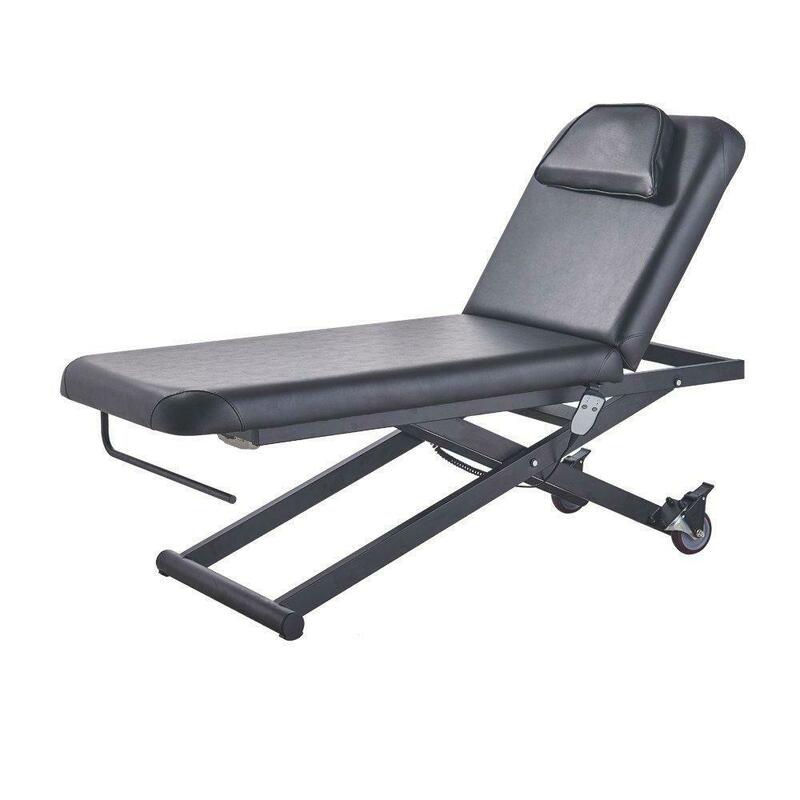 Benefits
Enhanced safety during procedures because of superior stability
Breathing is made easier thanks to removable pillow for face-down procedures
Hassle-free maneuvering due to high-quality locking roller wheels
If you're looking for an entry-level choice for your medical spa that won't break the bank, the Ebro Electrical Facial Beauty Bed and Massage Table from DIR Salon Furniture is the perfect fit.
From its construction to its extras, both you and your patients will feel well taken care of thanks to an attentive design.
Accessibility is simple and safe thanks to a single electro-hydraulic motor for height adjustment that you can easily control via hand remote. Patients will feel at ease on a comfortable high-density memory foam tabletop with high-grade faux leather upholstery that is simply a breeze to keep clean and sanitize and made to withstand lots of use.
The Ebro's steel frame structure provides you with peace of mind that you're working on a stable platform with a weight capacity of up to 400 lbs. The table can be moved around as needed thanks to locking roller wheels.
The Ebro features a removeable face plug for prone position procedures as well as a towel/paper roll holder for added convenience.
Learn more about the DIR Electric Facial/Massage Table, EBRO.
If you're still not finding what you're looking for or have any questions, feel free to chat, call, or email our helpful and friendly customer service at: (888) 515-0444 | hello@massagetablesnow.com. We'll be happy to help you find the best electric exam table to best fit your practice!
FAQ
What are medical tables called?
Medical tables are often referred to as medical exam tables, examination tables, procedure tables, or treatment tables which are used to support patients during medical exams or treatments and come in a variety of types, including electric (or power) or stationary (or manual). Medical tables come in a variety of types such as portable, stationary, electric lift, powered lift, hydromassage, and manual.
How big is an electric exam table?
Electric exam table height and width are important considerations dictating both client accessibility, comfortability, and how close the massage therapist can be to the client. Electric exam tables typically are designed to be used at a height of 17" to 35" so that clients can easily get on and off the table and therapists don't have to strain while providing services. Table width varies between 27" to 36" to accommodate a wide variety of shapes and sizes.
Who Typically Uses an Electic Exam Table?
Electric exam tables are a favorite among medical and massage practices, physical therapy, chiropractic care, and rehabilitation facilities looking to provide support for a wide range of patients with varying weight limits and accessibility, including the elderly and young children. Electric exam tables help to minimize discomfort and injury both to clients and technicians because of the ability to easily change height and position during treatment.
How heavy is a medical exam table?
Electric exam tables tend to be heavier than other types of exam tables due to their durable, heavy-duty steel-frame or solid wood construction, padding, and optional storage drawers. Electric tables typically weigh (without packaging) between 200 and 300 lbs. and can handle a load capacity averaging 350 lbs. all the way up to 700 lbs. with some specialty tables.