Choosing the right massage oil can be a daunting task, especially with all the different brands and types of massage oils out there. Does viscosity matter? Is there a certain type of oil that works best for certain massages? And what about having different oils on hand in case a patient has an allergic reaction? There are so many questions and ways to evaluate a wide spectrum of oils that many massage therapists are unsure where to begin.
There are many high-end massage oils on the market, such as scented, unscented, nut- and seed-based, nut-free, and oil made from animals. Understanding their properties is the first step. The second is figuring out which oil suits your needs as a massage professional.

How do you begin to find out which massage oil suits the needs of your practice and your customers? There are some simple tips we want to share with you about the differences between massage oils used in the industry, helping you make a stronger, more informed decision for your next appointment.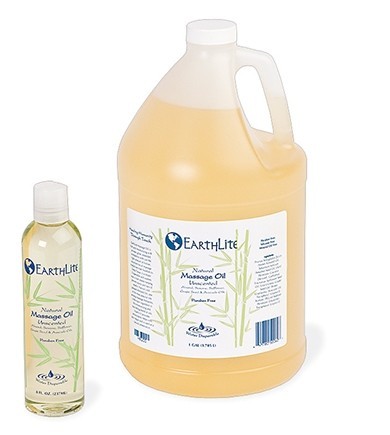 What is the difference between lighter and heavier oils?
Heavier massage oils, like olive oil, are typically used for low friction types of massages, such as the Swedish or relaxation massages. At the same time, olive oil will not be absorbed into the skin as fast as other lighter oils would. In contrast, lighter oils, such as grapeseed oil and massage cream, are made to absorb much easier into the skin so the massage therapist's hands won't slip as much and will be able to apply more pressure on the patient's body. Lighter massage oils are best used for chiropractic, sports, and deep tissue massages.
Can I use a different oil for different occasions?
Yes, you can! Don't be afraid to experiment with oils as you work. Keep in mind that each and every oil has its own unique properties and is thus primed for specific uses. When you take stock of your oils, you'll be able to better plan out which massage oil will be best for a certain appointment. For example, if you're doing a relaxation massage or another similar low friction massage, use a thicker oil and advise your patient to consider showering some few hours after the massage. Because of the heaviness and stickiness of the oil, it's more often used by massage therapists who work at spas or offices with adjoining showers.
Should I go scented or unscented?
This is purely up to client preference. Some clients may have allergies not only to the oil's components, but to its scent as well. To be on the safe side, every massage practitioner's office should be equipped with at least one unscented, nonallergic oil to ensure you'll be able to work with any client who comes through your doors.
Can pain be relieved by massage oil?
Yes! Not only is a standard massage great for pain relief or inflammation, but depending on the oil you use, you can increase your client's chances of longer lasting results. Many massage practitioners use oils made with arnica and menthol, and emu oil to assist with patients in pain. Historically, these kinds of oils have proven to be very effective on patients with sports-related injuries, making them very popular in the chiropractic and sports massage world.
Learning the properties of certain massage oils will make a huge difference in the way you conduct your business. When you know your oil, you know how to cater to your customers.