5 Key Factors to Consider When Choosing a Professional Portable Massage Chair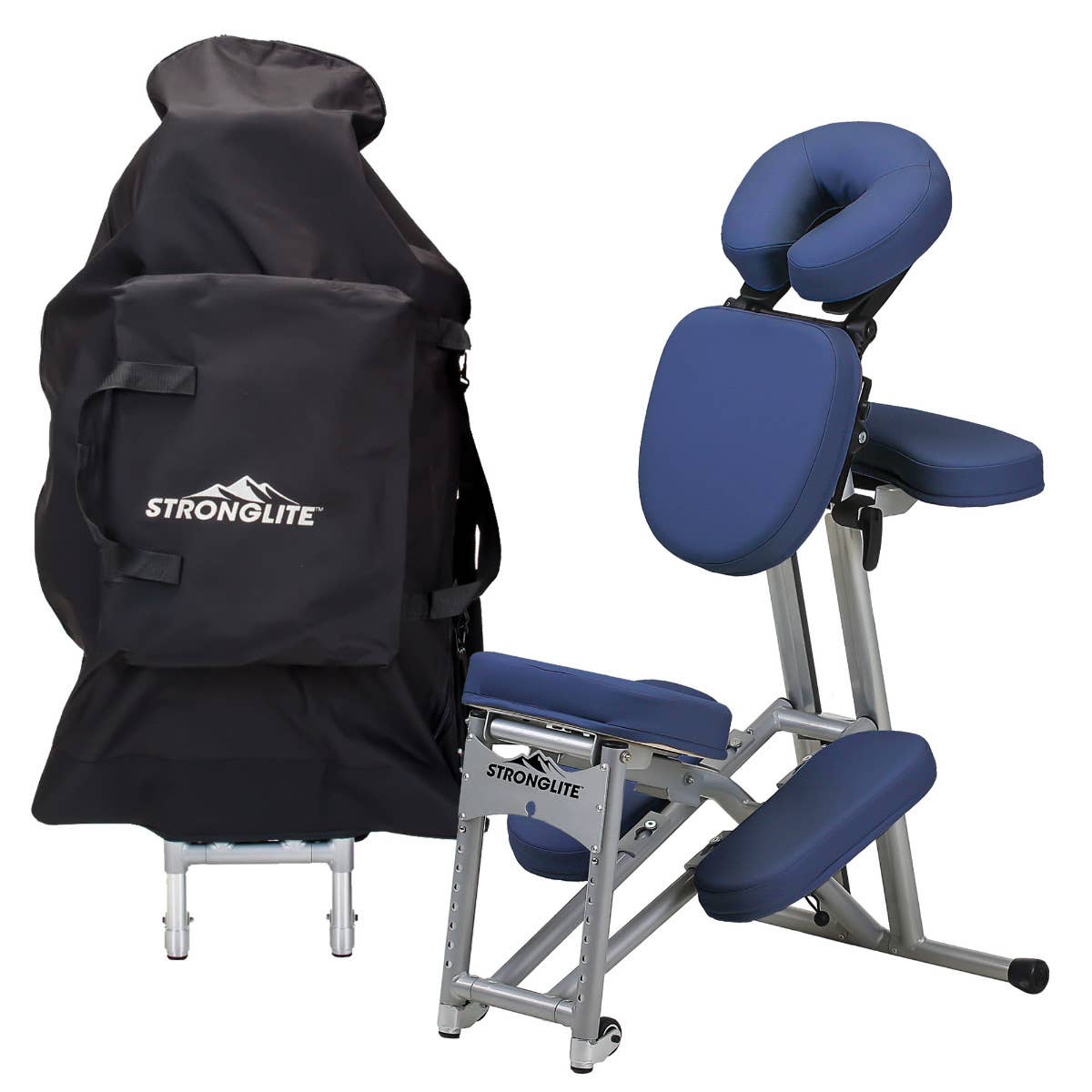 A top-quality portable massage chair is an investment that can enhance your massage therapy business, allowing you to provide a more convenient, comfortable, and relaxing experience for your clients. There are a lot of options on the market, as such, it can be difficult to know which portable massage chair to choose. To make sure you select a chair that's best suited for you, here are five key factors to keep in mind:
1. Portability
One of the main (if not the main) advantages of a portable massage chair is that you can carry it to different locations, making it perfect for on-the-go/mobile massage therapists. When choosing a portable massage chair, consider its weight and size, as this affects how easily you can transport it. It should ideally be light enough for easy lifting and carrying; you don't want to hurt your back on the way to help someone else's. We advise you to go for chairs that can be easily folded or disassembled for transport; they should also have carrying cases or bags. There are different types of carrying cases; some have wheels for smooth transportation, others have straps to be carried over the shoulder, and others are built with multiple pockets for storing accessories and supplies. Make sure you choose one that best fits your needs.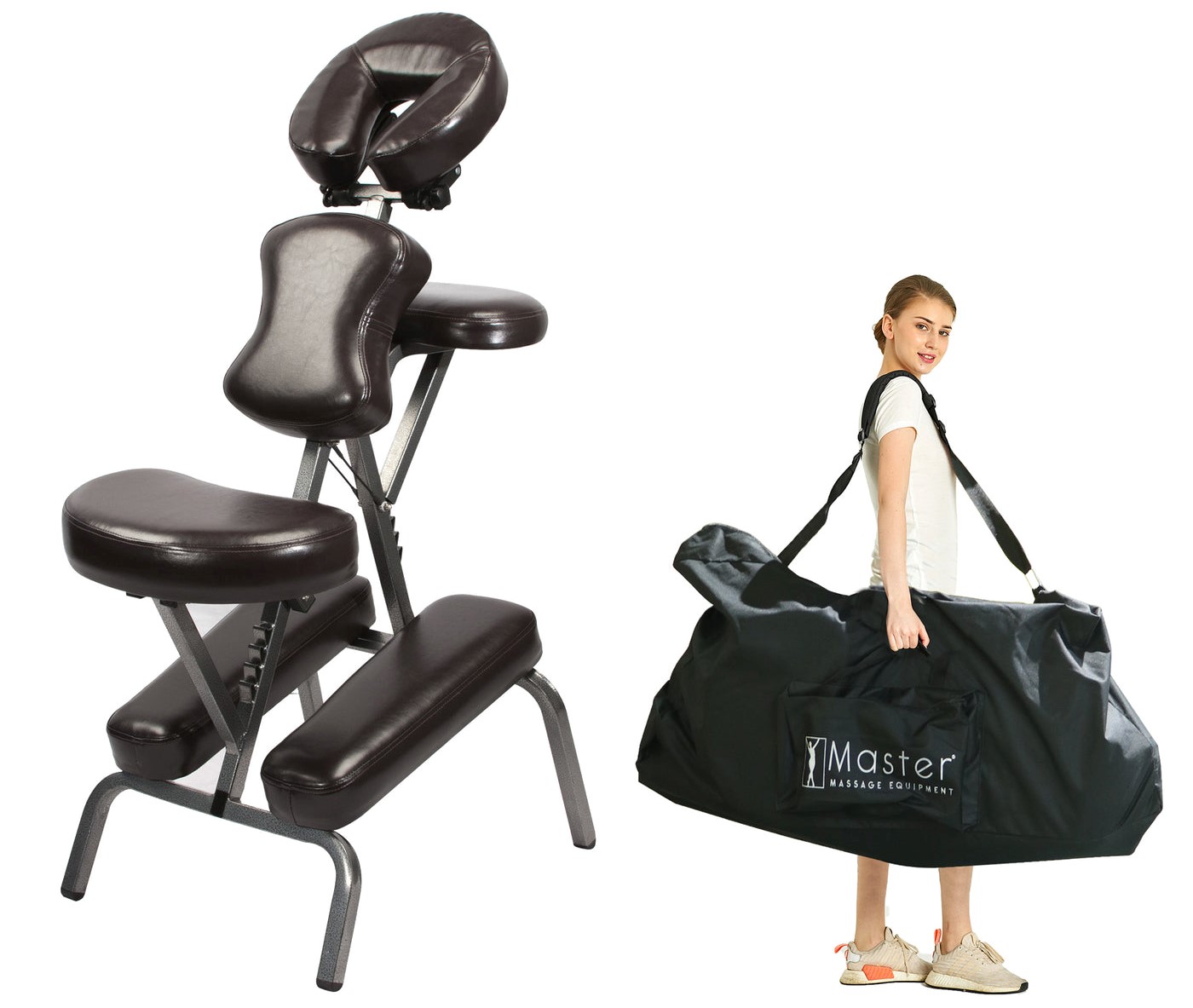 We have a top-tier collection of portable massage chairs designed for convenient transportation:
2. Comfort
Comfort is crucial when it comes to portable massage chairs, and a good portable massage chair should be comfortable for both the client and the therapist. Look for chairs that are ergonomic, with high-density foam padding and with supportive seats that allow you to move and position your clients without strain. Additionally, look for massage chairs with adjustable armrests, headrests, leg rests, and backrests, as these features can make a big difference to your comfort. A massage chair that provides lumbar support and a good knee angle is likely to be more comfortable for your clients as well as yourself. Furthermore, consider the materials used for the chair and make sure they are breathable and designed to promote good blood flow, as this can make all the difference to your customer's comfort. The chair's carrying case should also be comfortable to transport, whether by having a well padded comfortable carrying strap or an ergonomic handle.
Our portable massage chairs have several comfortable and ergonomic features:
3. Durability
Durability is another essential factor to consider when choosing a portable massage chair, always consider the materials used and how durable the chair is likely to be over time. Portable massage chairs are used in a variety of settings, which means that they need to be able to withstand the wear and tear of regular use in different environments. A high-quality chair with a durable frame likely last for a long time, saving you money and time in the long run. Look for a chair with an aluminum frame, as this is a very durable and lightweight material. Other materials to look for include stainless steel, and high-quality upholstery fabrics.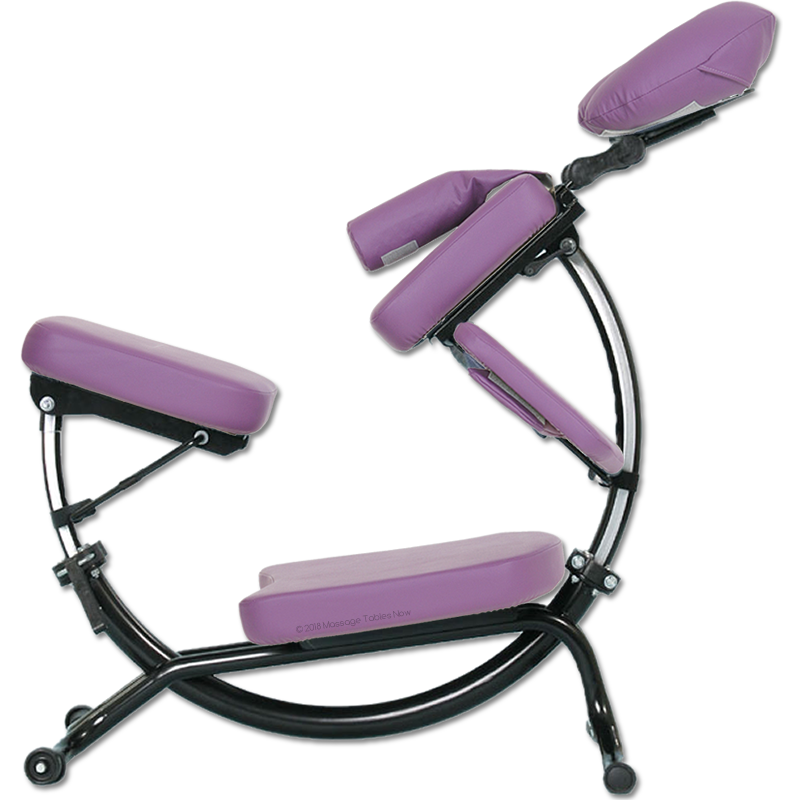 Our catalog has a lot of great options with durable frames;
4. Adjustability
The ability to adjust the chair to suit different body types and massage techniques is crucial for a quality portable massage chair. This can make a big difference to the variety of clients you can accommodate. Look for easily adjustable chairs so you can quickly modify them to suit your customers' needs. Go for height-adjustable chairs, chairs with adjustable legs and armrests, and chairs with headrests that can be adjusted to different angles.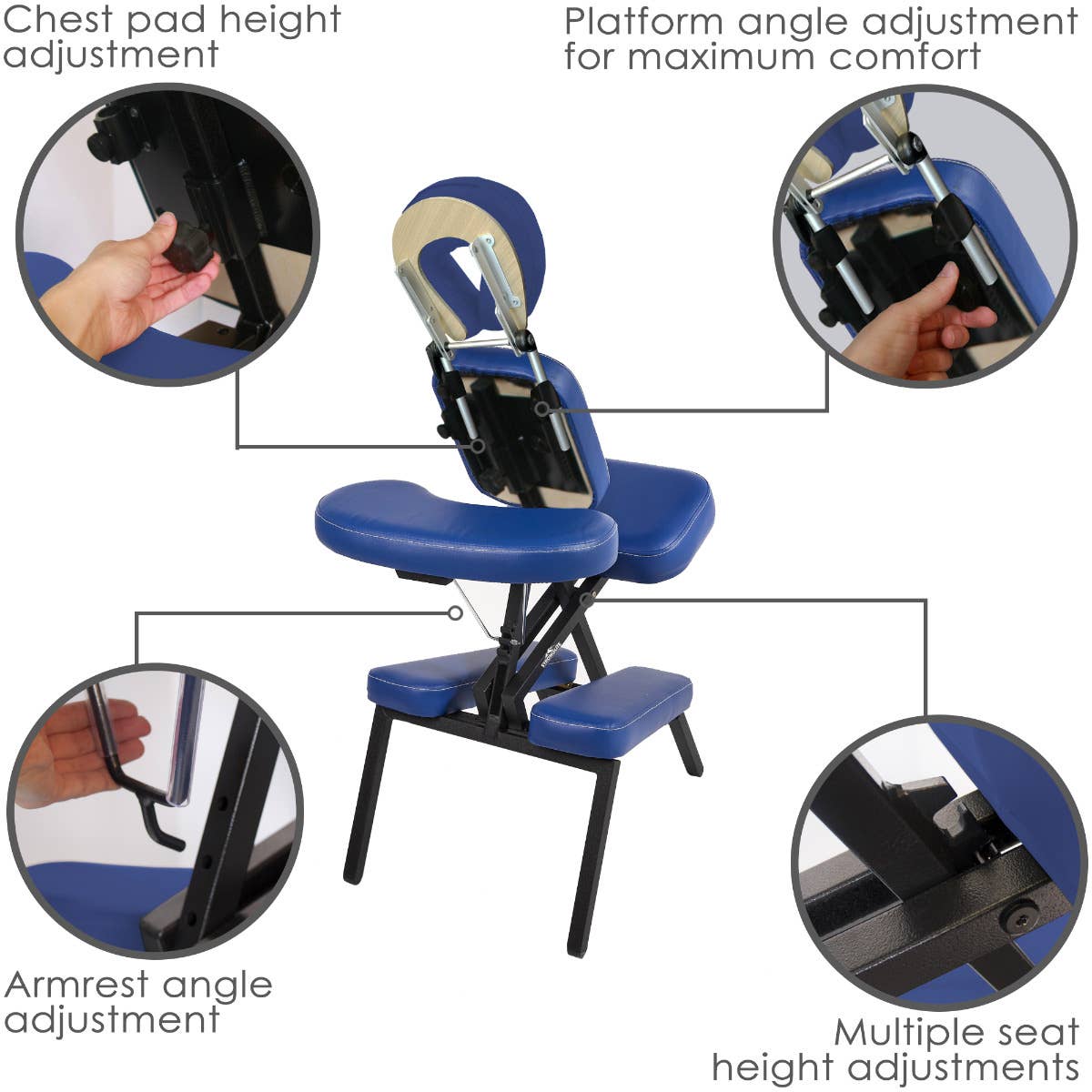 Our listed portable massage chairs offer a range of adjustability options to suit different body types and massage techniques. Some highlights are:
5. Price
Finally, consider the price of the massage chair. Portable massage chairs can vary significantly in price, so it's important to set a budget before you start shopping. Keep in mind that a higher price doesn't always guarantee a better chair, so be sure to compare the features and quality of different chairs in your price range before making a decision. Our portable massage chairs range from affordable (e.g. Master Massage Bedford™ Portable Massage Chair), to mid-range (e.g. Stronglite Ergo Pro II Massage Chair), and to the higher range (e.g. Pisces Pro Dolphin II Portable Massage Chair). This allows you to select the chair that best fits your budget.
Conclusion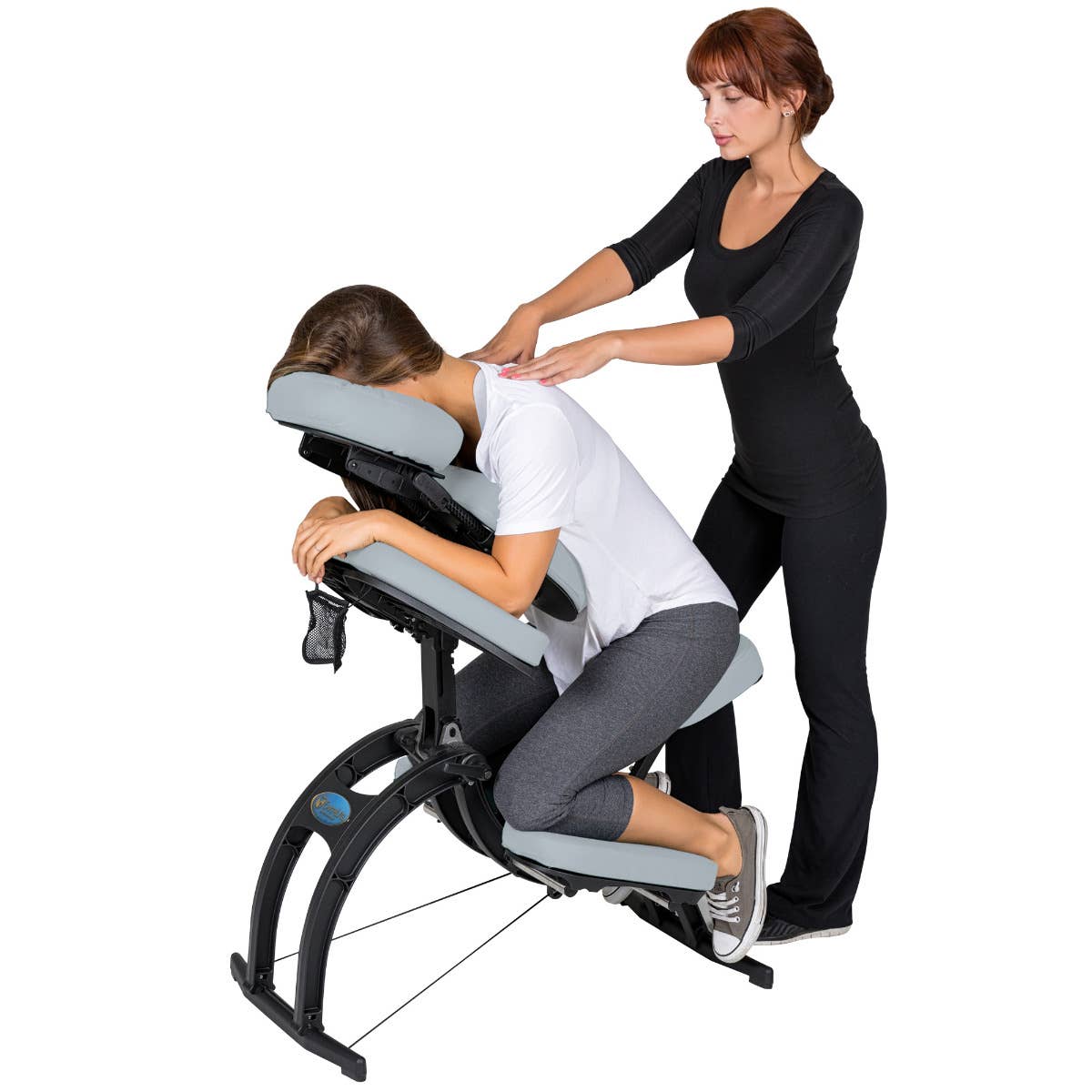 In conclusion, selecting a portable massage chair requires careful consideration of a number of factors, including portability, comfort, durability, adjustability, and price. By keeping these factors in mind, you'll be able to choose a chair that meets your needs, is suitable for your business, and fits within your budget. We also recommend that you check our product reviews to get an idea of how satisfied other customers are with their purchases.
After selecting your ideal portable massage chair, be sure to check out the rest of our vast catalog for all your accessory, supplies, tools, and massage table needs. Our expert, reliable, and friendly customer service team is available during business hours via online chat or phone at (888) 515-0444; you can also email us 24 hours a day at hello@massagetablesnow.com. Please get in touch with us if you have any questions; we will research your query and respond via email the same day or within one business day. Happy Shopping!