The language of touch is universal, and there's arguably no better form of physical communication than massages. A good massage is relaxing and restorative; it soothes the body, heals the soul, and when performed between couples, communicates intimacy, and enhances bonding.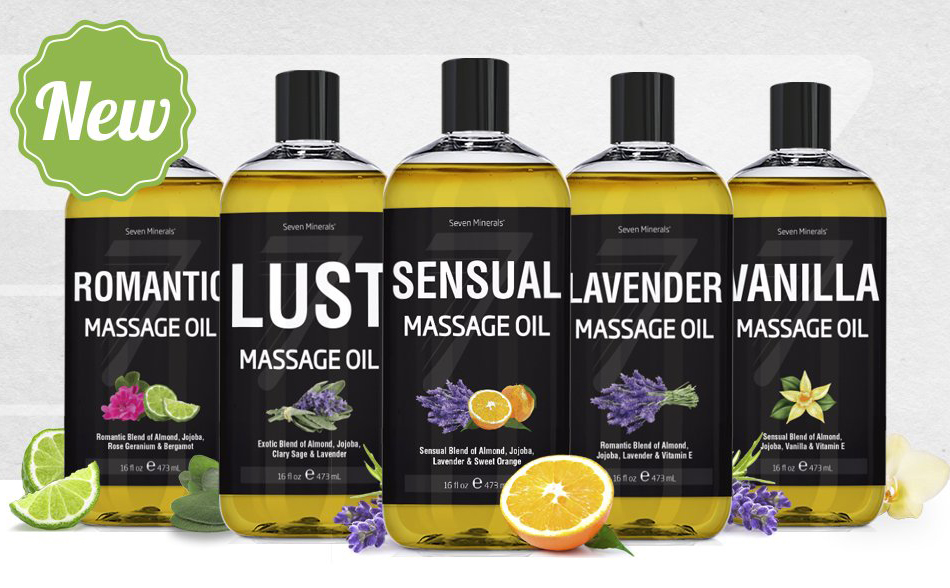 One of the most critical ingredients of any massage is the massage oil; a quality massage oil could easily be the difference between a satisfying massage and a mind-blowing massage experience. At Massage Tables Now, we value our customers and would like your clients to have the most exhilarating massage experience; that is why we have meticulously conducted our research and selected premium and professional massage oils that are guaranteed to fulfill all your requirements. Introducing the Seven Minerals Massage Oil Product line that includes eleven stimulating massage oils; Sensual, Romantic, Vanilla, Lavender, Peppermint, Refresh, Relax, Arnica, Sore Muscle, Happy Joints, and Foot.
How do we know these massage oils are the best? Because Seven Minerals is a brand built on the unwavering belief that what goes on your skin is just as important as what goes in your mouth. Based on this solid foundation, they harness mother nature by using natural and organic ingredients to make simple and honest products that do not contain junk and toxins. Above all, they promise safety, and they never compromise on the quality of their products. Therefore, we trust their products, and this is why we are asking you to trust them as well.
These oils are made from a natural blend of cold-pressed Almond and Jojoba carrier oils and are 100% pure; cruelty-free, hexane-free, and vegan. They are all lightweight in nature and include moisturizing ingredients that slowly yet easily absorb into the skin, nourishing and replenishing it with essential nutrients without leaving your clients feeling greasy. Oh, and the best part is, apart from their numerous emotional and therapeutic benefits, they all have incredible scents that will invigorate your clients and stimulate their senses.
On that thrilling note, let's take an individual dive into each of these massage oils:
Seven Minerals Sensual Massage Oil - Light, sweet, and refreshing scent of Lavender and Sweet Orange to relax the mind and body.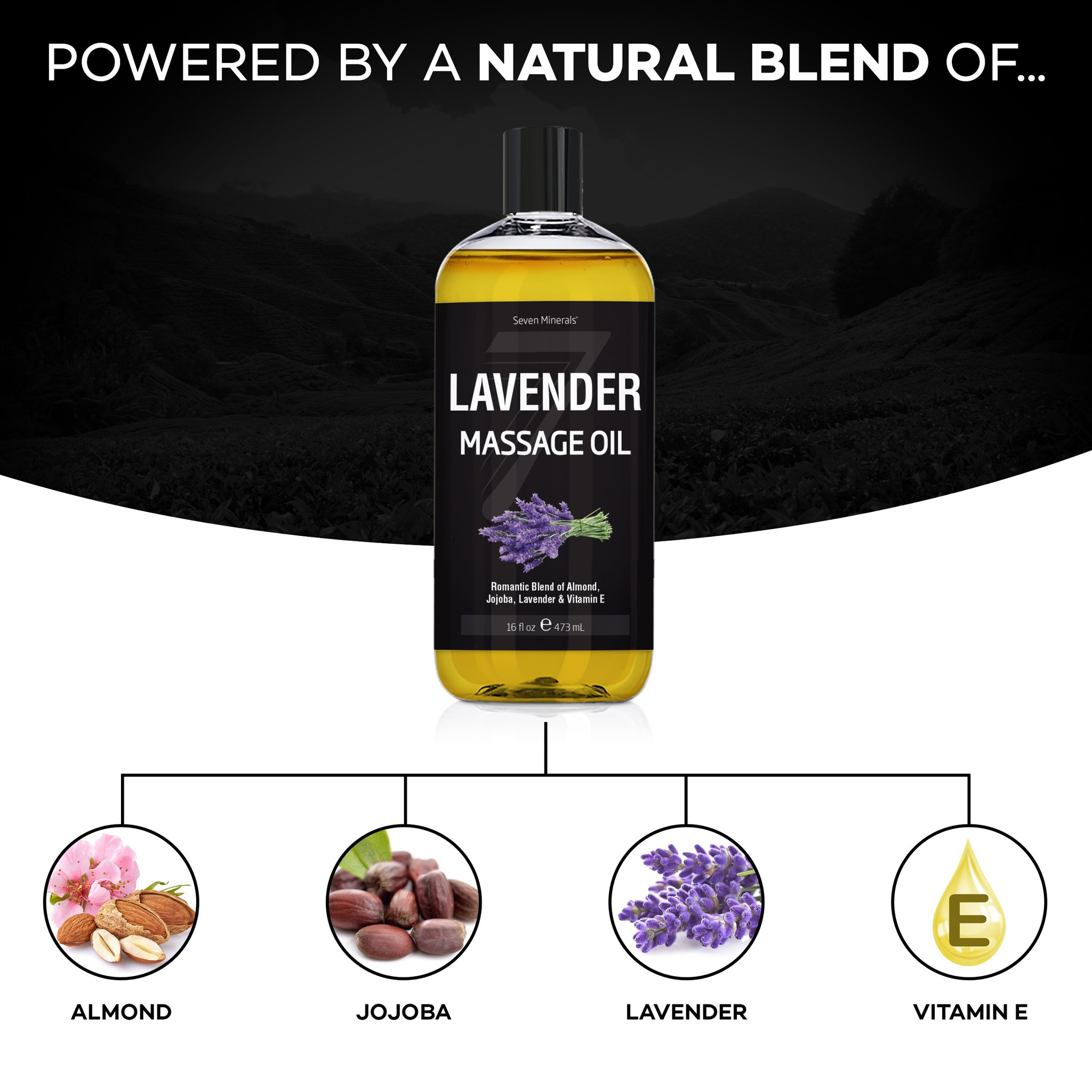 Seven Minerals Lavender Massage Oil- Lavender's light, floral and pleasant scent to melt away stress, relax muscles, and nourish skin.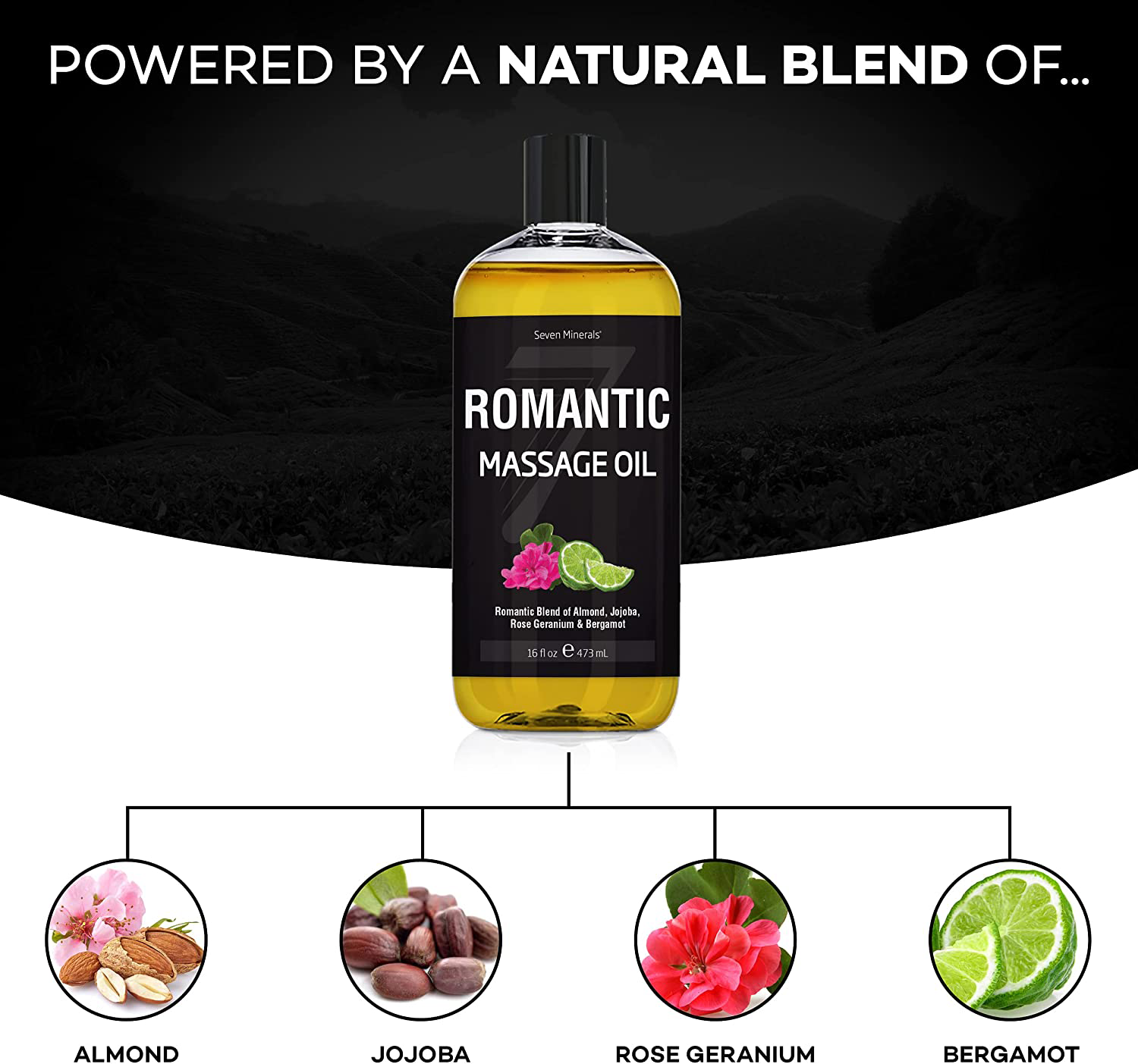 Seven Minerals Romantic Massage Oil - Light yet intoxicating scent of Rose Geranium and Bergamot to set the mood and relax the body and mind.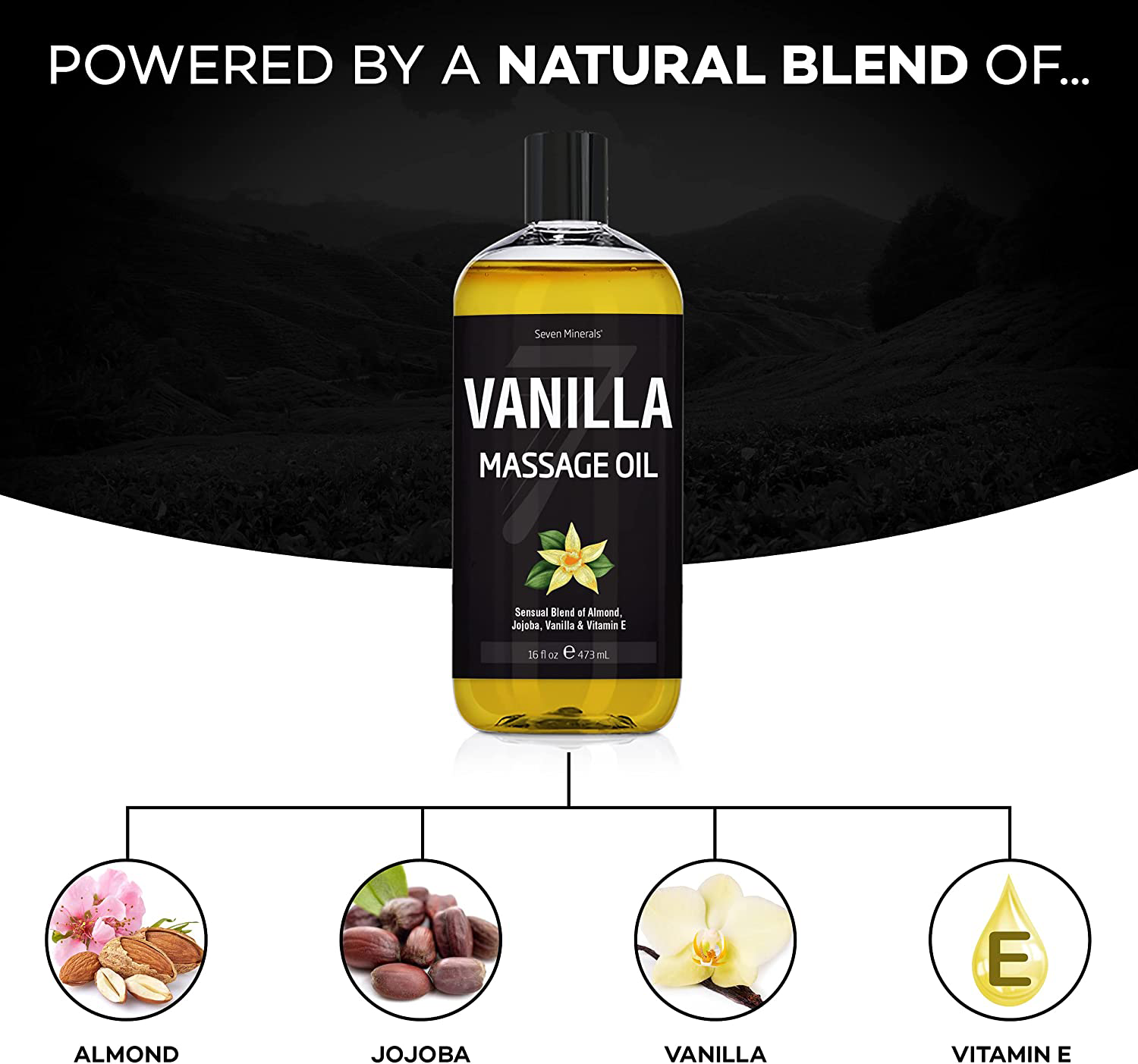 Seven Minerals Vanilla Massage Oil - Light, creamy, and exotic vanilla scent to effortlessly melt away stress and dissolve tension in the body.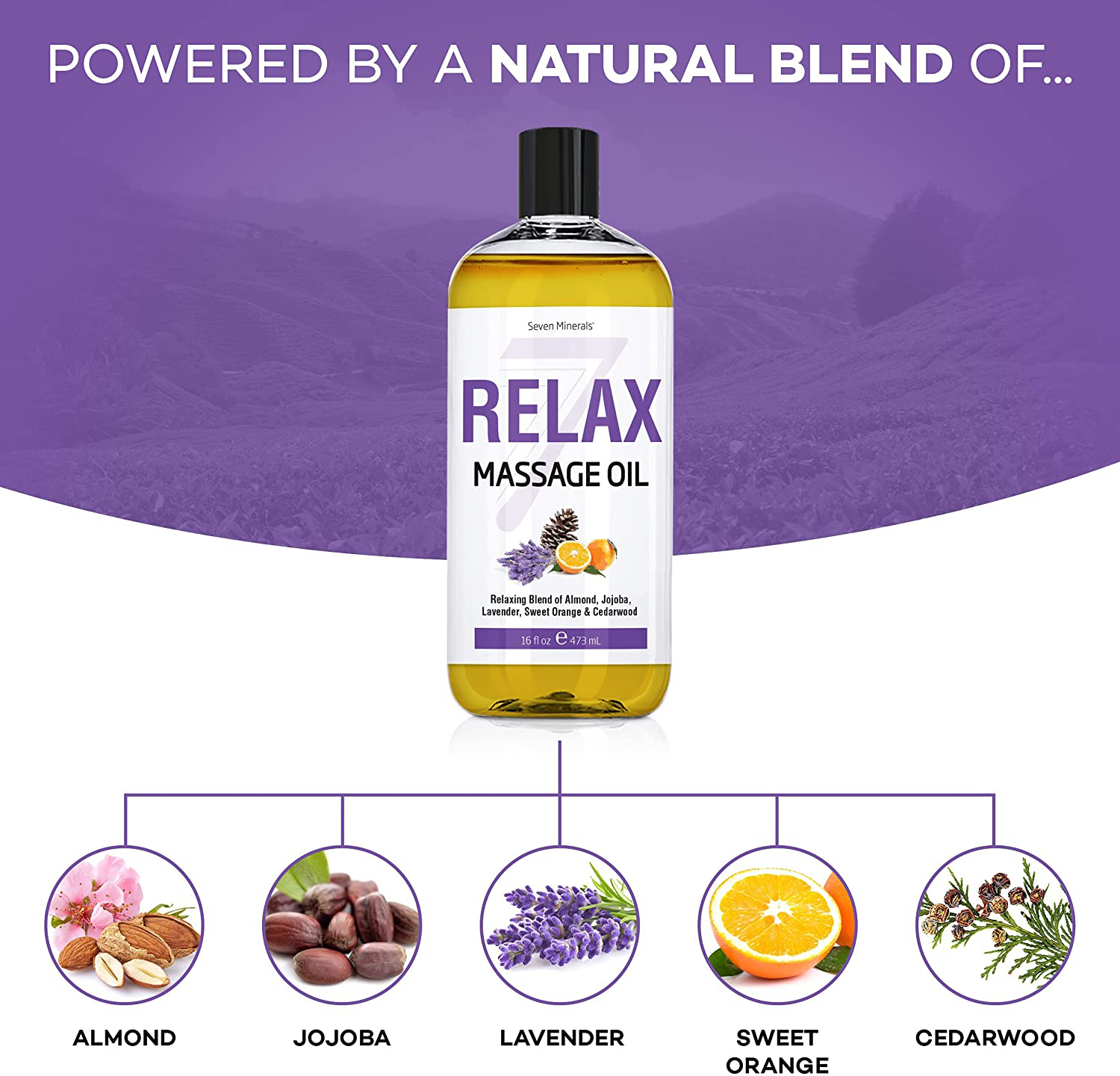 Seven Minerals Relax Massage Oil - Light, invigorating scent of Lavender, Sweet Orange, and Cedarwood to melt away pain and relax the body.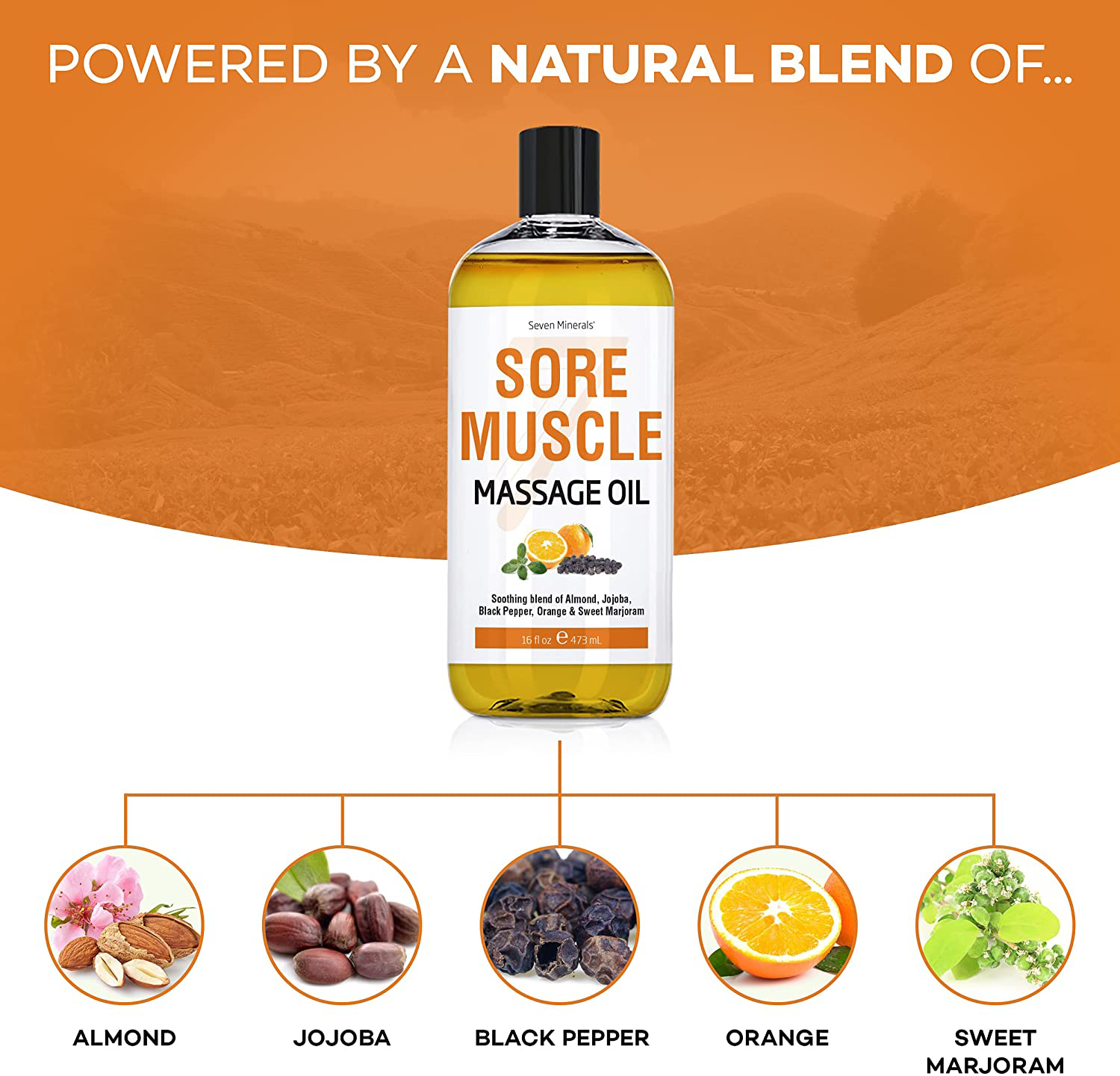 Seven Minerals Sore Muscle Massage Oil - Delicate yet refreshing scent of Orange, Sweet Marjoram, and Black Pepper to soothe tired muscles and dissolve pain.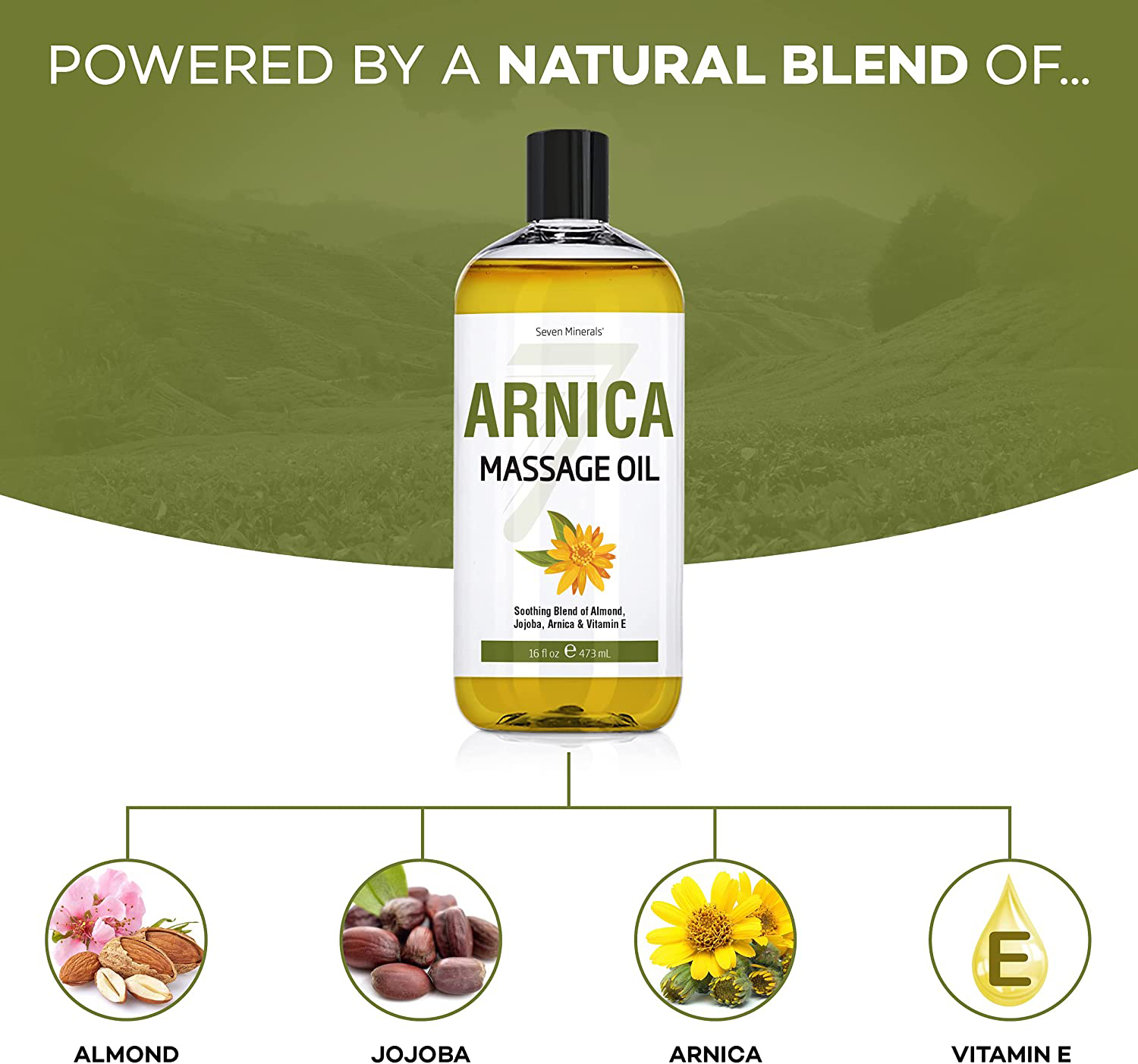 Seven Minerals Arnica Massage Oil - Light, stimulating scent of Arnica to relieve pain and dissolve muscle tension.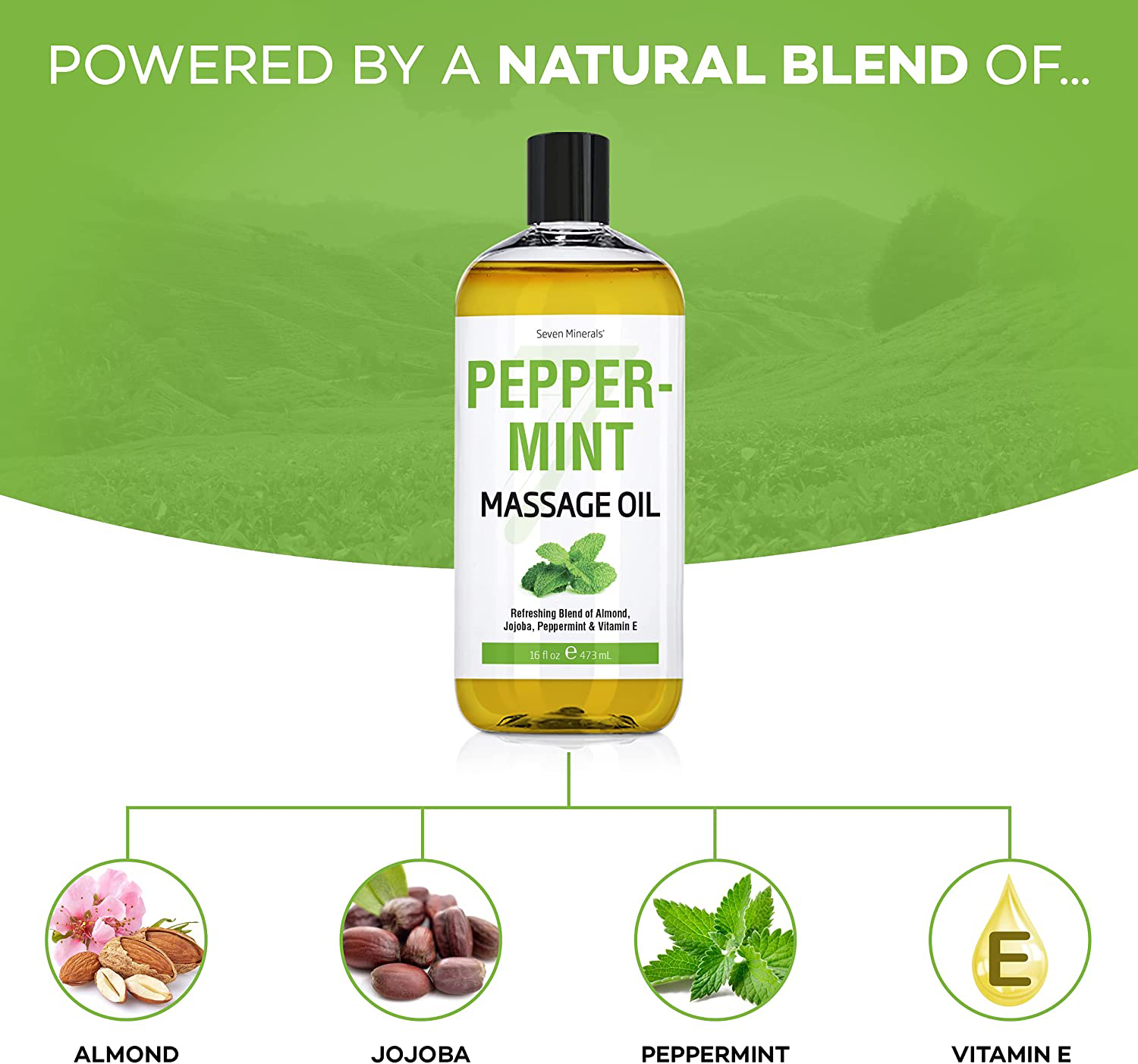 Seven Minerals Peppermint Massage Oil - Light, cool, and fresh scent of Peppermint to invigorate the senses and relax tired muscles.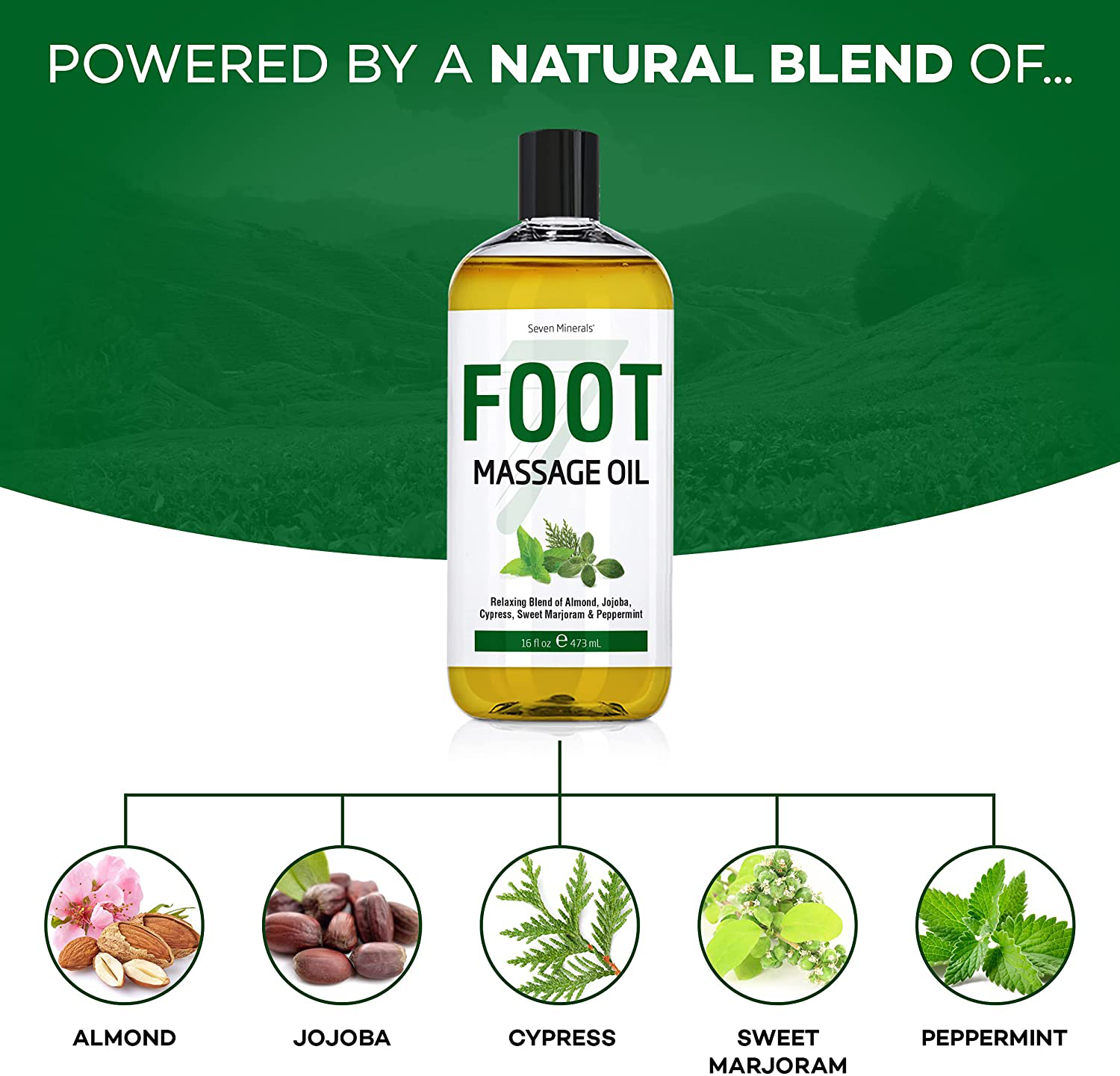 Seven Minerals Foot Massage Oil - Stimulating scent of Cypress, Sweet Marjoram, and Peppermint to soothe tired feet and melt away pain.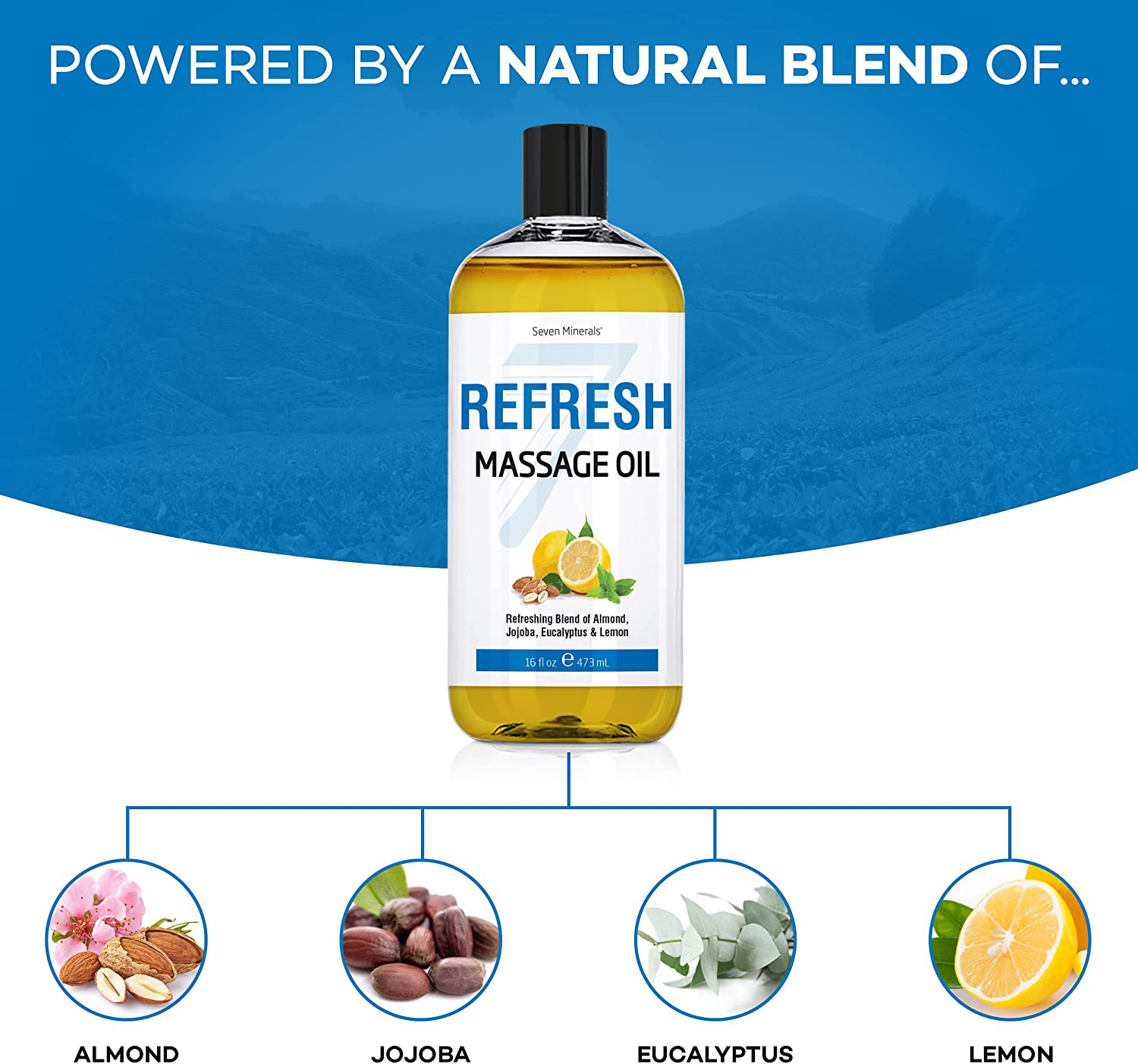 Seven Minerals Refresh Massage Oil - Exhilarating scent of Eucalyptus and Lemon to dissolve tension in the body and soothe tired muscles.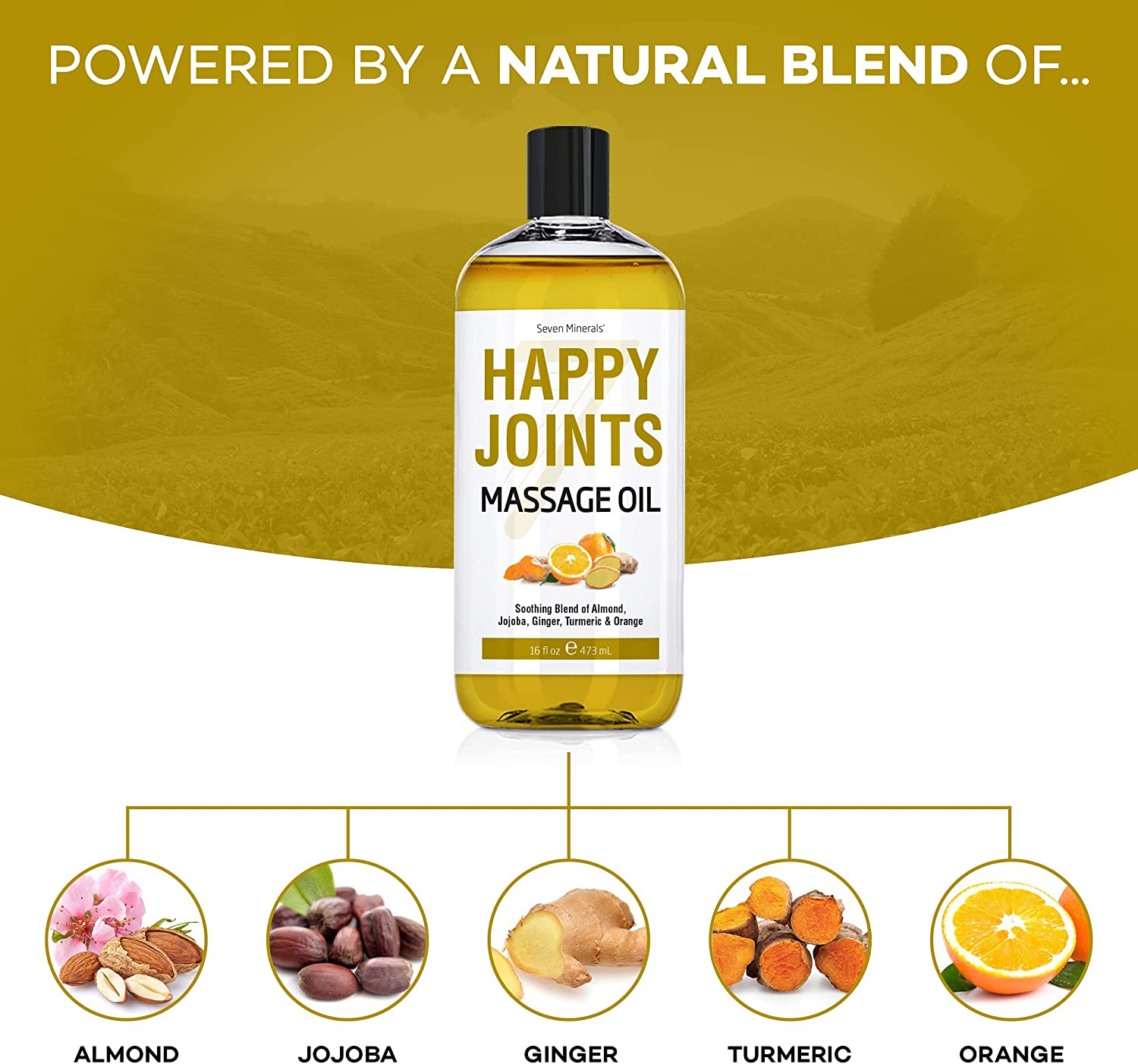 Seven Minerals Happy Joints Massage Oil - Light, refreshing scent of Ginger, Turmeric, and Orange to soothes tired joints and melt away pain.
And there you have it, eleven massage oils that are not only meticulously crafted but are also versatile enough to cater to all your clients' massage requirements. Have you fallen in love yet? No need to answer; I have a strong inkling that you have. So, what are you waiting for? Go ahead and grab some bottles for your spa, your clients will be sure to thank you for it!
In case of any questions, chat, call, or email our helpful and friendly customer service at: (888) 515-0444 and hello@massagetablesnow.com.