If you find yourself here it's very likely because you believe that touch is more than just a tactile experience; it's a way to interact with the world. You are likely here because you are one of a growing few who believe that, through touch, a person may be given the opportunity to know peace, comfort, and diminished - if not freedom from - pain.
To answer the question "What are the Best Massage Tables" we feel that it's important to start at the beginning, to get a better idea of what massage is, before we consider the end tools needed to practice massage.
Massage, as defined by Merriam-Webster, is the "...manipulation of tissues (as by rubbing, kneading, or tapping)... for therapeutic purposes..." and has been practiced by humankind in this way for more than two millennia.

Finding the Perfect Massage Table
Whether you are just embarking on your journey to become a masseuse or masseur as a way to provide a soothing massage for a partner or roommate when they get home from a long day, are currently studying to become a massage therapist, or you are an experienced professional, it's of the utmost importance to work with quality massage supplies and equipment.
Deciding to incorporate music and aromatherapy, choosing oils and lotions, selecting massage tables and massage chairs, are all decisions that will have an immense impact on the whole; how you perceive yourself and how your clients perceive you.
Massage is about removing distraction, be it from pain or the chaos of day to day living, to encourage healing; physiological and psychological.
When the pain and the chaos begin to fade away, though, so does the barrier between you and your client. It's during this transition that whatever remains - the tools of your practice - is of the highest possible quality in order to maintain the small oasis of calm you've so skillfully designed.
-----------------------------------------
Portable Massage Tables
As the world becomes closer than ever before by way of quick international travel and instant social networking so has the field of the mobile / outcall massage therapy. After all, who doesn't want a career that allows them to travel whenever the mood strikes them?
According to the American Massage Therapy Association (AMTA), based on a 2014 industry survey, 59% of all practicing massage therapists spend a portion of their time at clients' homes or in business / corporate settings.
3 Reasons Why We Love this Portable Massage Table:
1) LIGHT WEIGHT: The Earthlite Luna Portable Massage Table is one of the lightest portable massage tables on the market at about 28 pounds. This makes the Luna very easy to manage for even the most petite massage therapist on the go. After all, the last thing you want to do is call a client up to cancel because you've hurt your back lifting your table out of your trunk.
2) STRENGTH: With a maximum working weight of 750 pounds, the Earthlite Luna doesn't make any compromises due to its svelte construction. In fact, it has a higher maximum working height than many of our stationary tables.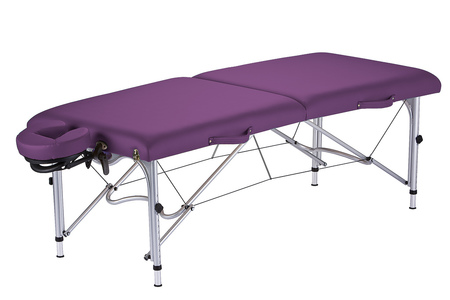 3) FEATURE HIGHLIGHTS:
- All Earthlite products are crafted with environmental sustainability in mind
- Patent pending Reiki-ready super-lite aluminum frame
- Full-length piano hinge
- Patent pending Shimmy-Lok™ Leg Brace System
- Mid-brace™ Cradle-lock Cabling System with 1,000 lbs test cables
- Pro-Lite™ 2-layer 2¼ Cushioning System
- Natursoft™ Upholstery - 100% PU in sixteen colors
- Pro-Lite™ Cushioning System.
- Buttery soft, yet eco-friendly Natursoft™ upholstery.
-----------------------------------------
Stationary Massage Tables
The stationary category is a little more tricky than the portable category for few reasons. The most significant reason is that a stationary massage table offers a lot more customizable features than a portable massage table.
With stationary massage tables the world of massage opens up completely. From the universal massage table that allows for a great range of massage techniques to be practiced to very specialized massage tables that allow a massage therapist to focus on specific techniques.
Right away, the first decision that needs to be made is whether or not you want a massage table that is "static" or "dynamic"?
"Static" massage tables have one position, flat; completely parallel to the floor. A "table" in every sense of the word.
"Dynamic" massage tables allow the table to be adjusted into various positions from flat to almost an upright position; reclining.
Regardless of whether a massage table is "static" or "dynamic" you will still be able to adjust the actual vertical height of your table.
3 Reasons Why We Love this [Static] Stationary Massage Table: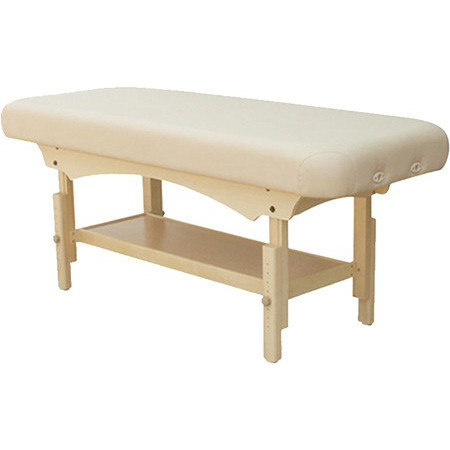 1) ACCESSORIES: The Custom Craftworks Aura Basic Stationary Massage Table comes with a Classic Adjustable Face Rest & Cushion, front arm sling, and foot extension for quick and easy adjustments to ensure the individual comfort needs for each of your clients is met.
2) AFFORDABILITY: One of our most inexpensive stationary massage tables. Don't worry, though, our Aura Basic weighs in at 88 pounds and has a solid Beech frame for amazing strength and stability.
3) FEATURE HIGHLIGHTS:

- 3.5" Multi-Layered Foam
- Dual-End Accessory Ports
- Open Storage Shelf
- Classic Adjustable Face Rest & Cushion
- Front Arm Sling
- Foot Extension
- Interlocking Legs
- Solutions Polyurethane Upholstery
3 Reasons Why We Love this [Dynamic] Stationary Massage Table:
1) CUSTOMIZATION: Earthlite tables tend to be the most customizable tables available and the Sedona Salon is no exception. From choosing one of three base storage options, to upholstery, to stain, to table width. You also get to choose whether your tilt is manual or power assisted. Everything you need to make this massage table uniquely yours is available at the click of a button.
2) WARRANTY: Your Sedona Salon Stationary Massage Table comes with a limited LIFETIME warranty. So, while the Sedona Salon is solidly in the mid-level price range, you can be confident that you are getting a massage table that was specifically designed to provide comfort and support for you and your clients year after year.
3) FEATURE HIGHLIGHTS: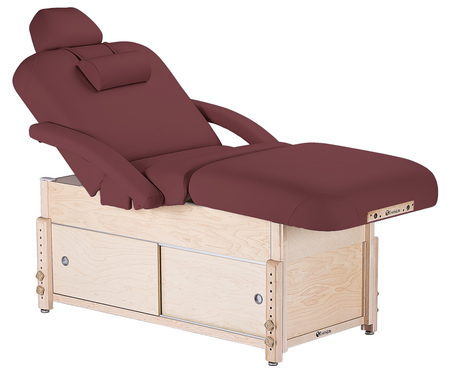 - All Earthlite massage tables and products are crafted with environmental sustainability in mind
- Solid hard Maple Construction
- Width Options: 28", 30", 32"
- Trestle Base
- Rounded Corners
- Pro-Plush™ Deluxe 3-Layer Cushioning System
- Natursoft™ Upholstery - 100% PU in sixteen colors
- Double knobs for added strength
- Maximum working weight: 1000 lbs
- Made in USA with components sourced globally
OPTIONAL FEATURES
- Shelf Base
- Cabinet Base
- Flex Arms, Neck Roll and Head Pillow
- Ultraleather® upholstery
Shop Massage Tables Now
Massage Tables Now is dedicated to providing you with an array of the highest quality massage tables, spanning every price range, so that you are able to compare them for yourself and choose for yourself which is the best massage table for your clients and for your goals.
Keeping that in mind, we've selected our favorite massage tables based off of customers massage table reviews, the best massage table reviews offered by professionals working in the field, and from our own experiences to answer the question of "What are the Best Massage Tables?".
It's also important to keep in mind that this is only a "mini-guide" and that our mini-guide doesn't even begin to scratch the surface of what is available. It's meant only to characterize the basic categories of massage tables and what each has to offer.