Oakworks Powerline Treatment Table
ASSISTANCE IS JUST ONE CLICK AWAY!
Oakworks Powerline Treatment Table
Product Description
The Oakworks Powerline Table from MassageTablesNow.com is the perfect deal for the perfect price. The top dimensions are 30 cm width x 183 cm length x 79 cm height, and include a 6 cm layer of padding made of Comfort Foam. This is to ensure the comfort and satisfaction of the customer. The padding is covered in a premium PVC free TerraTouch fabric, and the wood is a beautiful natural wood finish. Attached to the legs near the top of the Oakworks Powerline Table is a paper roller for sanitation purposes when a massage is being performed. The weight of the Oakworks Powerline Table is 85 pounds, and has the patient carrying capacity of 500 pounds, making it lightweight yet strong enough to support any patient. Optional features include a storage shelf beneath the padded top, great for storing the tools needed to perform the massage.
Like all of our products, the Oakworks Powerline Table is both reliable and durable, and is sure to exceed one's expectations for how a massage table can feel. This massage table is built using only this highest quality of materials and will perform its desired function in way to both please the masseuse and the patient. You can also choose the backrest option from the drop down menu for an extra $50. You also have the option to purchase this table with a shelf as you cans see on the picture to the left. You can choose the shelf option from the drop down above for only and extra $65.
MassageTablesNow.com has a full satisfaction guarantee, and in conjunction with our suppliers limited lifetime warranty, you can rest assured that you are getting the best prices, service, and quality available. You see, here at MassageTablesNow.com, we love a good, deep massage, and we know your clients do as well! That's why we've sorted through thousands of products to find the absolute best ones for you! Our suppliers of the Oakworks Powerline Table are one of the leading manufacturers in the world, and only make their products to comply with the highest standards of industry specifications. The durability and price of the Oakworks Powerline Table truly cannot be beat. Here at MassageTablesNow.com, we strive to bring consumers the best possible deal for their hard earned dollars. We guarantee complete satisfaction with our products, including the Oakworks Powerline Table. If customers have any questions about our products, please contact us by visiting https://massagetablesnow.com/contact-us/ without delay. Our expert team is always standing by, ready and willing to help you with any questions or concerns you may have. Alternatively, feel free to check out some of our Articles to learn more about our company, our suppliers, and why you should buy from us. We look forward to working with you!
Note: This Table is currently shipping for Free in the 48 United States for a limited time only!
Specifications:
Paper Roll Holder included
Patient Capacity 500 lbs. (227 kg)
Top Dimensions - 27 (69 cm) or 30 (76 cm) W x 72 (183 cm) L x 31 (79 cm) H
Padding - 2.5 (6 cm) Comfort Foam™
Fabric - Premium PVC Free TerraTouch™
Natural Wood Finish
Weight - 85-125 lbs. (36 kg)
Warranty - 3 years parts, 1 year labor
FDA listed, CE marked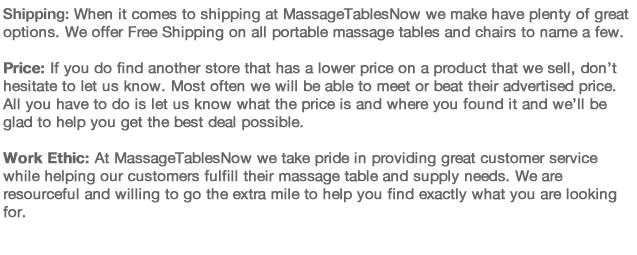 Find Similar Products by Category