ASSISTANCE IS JUST ONE CLICK AWAY!
Product Description
New from EarthLite is our redesigned and better than ever Traveler Table Cart. The Traveler Table Cart securely holds your portable massage table (fits nearly every portable massage table on the market) so you can easily haul your table to out calls without tiring yourself out before arriving to your appointment. Save your strength for the massage instead of the hauling of your table. The handle is padded for your comfort and ease of use.
Earthlite's Traveler Table Cart makes it even easier to transport your table over smooth and uneven surfaces. The larger wheels with slick precision steel bearings provide a steadier ride and easier, more stable stair climbs. The powder coated steel frame provides a generous, protective transport platform for your table.
Features:
• Telescoping handle for easy height adjustments
• Strong, wide adjustable strap to hold table securely in place
• Bigger, steadier wheels for easy transportation
• Power coated anti-corrosion steel frame – easy to clean
• Conveniently folds for storage
Dimensions:
• When folded: 34" length x 15.5" width x 11" depth
• When open: 43" height x 15.5" width x 26.5" depth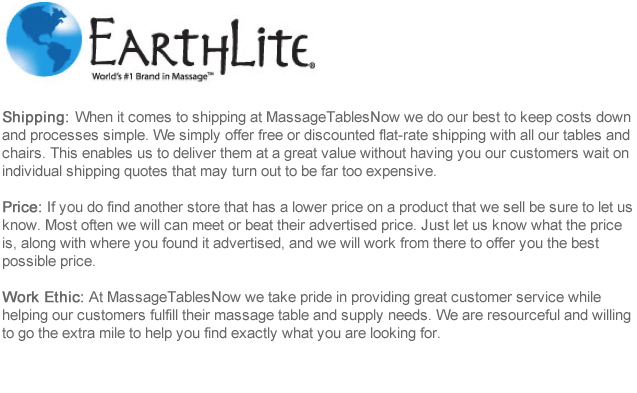 Find Similar Products by Category