EarthLite Spirit Portable Massage Table Package
ASSISTANCE IS JUST ONE CLICK AWAY!
EarthLite Spirit Portable Massage Table Package
Product Description
Possibly the most well-rounded and portable massage table in existence, the EarthLite Spirit Portable Massage Table is what some call "the world's best massage table!" Of course, we all have our favorites, but what makes this table so special? Featuring our jointless beam, this table sports technology, comfort, and eco-friendly materials that have yet to be beat. With our luxurious Pro-Plush cushion system, 3" of triple density CFC-free foam allows your clients to become completely immersed in the massage.
Take your business or massage studio to a whole new level with our non slip traction pads, hard maple legs, and eco-friendly material. Built to last, this table sports our classy and custom NaturSoft™ material, providing yor clients with comfort and luxury. While providing unbeatable features, this table is also completely compact and portable, weighing only 32 pounds! Available in all of our bright and vibrant NaturSoft™ colors!
Choose color above (options shown in image to the left).
Get the Package and save:
Now you can choose to get the Spirit package. This will include the Spirit Table, Carry case and the face rest for only an extra $82.95 (Lowest prices guaranteed). Most people go for the package as it saves money for the long run as it costs way more to buy the carry case and the head rest separately. You can choose this option from the drop down menu above.
* We are currently offering Free shipping on all tables and chair on our store for a limited time only.
Spa Level Comfort:
Luxurious ProPlush™ Cushioning - 3 triple density system.
Buttery soft, yet eco-friendly Natursoft™ upholstery.
Finest, Eco-friendly Materials, Made In USA
Managed forest hard Maple
Lightweight aircraft grade Russian Birch decking.
100% PU and CFC-free upholstery and cushioning.
1000 lb. test mid-brace cabling system for incredible strength.
Made in USA from premium components sourced globally.
Features:
10-layer laminate hoop frame
Jointless™ round corner design
Managed forest hard Maple legs, braces and outlets
Aircraft quality Russian Birch plywood decking
Hardwood reinforcing ribs
Full-length piano hinge
Shiatsu release cables
Mid-brace™ Cradle-lock Cabling System with 1,000 lbs test cables
1/2 Reiki 1/2 standard endplates
ProPlush™ Deluxe 3-Layer Cushioning System
Natursoft™ Upholstery - 100% PU in sixteen colors
Stitched-Fit™ corners
Dual Maple headrest outlets
Non-slip, Stablefoot™ Traction Pads
Made in USA with components sourced globally
Specifications:
Weight: 33 - 35 lbs
Widths: 28" 30, 32
Length: 73
Height Range: 23 - 33
Static Weight: 3200 lbs
Max. Working Weight: 800 lbs
Lifetime Limited Warranty
CE Mark
---

---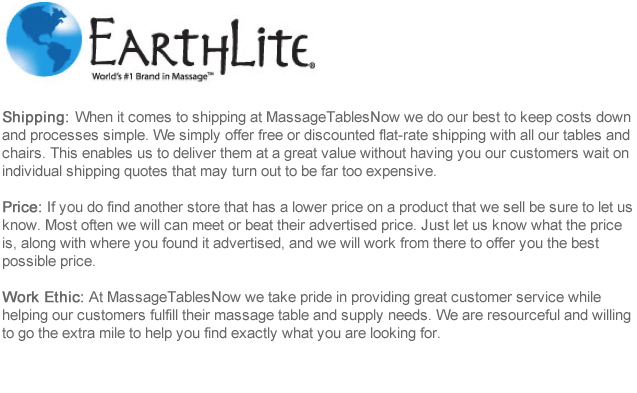 Find Similar Products by Category