This month we are focusing our attention on introducing you to the innovative products manufactured in the United States by Custom Craftworks. One outstanding innovation was introduced in the year 2000, after extensive research and development with nurse-midwives, massage therapists, and engineers, Prenatal, and Breast Recesses!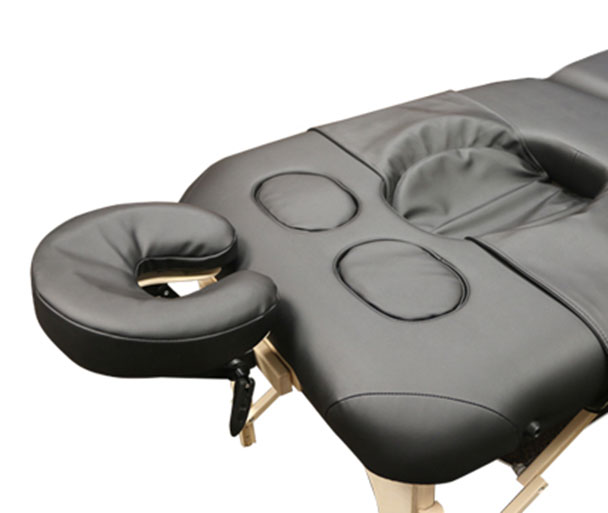 Prenatal Recesses
Massage for expecting mothers can be a great way to expand your services with the correct training, certifications, and equipment. Understanding the importance of client safety and comfort, Custom Craftworks created a reliable and supportive solution that would work well during all stages of pregnancy. They designed the prenatal cut-out with an adjustable padded, abdominal sling that supports the round ligaments in the pelvis to keep those growing bellies enveloped and comfortable. This cut-out includes breast recesses (also available separately) to reduce pressure on sensitive breast tissue while receiving a prenatal massage. Fitted plugs are included to fill the belly and breast cut-outs to return the table to a flat working surface.
Breast/Scapula Recess
Breast/Scapula Recesses also have proven highly effective in reducing pressure on the breasts and corresponding back tension in non-pregnant clients, making it easier for them to relax. The chest opens, scapula drops into the recesses, and access becomes more comfortable for the therapist when the client is in supine positions. In total, the Breast/Scapula Recesses have been a favorite portable and stationary massage table add-on not just for client comfort but because they make massage work easier on the therapist.
Which Custom Craftworks Tables Have Prenatal and Breast Recesses?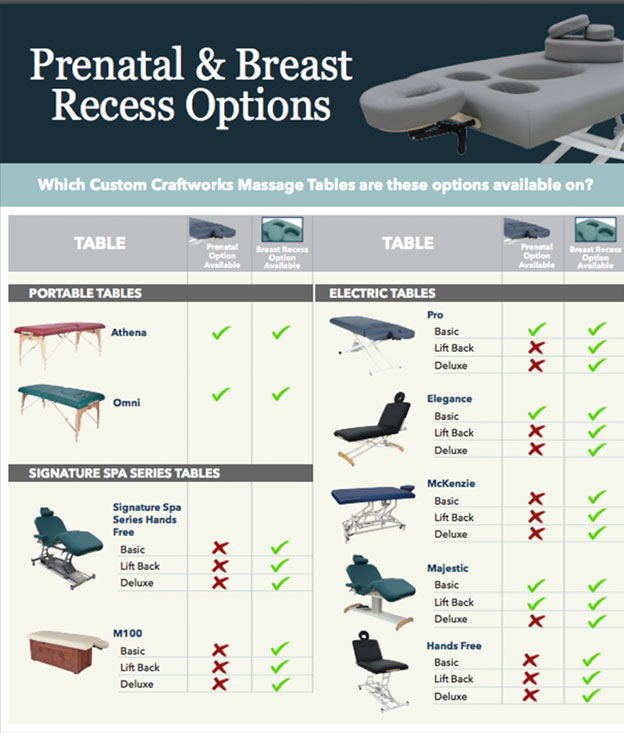 Learn more by watching the breast recesses in use.
Custom Craftworks - Breast Recess Option from Pivotal Health Solutions on Vimeo.
To learn more about pregnancy massage, visit Custom Craftworks blog post titled "Pregnancy Massage: Provide Relief for Clients with Varicose Veins."
Adapted from the Custom Craftworks blog post titled "Prenatal & Breast Recess Options for Expecting Clients."